Charting new territory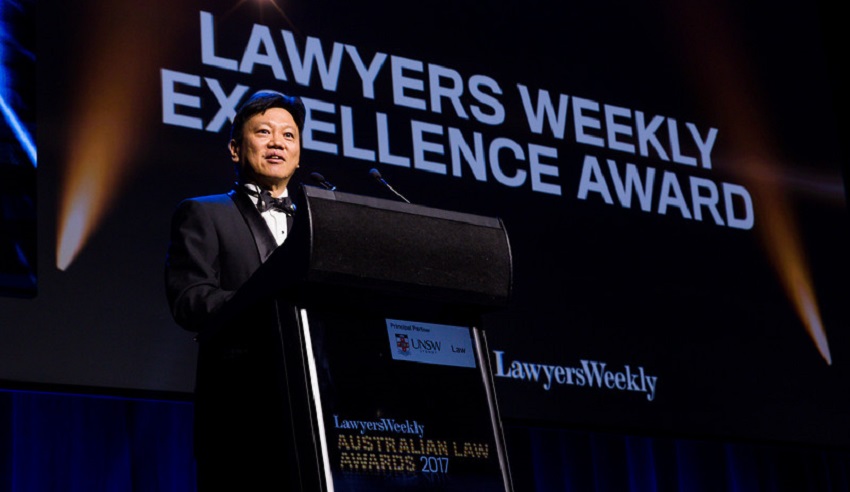 The Lawyers Weekly Australian Law Awards 2017 recognised the lawyers, law firms and legal teams leading the profession.
Over 700 members of the legal profession came together to celebrate the achievements of their peers at the 17th annual Lawyers Weekly Australian Law Awards.
Private practice lawyers, corporate counsel, barristers, academics, students and legal support staff all made their marks this year with some outstanding achievements.
In a complex, ever-changing landscape, the winners and finalists showcased their agility, intelligence and commercial acumen to make this year's awards more competitive than ever before.
Guests flocked to the event centre at The Star in Sydney on 1 September, dressed in their finest and ready to celebrate the leading lights in the legal profession.
Lawyers Weekly congratulates all the winners and finalists on their successes and  their continuing contributions to the law.

Judges of the 2017 Australian Law Awards
Alexandra Rose, senior manager of group compliance and regulatory affairs, IAG
Amy Challans, past president, Australian Women Lawyers
Ann-Maree David, executive director, College of Law Queensland
Ashe-Lee Jegathesan, general counsel and company secretary, Vocus Group
Belinda Wilson, president, Law Institute of Victoria
Benedict Coyne, president, Australian Lawyers for Human Rights
Benjamin Lee, general counsel and company secretary, Mercedes-Benz Australia
Bianca Quan, Convenor, Victorian Women Lawyers
Cameron Cross, general counsel, NBN
Claire Bibby, senior vice president and general counsel, Brookfield Properties
Damian Sturzaker, vice-president, CIArb Australia
Dominique Hogan-Doran SC, senior counsel, Australian Bar
Elspeth Hensler, barrister, Francis Burt Chambers
Fariborz Moshirian, director, Institute of Global Finance UNSW Business School
George Williams AO, dean of law, UNSW
John Boersig PSM, CEO, Legal Aid ACT
John Chisholm, managing director, John Chisholm Consulting
John McKenzie, legal services commissioner, NSW Department of Justice
Jonathan Smithers, chief executive officer, Law Council of Australia
Joseph Catanzariti, vice-president, Fair Work Commission
Linda Baxter, director of CPD, Leo Cussen Centre for Law
Lisa Claes, chief executive officer, CoreLogic International
Norman Donato, president, The Commercial Law Association of Australia
Rachel Launders, general counsel and company secretary, Nine Entertainment Co
Raechelle Binny, general counsel, banking products and markets, National Australia Bank
Rebecca Edwards, general counsel, PAYCE Consolidated
Rebecca Kenny, general counsel, Australia Council
Shane Matthews, general counsel, Kaplan
Shoshana Shields, legal director, eBay
Stephen Lancken, mediator and managing director, Negocio Resolutions
Tanya Khan, vice president and managing director, Australia and Asia Pacific Association of Corporate Counsel
Tass Liveris, president, Law Society Northern Territory 
Ted Dwyer, director, Dwyer Consulting
Tony Dormer, managing director, Kreston Dormers
Vincent Bicudo de Castro, lecturer in accounting, Deakin Business School
Will Alstergren QC, president, Australian Bar Association
Corporate awards
Boutique Law Firm of the year: Salvos Legal
Salvos Legal impressed the judges with its unique business model, under which the profits from its commercial arm are used to fund its humanitarian legal services.
The firm's growing client list includes ASX200 companies, multinationals, government agencies, social impact financiers and leading not-for-profit organisations.
Employee Program of the Year: Henry Davis York
Henry Davis York has built its employer brand with a focus on key career transition points, particularly the move from lawyer to senior associate.
The firm's diversity and inclusion program TogetherHDY, launched in May 2016, aims to increase the understanding of the value of diversity and a commitment to inclusive behaviour.
Innovator of the Year: Allens
Allens' investment in alternative product and service offerings has paid off, with the judges recognising the success of the firm's alternative legal services arm a+.
The firm's expertise and innovative use of technology have delivered huge savings and efficiencies for clients.
Law Firm of the Year: Gilbert + Tobin
Gilbert + Tobin took out Law Firm of the Year once again, demonstrating excellence through its high ratio of leading lawyers, its work on market-shaping transactions and its commitment to technology and innovation.
The firm has worked on some of the most significant transactions of the year, as well as built its capacity in key practice areas and locations.
NewLaw Firm of the Year: LegalVision
LegalVision achieved excellence in NewLaw over FY2016-17 through investing in client service and innovative legal technologies.
The firm has transformed the way clients interact with legal services providers, including offering a fixed-fee pricing model and free initial consultations to improve the transparency and accessibility of legal services.
Pro Bono Program of the Year: Arnold Bloch Leibler
Arnold Bloch Leibler is highly regarded for its work with Indigenous Australians over several decades.
In 2016, ABL was identified by the National Pro Bono Resource Centre as having made the largest contribution to community service of any law firm of any size in Australia, averaging 71 hours per lawyer.
Regional/Suburban Law Firm of the Year: Harwood Andrews
Established regional Victorian law firm Harwood Andrews once again took out the Regional/Suburban Law Firm of the Year award for its standout expertise and innovative practices.
With four new online tools launched in the last year alone, the firm is rapidly growing its digital service offering for regional clients.
Individual awards
Academic of the Year: Michael Legg, UNSW Law
Mr Legg is a pre-eminent legal academic and a thought leader on the law and its intersection with technology.
The judges were impressed by his role as the only academic member of the Law Society of NSW Future Committee, which conducted the inquiry into the Future of Law and Innovation in the Profession (FLIP).
Barrister of the Year: William Lye OAM, Foley's List
Mr Lye is a leading counsel in complex matters involving cross-border disputes, cross-cultural mediation and litigation.
He is also a champion of diversity and multiculturalism. In 2017, Mr Lye received an Order of Australia Medal – the first barrister of Chinese descent to do so – for his services to the law, to business and to the promotion of cultural diversity.
Business Development Professional of the Year: Melissa Lyon, Hive Legal Pty Ltd
Ms Lyon has been instrumental in growing Hive Legal and in promoting its innovative NewLaw approach.
Having practised as a lawyer in firms of various sizes, as well as holding several business development roles at a top-tier firm for many years, she brings an invaluable mix of experience to Hive Legal.
Dealmaker of the Year: Rebecca Maslen-Stannage, Herbert Smith Freehills
Ms Maslen-Stannage worked on some of the most significant deals of FY2016-17 in both M&A and equity capital markets.
The innovative deal technology developed on her past deals is now being applied to benefit other clients.
General Counsel of the Year: Katrina Johnson, Uber Asia-Pacific
Ms Johnson oversees Uber's legal and regulatory affairs across two continents, dealing with the unique challenges experienced by one of the world's fastest-growing and most innovative companies.
Ms Johnson ensures that the company's legal team provides thought leadership, strategic direction, wise legal stewardship and smart structuring guidance every time Uber takes on a new venture.
In-house Lawyer of the Year: April Rich, Gold Coast 2018 Commonwealth Games Corporation
Ms Rich is the senior in-house legal counsel and the manager of brand protection for the Gold Coast 2018 Commonwealth Games Corporation.
This role sees her manage a team of four lawyers working on key projects including international broadcasting rights, telecommunications, trademarks and much more.
Law Student of the Year: Milan Gandhi, University of Queensland
Milan is in the final year of his Bachelor of Laws degree and has consistently maintained a first-class honours GPA, while balancing study with a research clerk role at McCullough Robertson.
He is also the founder and director of not-for-profit organisation The Legal Forecast and serves on the advisory board to the College of Law's Centre for Legal Innovation.
Legal Support Professional of the Year: Debbie Harding, Herbert Smith Freehills
Ms Harding is an essential member of the administrative support team for a number of partners and lawyers in Herbert Smith Freehills' finance practice.
She has supported the team through a period of significant change, taken an active role in recruiting secretarial staff and implemented a new administrative hub structure.
Managing Partner of the Year: Tony Macvean, Hall & Wilcox
FY2016-17 marks Mr Macvean's 10th year as managing partner of Hall & Wilcox. Over the last year he led a number of initiatives for the firm, including the opening of a Brisbane office and several senior hires.
Under Mr Macvean's leadership, the firm's overall headcount grew by 19 per cent over the last financial year, while its partnership grew by 9.3 per cent.
Partner of the Year: Karwan Eskerie, Sparke Helmore Lawyers
Mr Eskerie is a specialist in government law. He has extensive experience acting for government clients in areas including constitutional, administrative, regulatory and commercial law.
Mr Eskerie was promoted to partner in April 2016, just one year after joining Sparke Helmore.
Regional/Suburban Lawyer of the Year: Melinda Griffiths, Slater and Gordon Lawyers
Ms Griffiths is the principal of Slater and Gordon's Wollongong office and a specialist in motor vehicle accident, public liability and childhood sexual abuse claims.
She is also the president of the Wollongong and District Law Society, a branch of the Law Society of NSW.
Senior Associate of the Year: Agata Bober, King & Wood Mallesons
Ms Bober is a leading commercial lawyer with a focus on domestic and cross-border M&A. Since joining KWM in 2004, she has become integral to the firm's commercial practice.
Ms Bober was promoted from senior associate to special counsel at the end of FY2016-17.
Sole Practitioner of the Year: Jennifer Hetherington, Hetherington Family Law
Ms Hetherington has developed a unique family law model that focuses on respect and co-operation to minimise conflict, particularly when children are involved.
She has grown Hetherington Family Law significantly since its establishment in 2014, while maintaining a successful part-time working schedule.
Special Counsel of the Year: Chris Mitchell, Norton Rose Fulbright
Mr Mitchell is a leading special counsel whose practice is focused on M&A and equity capital markets transactions in the energy, infrastructure and oil and gas sectors.
He also demonstrates a strong commitment to volunteering and pro bono work, as well as mentoring junior lawyers.
Young Gun of the Year: Matthew Littlejohn, Maurice Blackburn Lawyers
Mr Littlejohn has led Maurice Blackburn's Darwin office since it opened in November 2015. He works closely with his small team to build the firm's presence in the Northern Territory.
Mr Littlejohn and his team exceeded expectations in their first full year of operation, establishing a strong foundation for the Darwin office.
Group and practice area awards
Banking and Finance Team of the Year: Clayton Utz
Clayton Utz's banking and finance team are trusted advisers to leading financial institutions, multinational corporations and government departments.
Their broad experience and cutting-edge legal knowledge help them secure some of Australia's biggest deals, including acting for the financiers for the Ausgrid acquisition in 2016.
Commercial Team of the Year: King & Wood Mallesons
King & Wood Mallesons boasts a market-leading M&A team that worked on some of the most valuable and complex deals of FY2016-17, including advising logistics giant Asciano on its multibillion-dollar sale to a consortium.
A busy year for the M&A practice was key to the firm's financial performance.
Dispute Resolution Team of the Year: Herbert Smith Freehills
Herbert Smith Freehills worked on market-defining litigation, regulatory and class action cases for many high-profile clients over FY 2016-17.
The disputes team worked alongside HSF's corporate and competition teams to advise Tabcorp on its $11 billion merger with Tatts. This capacity to integrate different practice areas gives the firm a unique full-service offering.
Energy and Resources Team of the Year: Herbert Smith Freehills
Herbert Smith Freehills has been instrumental in guiding clients through the rapid changes affecting the energy and mining sectors.
Through collaborating with other departments, the energy and resources team is able to provide holistic project advice and proactively add value between matters.
Government Team of the Year: Proximity
Professional services outfit Proximity has fast become a highly regarded legal adviser to government departments.
Founded in 2011, Proximity is a small, innovative firm that advises on high-profile government matters including multibillion-dollar acquisitions, large-scale technology projects, sensitive litigation and major policy and law reform initiatives.
In-house Team of the Year: Gold Coast 2018 Commonwealth Games Corporation
The MinterEllison team seconded to work on the 2018 Commonwealth Games have guided the company through complex multinational broadcasting negotiations, security contracts and logistics agreements, among many other matters.
With a diverse set of legal backgrounds, the team members draw on their expertise to deliver strong results for GOLDOC.
Insurance Team of the Year: Ashurst
Ashurst's insurance team worked on some of the most complex, innovative and high-profile insurance matters of FY2016-17.
With depth of experience and a range of unique specialties, the team provides comprehensive advice on construction projects, M&A transactions, environmental matters and many other areas.
Intellectual Property Team of the Year: Gilbert + Tobin
Gilbert + Tobin had a successful year of IP litigation and commercial IP projects.
The team's approach is focused on excellent service, consistent and transparent communication with clients and innovative pricing arrangements.
Gilbert + Tobin is at the forefront of IP in the digital economy, working in areas such as blockchain, social media, cyber security, artificial intelligence and quantum computing.
Property Team of the Year: Clayton Utz
Clayton Utz's depth of experience in property law has led to another strong year for the practice in FY2016-17. The team leads the market in areas such as urban renewal, inbound investment, affordable and social housing, hotels and aged care.
The firm's 15 specialist partners, directors and consultants around the country drive the delivery of holistic property advice to clients.
Transaction Team of the Year: King & Wood Mallesons
King & Wood Mallesons' high-flying M&A team advised on some of the most complex transactions of FY2016-17.
With industry experts and best-in-class practitioners, the team provides commercially astute advice to a range of transactions for high-profile clients.
Workplace Relations and Employment Team of the Year: Harmers Workplace Lawyers
Harmers is one of the most prominent names in Australian workplace relations law. The firm advised on many notable cases in FY2016-17, including high-profile sexual harassment and discrimination cases.
The firm differentiates itself by acting for clients on all sides of the employment relationship, focusing on achieving fair outcomes for all.
Lawyers Weekly Excellence Award: William Lye OAM, Foley's List
There are no nominations for this category, with the award going to the individual winner with the highest score across the lawyer-specific categories. Mr Lye, who won the Barrister of the Year award, impressed the judges with his creative and innovative approach to litigation, negotiation and mediation, as well as his advocacy for diversity in the legal profession.