Ashurst backs polar expedition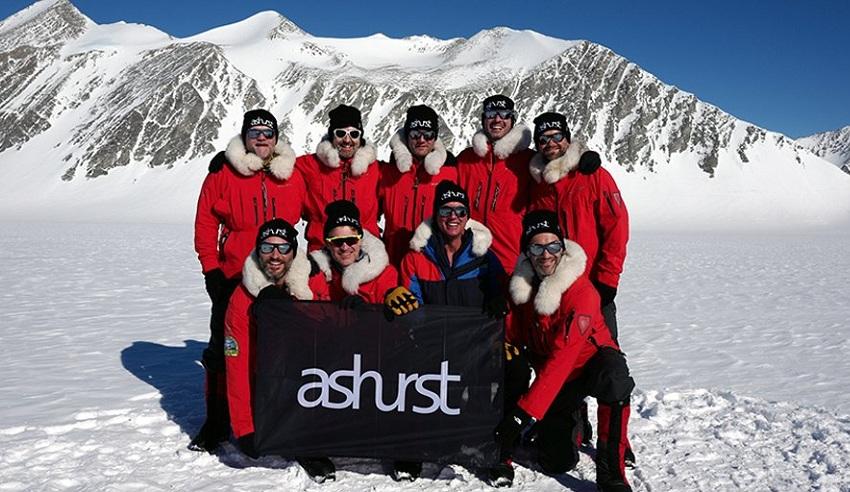 International law firm Ashurst has sponsored an expedition to the South Pole to raise money for charity.
Ashurst was a corporate sponsor of the Antarctic Enterprise expedition to the Geographic South Pole in late 2017.
The core group of eight included CEOs of fashion, private equity, marketing and technology companies in the UK, led by De Roemer founder and CEO Justin Packshaw.
They travelled 7,250 kilometres from Puntas Arenas in Chile to the earth's southernmost point, skiing for nine days with their sleds in tow and camping at night in freezing conditions.
Antarctic Enterprise member Simon Turner described the gruelling routine in a blog entry on Day Four of the expedition.
"Progress so far: eight strong hours today, gained nine miles, dragging more than half your body weight, dealing with altitude which is now over 2,700 meters and the cold, which literally gets everywhere, takes a toll," he wrote.
"We limp into camp, and immediately erect our fragile-looking shelters, and collapse, it's still going to take three hours to then melt ice and rehydrate and eat something hot. And then it begins again.
"Actually, for all that it has a simple, slightly repetitive beauty. We are weirdly captivated by the varying light and weather, somewhere between a frigid sea and a white desert. Here on the inner plateau there is no topography, just miles of ice in all directions."
The expedition raised £683,219 for two organisations: the Prince's Trust and Roundhouse. The Prince's Trust supports young people aged 11 to 30, helping them gain employment, start businesses and improve their confidence.
The Roundhouse is a live performance space in London where over 3,000 young people a year take part in creative projects to boost their skills and confidence.
The team trekked to the Geographic North Pole in 2015, raising £468,100 for the same charities.
To learn more about Antarctica and its unique legal landscape, check out this feature from the latest edition of the Lawyers Weekly print magazine.
Antarctic Enterprise team:
Justin Packshaw
Founder and CEO, De Roemer
Simon Turner
Managing partner, Inflexion
David Cooke
CIO, Saltus Investment Managers
Hugh Robertson
CEO, RPM
Lopo Champalimaud
CEO, Treatwell
Pascal Noth
Managing director, Partners Group
Ed Boyce
Managing director, Royal Bank of Canada
Justin Abbott
Various
Pictured above: Members of Antarctic Enterprise with the Ashurst banner. 
Image credit: Ashurst