Melbourne breakfast aims to end gendered violence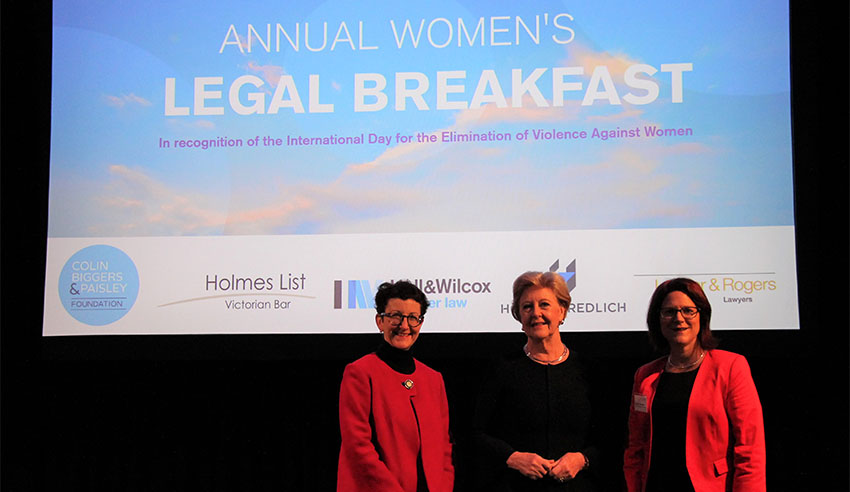 As the day dawned on the International Day for the Elimination of Violence Against Women, a number of law firms joined forces in Melbourne to raise money for a service more close-to-home, the Women's Legal Service Victoria.
The Annual Women's Legal Breakfast, hosted by the Colin Biggers & Paisley Foundation and the Women's Legal Service has this year managed to raise more than $13,000 in its effort to stamp out violence against women.
The money raised will support work done by the Women's Legal Service, which provides more than 3,000 women with expert legal advice and representation, education and capacity building programs each year.
The breakfast event garnered major sponsorship from the Colin Biggers & Paisley Foundation and Holmes List, while supporter sponsors included Hall & Wilcox, Holding Redlich and Lander & Rogers.
Ashurst, Baker McKenzie, DLA Piper, Gadens and King & Wood Mallesons were also acknowledged for showing support to the cause.
The keynote address was given by Gillian Triggs, former president of the Australian Human Right Commission. Her speech highlighted the roles of women in the public arena and a regression of women's positions Australia-wide.
A significant increase in attendance on last year's event bolstered fund-raising efforts, and indicated "the high level of support both the community and corporate sectors have for putting an end to domestic and family violence," according to a joint statement from the Women's Legal Service Victoria and Colin Biggers & Paisley.
CEO of Women's Legal Service Victoria Joanna Fletcher said money raised from the event will enable the service to "expand their work representing women who have survived family violence."
She said "the breakfast brings together our friends and colleagues in the legal profession who are keen to engage with and contribute to the task of ending violence against women. A task that we know requires the whole of the community."
Colin Biggers & Paisley Managing Partner Nick Crennan said the firm is "particularly proud to continue to support the great work of Women's Legal Services."
"The prevalence of violence against women in Australia is alarming".
With violence against women being "a serious and widespread problem in Australia," Mr Crennan noted "as a legal practice and as members of the community, we have an important role to play in ending this violence and protecting the rights of women and families."