Law grads should take a gap year before starting their careers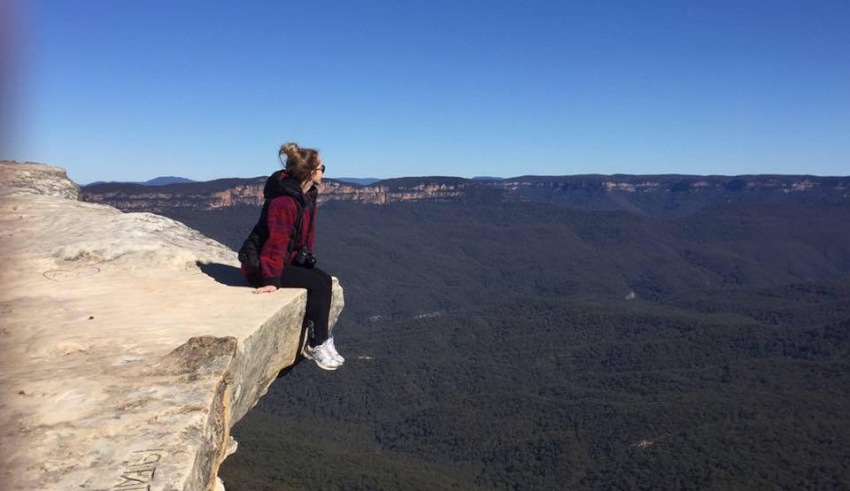 Mardi Grivas took a gap year after finishing high school, which she saw as being a smart decision for her educational future. Now, having just completed her law degree, she is again putting her mental health first and taking time off.
Upon graduation from high school in 2013, Ms Grivas (pictured) was accepted into law school, putting her on a vocational path she knew would suit her. But, at that point in time, she didn't feel she could commit to the tertiary degree in the ways she would need to. As such, she took a year off.
"During my gap year I chose to volunteer abroad, spending seven months in Fiji and the subsequent five months living in India. I left my final year of high school feeling completely burnt out – both mentally and physically. I returned to Australia with a strong desire to learn again, a new sense of motivation and passion and most importantly – a clear head and renewed energy," Ms Grivas reflected.
Having that time off allowed her to grab the bull by the horns once she got to law school. During her five years of study at the Australian Catholic University in Melbourne, Ms Grivas "tried to seize every opportunity" she could.
"To say I was a busy law student would be an understatement, I spent five years sacrificing my personal and social life in order to be as involved in the law school experience as possible," she explained.
"[I was] a classic type-A personality that fills the halls of most law schools. This included internships, pro bono placements and/or working as a paralegal at community legal centres and law firms, completing a clerkship, being elected as President on my LSS, as well as being a part of the Australian Law Students' Association.
"Alongside these activities I was involved in numerous internal and external legal competitions such as mooting, negotiations and client interviews, as well as an international moot. All of this, whilst completing part-time work and a full-time double degree of law and global studies."
Come final year, Ms Grivas knew that she had made the most of her time at university, but also that she was paying a mental and physical cost for having done so.
The greatest burden of law school for Ms Grivas, she said, was the consequences of her involvement with every facet of it: "the many sleepless nights, constant stress of assignments or an upcoming competition and the hours spent in the library researching when many of my friends were at home relaxing with their families or friends".
"This had placed such a strain on my mental and physical health. Towards the end of my degree, my anxiety had become heightened and my exhaustion was making it more and more difficult to get out of bed. I still loved law school and my grades had continued to reflect that, but the idea of having to throw myself into the legal profession felt like an anvil resting on my shoulders. All I felt was dread."
As a result, taking a second gap year is the best option moving forward for Ms Grivas, as a chance to recharge her batteries – both mentally and physically – before she enters the legal workforce.
But it is not just about giving herself a chance to unwind ensure optimal levels of health and happiness once again. There is also a strong desire to put herself in the best possible position to succeed professionally, by way of giving the most she can to whatever job she takes up.
"It is an expectation that, as a 'baby lawyer' entering the legal profession, we will place our job at the forefront of our lives. This means early starts and late nights, with not much time reserved for personal downtime. Having spent five years of law school doing just that, I couldn't think of anything worse," she said.
Taking time off in anticipation of such environmental expectations will mean she can be better equipped, Ms Grivas notes, but such a strategy hasn't necessarily been met with rampant enthusiasm from those around her.
When she told people she was going to take a gap year after law school, Ms Grivas was met with strange looks, questions and unsolicited comments, including: "What about just doing [the Practical Legal Training]?", "Is this because you didn't get a grad job?", "You're disadvantaging yourself", "What will you say when law firms ask why you took a year off?", and "What about the competition?"
"It got me wondering, who was this very specific group of people which were apparently now going to be more employable than me and were my direct competition? And was the idea of competition in the legal sphere so ingrained that a gap year was unfathomable to most law students?"
"As a 24-year-old, I also didn't understand what the rush was to launch into my career when I had my entire life ahead of me," she said.
When asked how taking a gap year post-university can make law graduates more employable, Ms Grivas said that was the wrong question for those coming through the ranks to consider. Instead, what they should contemplate is what is best for them and their own futures.
"If you feel mentally or physically exhausted, then immediately entering the job force isn't going to make you employable. It's going to mean you're not able to perform to your maximum ability and that you'll likely burn out," she advised.
"As a secondary consideration, there certainly is the opportunity to gain more skills – learn a language, work overseas or gain an experience you wouldn't have the time to otherwise."
The prevalence of psychological distress, anxiety and depression across the legal industry should also be factored into one's thinking, Ms Grivas added, especially given the expectations placed on both law students and lawyers.
"I am constantly reminded of peers in the same position as me – photos on Instagram of a student's fifth coffee for the day whilst they're up until 3.00am writing their thesis, a student getting up at 5.00am so they can fit in study before work or someone spending the holidays locked in the library trying to get ahead of their readings or prepare for a moot," she said.
"When this is the environment which becomes the norm in law school and continues into employment, it's unsurprising the adverse mental health of law students."
However, the stigma of recognising an issue is preventing people from realising the benefits of taking a breath for a moment, of understanding it is okay to take some time off to benefit yourself. Therefore, taking a gap year post-study and pre-career can be the best possible thing a law graduate can do for themselves, she concluded.
"It is not a sign of weakness or unemployability to recognise your own limitations or your need to prioritise yourself and your mental health over immediately starting your career."