Clifford Chance promotes 30 partners worldwide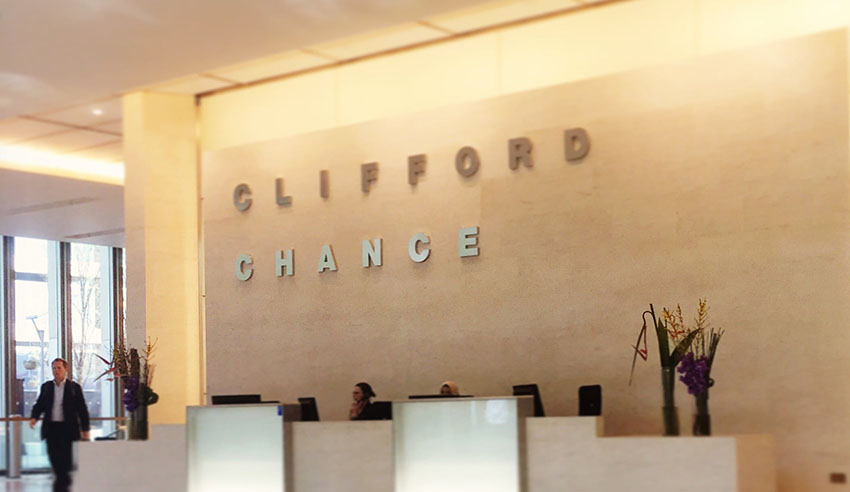 Global firm Clifford Chance has elevated 30 of its lawyers to the partnership ranks, including nine in Asia-Pacific.
According to the firm, the new partners are drawn from all of the firm's practices across its global network.
The new partners in Asia-Pacific are: Tianning Xiang (corporate, Beijing), Mark Chan (capital markets, Hong Kong), Rocky Mui (corporate, Hong Kong), Christine Xu (corporate, Hong Kong), Vicky Ma (finance, Hong Kong), Tom Walsh (litigation and dispute resolution, Hong Kong), Lei Shi (litigation and dispute resolution, Shanghai), Gareth Deiner (capital markets, Singapore) and Nadia Kalic (corporate, Sydney).
Elsewhere, three partners were promoted in the Americas, eight were promoted in continental Europe, one in the Middle East and nine in the United Kingdom.
Asia-Pacific regional managing partner Geraint Hughes said: "We are incredibly excited to have nine new partners in the Asia Pacific region. This diverse group of accomplished professionals represent nearly one-third of the total number of new partners globally."
"They are a testament to the talent that our firm attracts, to the strength of our practice in the region and to the importance of our region to our clients and our firm globally."
Matthew Layton, Clifford Chance Global managing partner Matthew Layton added: "I am proud to welcome such a talented group of lawyers into the Clifford Chance partnership. Every one of them has demonstrated commitment to delivering great service to our clients through their deep expertise and collaborative teamwork with colleagues throughout the firm."
"These promotions underline our continued investment in those areas that are increasingly important to our clients, such as regulatory and internal investigations, tech and sector specialisms such as funds and investment management."
The promotions also reflect our commitment to ensure that the diversity of our partnership develops to reflect the rich pool of talent across our global firm today, Mr Layton continued.
"The voices of this group, and other newer generations in the firm, are essential in shaping our future in a fast-changing market environment. I look forward to working with them all as we help our clients with their biggest opportunities and challenges in the years ahead."
The promotions take effect 1 May 2019.