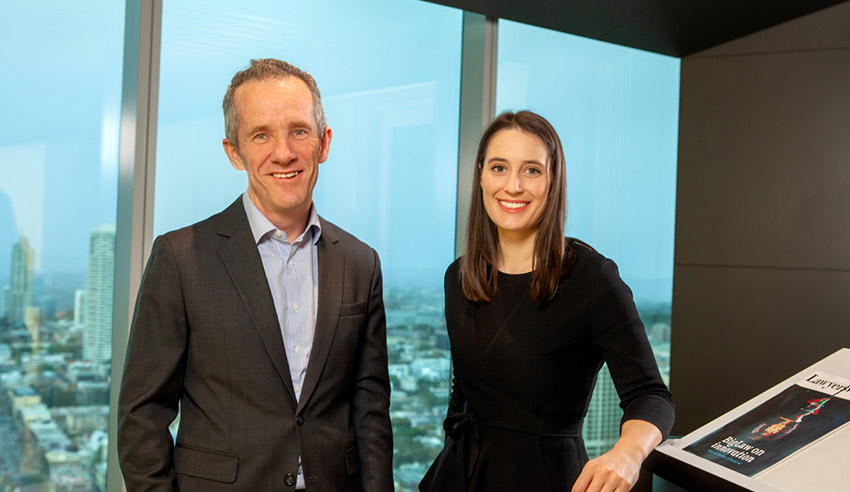 Following a pilot program, Herbert Smith Freehills Australian managing partner Andrew Pike and his mentor, solicitor Myra Beal, spoke to Lawyers Weekly about the benefits of reverse mentoring for law firms around the country.
In the past year, HSF ran a pilot reverse mentoring program whereby members of the executive team, including Mr Pike, were paired with junior solicitor mentors, as way for both the mentors and their mentees (the partners) could develop skills, learn new perspectives and enrich communication across the firm's hierarchy.
Topics of conversation, Ms Beal noted, included technology, social media, current trends and "more abstract concepts" like values and the perspectives of those coming through the ranks.
Reflecting on his experience in the program, Mr Pike said Ms Beal was "fantastic", and that his experience was "invaluable".
"She taught me a lot about new technology and new ways of working, and in the process, I gained real insight into what inspires and motivates younger members of our firm," he mused.
"It's helped me to view my work and my interactions with people through another lens, which has helped me to make better, more informed decisions."
Mr Pike has been working in law for nearly 30 years, he explained, and it was important to get deeper insights into how different things are for junior lawyers starting out nowadays.
"The sector is now evolving at such a rapid pace, particularly in terms of emerging technologies; it's almost unrecognisable compared to when I was cutting my teeth. The current generation of lawyers is so switched on to new technology and the opportunities it can deliver that they can really bring some interesting perspectives to the table," he said.
"Managing multiple generations and diverse types of talent will be crucial to the ongoing success of our firm. We know that diverse teams deliver better outcomes for clients, and that innovative ideas can come from anywhere within the business. However, like many organisations, law firms haven't historically been great at recognising the insights of their younger team members. That's a huge missed opportunity, and one which we're hoping to reverse.
"As a firm, we want all of our people to bring their knowledge and ideas to the table. Reverse mentoring is another avenue through which we can help to give younger team members a voice and encourage them to contribute."
For Ms Beal, the experience made her "feel more valued by the firm and more motivated to propose new ideas or projects and to change the way we do things".
"I have gained a lot of insight into how the firm operates and how important decisions are made. It's been a great opportunity to see, in the early stage of my career, what skills will be required to be a successful future leader and how I can leverage my unique capabilities and experiences, particularly outside of the law, in my role," she said.
Reverse mentoring has also "really helped to break down hierarchy and change both the way things are done within the firm", and the ways that junior lawyers are perceived, she continued.
"I have been surprised by the enormous levels of interest from partners keen to be in the program. This demonstrates a real shift away from the idea that juniors can't bring much to the table, particularly with clients, and opens up greater opportunities for juniors to engage in business development, technology projects and client initiatives," she said.
"Finally, the program has also been an opportunity for me to meet a wide variety of people at the firm that I may not have otherwise met and to get out of my comfort zone. I recently spoke at a 'town hall' meeting in Sydney and had a video conference with our offices in Asia about the program and the insights that I have learnt."
When asked how she found being paired with the managing partner, of all people, Ms Beal said that Mr Pike had been "great to work with" and had been "very open to the experience and opportunity to gain new insights and learn new skills".
"Given his role as [managing partner], our reverse mentoring relationship had the scope and flexibility to touch on many aspects of his role, both as a partner delivering legal services to clients, and as a senior leader trying to create an innovative and dynamic culture within the firm," she said.
"From a people and culture perspective, it has been a fantastic opportunity to give voice to the perspectives, values and priorities of junior employees which sometimes do not reach the top levels of management. It has been brilliant to bridge this gap and learn about the non-legal parts of Andrew's role."
Reverse mentoring can also, Mr Pike added, "give a lot more sunlight" to some of the less senior members of the firm.
Not many challenges were experienced, he noted, but he did say that it is important to ensure that the right mentors and mentees are matched together — something HSF will look to do as it rolls out a wider reverse mentoring program across its offices.
Looking back on the experience, and why such initiatives are so important in law firms, Ms Beal said: "Reverse mentoring is a great opportunity to learn a lot of important skills such as communication, leadership and management skills. Reverse mentoring is also a great way to drive cultural change and to have an impact in shaping the future of the firm."
This email address is being protected from spambots. You need JavaScript enabled to view it.