Global firm celebrates pride with art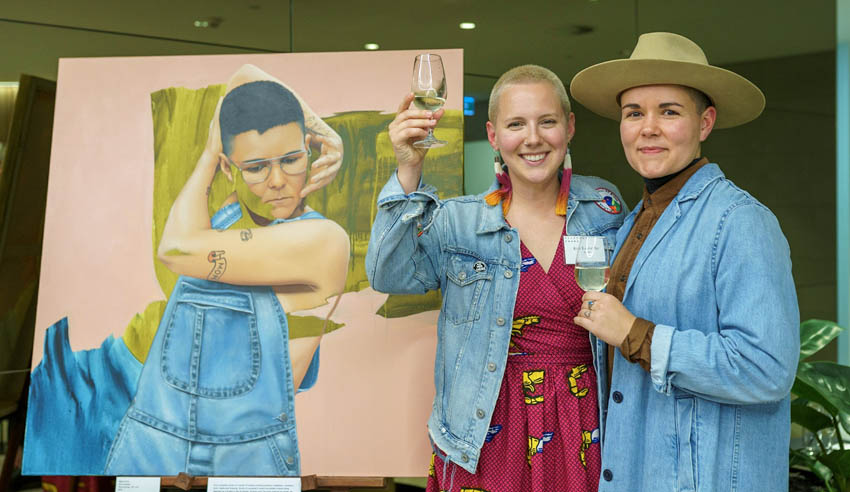 To celebrate pride and inclusion both in and outside of the workplace, a global law firm hosted an annual art exhibition in Sydney dedicated to LGBT+ artists and allies.
The Arcus Pride Art 2019, hosted by international law firm Clifford Chance, is one of the biggest corporate-supported exhibitions of LGBT+ artists in the world, according to the firm, and featured award winners Kim Leutwyler (pictured, left) and Samuel Luke Beatty.
Australia managing partner Richard Gordon said feedback from staff and clients from the event in Sydney was positive, with many reflecting on how much bigger and better it was from prior years and how it would continue to foster pride in the years to come.
"Both clients and our staff responded well to the focus on positive inclusion; our intent was to demonstrate what we hold true at the firm and encourage and support other businesses to create safe spaces for people, regardless of how they identify."
Arcus Pride Art 2019 coincided with World Pride in New York, which is the largest and most celebrated pride event in the world. It marks the 50th anniversary of the Stonewall uprising in NYC and celebrates a half century of progress for LGBT+ allies.
Global managing partner Matthew Layton said Clifford Chance is committed to having a workplace where people can be their "whole authentic selves".
"We educate, we listen and we have strong corporate governance around inclusion and diversity. We do this because it is important to our people, their families, our firm and our society," Mr Layton said.
Global senior partner Jeroen Ouwehand agreed, adding: "Each of us has our own take on pride. We each have our own moment — either as a parent, a son or daughter, a co-worker, or a member of the LGBT+ community itself — where we open our eyes and understand what life is like for others.
"It is our hope that Arcus Pride Art 2019 expresses these moments of pride and our global community of over 6,000 people, our clients, alumni and friends."
In support of awareness and dialogue, the Sydney branch has committed to Pride and Diversity Training, particularly around partnership and executive training to help raise LGBT+ awareness among staff and enable them to more effectively support others.
The firm noted its participation in Perth Pride this year and  support Wear It Purple Day to recognise and support young people of the pride community. It said it will also look at partnering with peer firms to look at the interaction between freedom of expression and religious freedoms, with the aim to establish industry discussions.
"Our Sydney event adopted the global principles behind the Arcus Pride Art initiative, bringing together local LGBT+ and ally artists to celebrate their works and encourage discussions around the challenges and achievements," Mr Gordon said.
"Our staff have reflected that following the ongoing success of the initiative both in Sydney and across the Asia-Pacific, it is now clear to them why we value inclusion."
Organised annually by Arcus since 2007 — the firm's LGBT+ and allies community — the event took place in 11 offices around the world, including Amsterdam, Hong Kong, New York, London, Singapore, Tokyo, Perth and Sydney.
This email address is being protected from spambots. You need JavaScript enabled to view it.