Unlawful termination claim against HWL Ebsworth partnership dismissed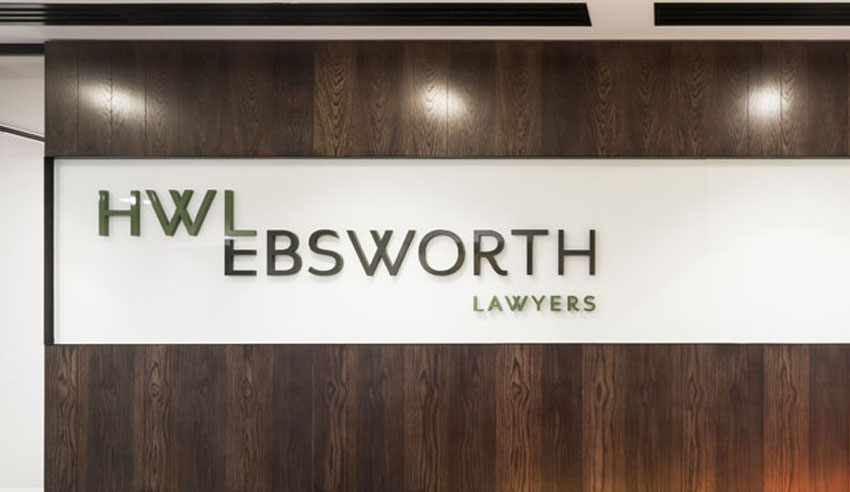 A former consultant to HWL Ebsworth Lawyers, who alleged the national firm unlawfully dismissed him because of his political opinion, has lost his application against the firm.
Dr Gary Rumble, whom Judge Nye Perram of the Federal Court of Australia said was "a well-regarded public lawyer with a particular specialty in constitutional law", was employed casually by HWL Ebsworth Lawyers in July 2011 as a consultant for the firm's Canberra office.
Under the terms of his contract, he was to perform up to 60 hours of promotional work for the firm annually, garnering him a salary of $30,000 per year.
In February 2017, he received an email from managing partner Juan Martinez terminating his employment and noting that the firm would pay out his three-month notice period to which he was entitled, rendering his employment ceased with immediate effect.
The application
Dr Rumble lodged an application late last year contesting the legality of this action by HWL, which he pursued as a statutory claim for compensation under the Fair Work Act 2009 (Cth).
He alleged, firstly, that he had been unlawfully dismissed "for querying why the firm had failed to increase his retainer payment or his hourly rate by the agreed annual rate of 5 per cent", and secondly, that he had been dismissed "because of his political opinion and that this was unlawful".
Furthermore, he contended that prior to his termination, the discrimination against him had led the firm to decreasing the volume of work given to him, instructing him not to attend the firm's Christmas party in its Canberra office in 2016 and "singling him out" by not giving him a $299 gift card which he said had been given to all other employees that year as a Christmas gift.
He additionally brought a common law claim against the firm's partnership, alleging that it breached an implied term of good faith by terminating his employment, in failing to provide work opportunities and failing to implement the annual 5 per cent uplift "in a timely manner". He claimed compensation "for hurt feelings and economic loss", which he said arose from the damage done to his reputation as a result of his termination.
HWL's response
The firm rejected Dr Rumble's allegations, arguing he was not dismissed for his political opinion or for querying the failure to honour the remuneration increase, but rather it was entitled to terminate him without cause.
It was initially contended that the firm had "insufficient work for him to do", but it later came to light that HWL had terminated him "because it had a policy in place that required employees not to criticise clients of the firm".
The criticisms referred to were "public" comments, by Dr Rumble, in which he criticised two firm clients, the Department of Defence and the Department of Veterans' Affairs, on the back of inquiry he had conducted in conjunction with the firm on behalf of the Defence Department into historical sexual assault in the military.
"Dr Rumble felt that the government was not doing enough to implement the inquiry's recommendations and he made a number of public remarks to that effect," Judge Perram noted.
"These actions irritated Mr Martinez and Dr Rumble was told to desist from public criticism of the firm's clients. Further, in 2014 the firm put in place a written policy requiring its partners and staff not to engage in criticisms of the firm's clients without the permission of Mr Martinez."
"Dr Rumble believed that he was entitled to make these comments publicly without Mr Martinez's approval and he therefore continued to do so from time to time. The firm says that it was this that eventually caused Mr Martinez to press the send button on the email he sent Dr Rumble at 10.57pm on Monday 20 February 2017 terminating his employment. It also says that it did not have enough work for him," his honour outlined.
In response to the queries about remuneration, HWL accepted it had not originally paid him the 5 per cent increase in some, but not all, of the years alleged, but denied said inquiries factored into the subsequent decision to terminate his employment. Regardless, it accepted liability for the increase "and had paid what was due".
On the question of the Christmas party, HWL denied that Dr Rumble had been instructed not to attend "but, even if it did, it said that had nothing to do with his political opinion".
"It said that the joint head of its Canberra office, Mr Will, had asked him to reconsider whether he would attend the Christmas Party because Mr Martinez had said that if Dr Rumble was going to attend then he was not going to attend," Judge Perram said.
"It was in that circumstance Dr Rumble who had chosen not to attend. Mr Martinez's position that he would not attend if Dr Rumble did was said to be driven by the fact that Mr Martinez found Dr Rumble most aggravating given that he had defied his authority that very day by again criticising two of the firm's clients."
Alternatively, the firm submitted that it was not unlawful to terminate his employment because of his political opinion even if it had done so.
Finally, it denied there was an implied term of good faith in the contract, but even if there was, "it could not have the effect of circumscribing its right to dismiss Dr Rumble without cause on three months' notice".
So far as damages were concerned, the firm submitted that "the claim for economic loss did not withstand scrutiny".
The Federal Court's conclusions
Regarding the termination of employment, his honour concluded that Dr Rumble was not terminated because of his political opinion "as to which the firm was at least indifferent and quite possibly in fact sympathetic".
"It terminated him because he repeatedly disobeyed a reasonable direction to cease from criticising the firm's clients. The firm did not require any legal basis to terminate Dr Rumble's employment which it could do without cause," Judge Perram said.
"There was nothing therefore unlawful in the firm's dismissal of Dr Rumble because he refused to cease from criticising the firm's clients."
Further, Judge Perram did not accept the contention that the inquiries about remuneration led the firm to terminate Dr Rumble.
With regard to work given to Dr Rumble, his honour accepted that Mr Martinez and Mr Will did not favour him being given more work and, estimated that those actions reduced Dr Rumble's workflow by around 30 per cent.
"That said, the reasons that Mr Martinez and Mr Will took these steps did not relate to his political opinion or the fact that he inquired from time to time about his 5 per cent pay increase. It related to his continued criticism of the firm's clients and a question mark about his value to the firm," he said.
On the question of the Christmas party, Judge Perram concluded that Dr Rumble was instructed not to attend the event but did not accept that this occurred because he had expressed political opinion.
"It occurred because he had infuriated Mr Martinez on the day of the Christmas Party by again disobeying his instruction not to criticise the firm's clients. Accordingly, I conclude that there was nothing unlawful about Dr Rumble being told to stay away from the 2016 Christmas party," his honour said.
As to the contract case, "making the assumption that there was implied in the employment contract a term of good faith, I would not conclude that that term was breached."
Finally, his honour found that the reason Dr Rumble did not receive a gift card was because he was a casual employee. "It had nothing to do with his other activities," he surmised.
Orders
Dr Rumble's case therefore fails and his application should be dismissed. No orders were made as to costs.
The full citation of the judgment is Rumble v The Partnership trading as HWL Ebsworth Lawyers [2019] FCA 1409 (3 September 2019) and is accessible online via AustLII.