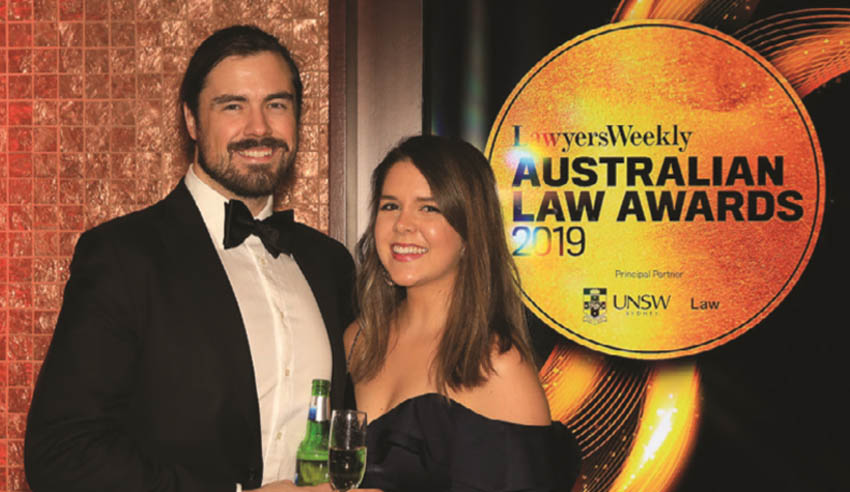 In its 19th year, the Australian Law Awards continues to be the pinnacle awards event for Australia's legal profession. In yet another outstanding evening, the awards witnessed the absolute brilliance of the legal profession at the bar and in firms and companies of all sizes.
The legal profession in Australia is increasingly achieving major triumphs in all aspects of the law and, in a lot of ways, the wider Australian community. Given the sheer calibre of legal professionals working in the profession, it isn't hard to see how Australians are benefitting from a stellar list of lawyers and their law firms.
On Friday, 9 August 2019, almost 950 guests attended Sydney's Star Casino. Hosted by UNSW Law and MC comedian Julian Morrow, the awards celebrated 38 teams and lawyers for their ongoing commitment to the legal sector – from those that have years of experience to those that are just now coming through the ranks.
The evening was filled with an impressive list of lawyers and teams that have achieved extraordinary work. The legal profession has time and again shown just how impactful it can be on Australia, including academically, as a support officer and in administration.
Polaris Lawyers was awarded this years' Law Firm of the Year and LegalVision the NewLaw Firm of the Year. The Managing Partner of the Year went to John Ramsden of Ramsden Lawyers and Herbert Smith Freehills Jason Betts won Partner of the Year. These are just a few of many from 2019's incredible list of winners and finalists.
Lawyers Weekly would like to say a big congratulations to all winners and finalists from this year's Australian Law Awards.
Academic of the Year | Justine Nolan, UNSW
In her capacity as associate professor at UNSW, Justine Nolan is a "standout leader" with impressive experience as an academic and writer, in addition to her work in domestic and international government and industry programs. UNSW commended her success in pioneering new technologies for her classrooms and introducing new and innovative electives for her students. Ms Nolan has had a long-lasting impact on those she taught, with new courses and teachings credited as "life-changing for our students".
Banking and Finance Team of the Year | Clifford Chance
Clifford Chance's Australian team boasts of more than 80 experienced lawyers who have brought "decades of expertise and specialist knowledge" to the firm's clients. In 12 months, the firm promoted 30 of its lawyers to partnership ranks worldwide, including one to its Sydney office, in addition to three promotions to counsel across Australia. It has also continued to show devotion to the Australian community through awards and event programs, including its recent Arcus Pride Art event in Sydney.
Barrister of the Year | Mark Douglas, Murray Chambers
This year's Barrister of the Year, Mark Douglas, is a fixture of Murray Chambers and has an impressive career. He was admitted to the practice in 1998 and signed the bar roll in 2011. He specialises in alternative dispute resolution and appellate advocacy, commercial, common law and personal injury, criminal, environment and planning, in addition to equity, industrial and employment, tax and revenue.
Boutique Law Firm of the Year | Estrin Saul lawyers and Migration Specialists
The Western Australian law firm has had a big 12 months, having completed and assisted in a number of major cases. It is one of the few firms in Western Australia to specialise in migration and immigration law, including granting protection visas, issuing specialist advice on visa health issues and assisting with court appeals. Speaking on this award and on also being a finalist for the Pro Bono Program of the Year, the firm said its partners "had reason to celebrate" the achievements.
Business Development Professional of the Year | James Hill, Clayton Utz
As national client relationship manager at Clayton Utz, James Hill develops and manages a number of the firm's major business development programs. Colleagues praised Mr Hill on his "curiosity, out-of-the-box thinking and commercial acumen" and added that he has been integral to the development and rollout of the firm's key client programs. His work on TEDxBlighStreet event was commended by speaker coaches for passion and his "unique ability to describe his idea and vision". Over the last year, Mr Hill has identified opportunities and pursued them actively within the partnership.
Commercial Team of the Year | Herbert Smith Freehills
The Herbert Smith Freehills Head Office Advisory Team (HOAT) is "as skilled and as knowledgeable as any law firm could possibly be", according to some of its clients who credit the firm for providing fast and accurate commercial advice. The team is trusted as advisers to navigate and assist clients with corporate governance matters and "has an unrivalled depth of legal and commercial knowledge" in their practice, including in matters with major strategic commercial goals and outcomes. Recently, HSF's HOAT team celebrated 20 years of working with corporate governance issues.
Dealmaker of the Year | Rebecca Maslen-Stannage, Herbert Smith Freehills
Rebecca Maslen-Stannage has been either winner or finalist for this award since 2011. HSF said she is a "brilliant" M&A and equity capital markets lawyer, with a lot of experience in key sectors like mining and technology, media and telecommunications. In October, she advocated on Lawyers Weekly for creating an environment where staff are happy at work, saying it was really important to reinforce the message "your idea matters". In the last year, Ms Maslen-Stannage has led the HSF team in a number of major deals, including $1.2 billion acquisition of APN Outdoor by JCDecaux SA and managing the merger between Vodafone Hutchinson Australia and TPG Telecom.
Dispute Resolution Team of the Year | Gilbert + Tobin
The dispute resolution team behind Gilbert + Tobin "continues to achieve outstanding results for clients in significant disputes, investigations and inquiries." They have been instrumental in a number of deals and cases in the last year, including in representing Westpac during the "complex, contentious and high-profile" financial services royal commission. The team assisted in settling a dispute for Talison Lithium Australia and worked with former Tennis Australia director Harold Mitchell in a dispute that alleged he improperly helped Seven West Media win broadcast rights to the Australian Open.
Employee Program of the Year | Shine Lawyers
Shine Lawyers has implemented a range of workplace wellbeing practices to ensure its staff are receiving an appropriate support network. Its EVOLVE program had many positive responses, including all staff strongly agreeing that it will help them with their daily tasks and the majority who attended the program crediting it as a highly valuable and well-resourced initiative. Staff said the inclusion of open discussion "encouraged participants to really think about how we can implement some of the learnings".
Employer of Choice | PricewaterhouseCoopers
Staff behind PwC said they "genuinely feel as though our space is our home" and has spoken highly of the workplace, from the office space through to its inclusion. PwC is committed to creating an environment and culture that enable its people to feel more secure and comfortable in the workplace, from improving the office for people with any disabilities, ensuring equal opportunities for all genders and elevating its reconciliation action plan for Indigenous employees and clients. CEO Luke Sayers said the firm has "put diversity and inclusion at the centre of our strategy".
Energy and Resources Team of the Year | Herbert Smith Freehills
The team at HSF specialising in energy and resources has had many notable wins and successes during 2018-19 deals. According to the firm's statistics, the HSF team has led the way in deals for energy, mining and metals and renewables. On a number of occasions, the team advised major energy companies on acquisitions, mergers and bids, including Santos, OZ Minerals, Origin and AGL Energy.
General Counsel of the Year | James Hebron, Department of Planning and Environment
As general counsel to the Department of Planning and Environment, James Hebron created "the most customer-focused legal team" his colleagues said they have ever been part of. In the past, he led his team of over 100 lawyers through major structural change in addition to supporting the rest of the department with urgent legislative reforms and in high-profile matters. The Department of Planning and Environment said in-house ratings for employee culture surveys saw Mr Hebron as the "envy of the rest of the team".
Government Team of the Year | Ashurst
Ashurst's government team has a "market-leading reputation" for providing its clients with solutions to a wide range of complex issues. In its most recent deal, the Ashurst team advised the secretary of state for the department of business and energy on a short-term British Steel Limited. It has also assisted the department of defence on the acquisition of 211 combat vehicles and advised TFL on a contract with Siemens Mobile Ltd. The team has proven time and again that it has the strategies and the initiatives to ensure their clients come to a successful conclusion.
In-House Company Secretary of the Year | Jane Bowd, Coca-Cola Amatil
Jane Bowd has been recognised for her major support of the Coca-Cola Amatil board. This has included ensuring the company is up-to-date with implementing best practice and has an understanding of the intricacies behind the culture of the business. Coca-Cola Amatil's chairman Ilana Atlas said Ms Bowd "manages a high-intensity workload with grace, poise and good humour" and has time and again provided the board with a bridge between their work and successful management.
In-House Lawyer of the Year | Fiona Harding, Bank of Queensland
In her capacity as in-house lawyer of the year for the Bank of Queensland (BOQ), Fiona Harding has played an "integral role" in leading key projects that span a wide range of legal areas. Partners of major offices have credited Ms Harding for her leadership and coordination abilities as well as her efficiency in management and deployment of any in-house responsibilities relating to internal and external deals. A judging panel at Mills Oakley said she is "well respected" and "critical to the wellbeing of the team".
In-House Team of the Year | Nine Entertainment Co
The in-house legal team behind Nine has had a big year of change – not only did they advise on the Nine-Fairfax Merger and scheme process, the team led the way on the divestment of Australian Community Media and the divestment of Fairfax Events. Nine director of strategy and corporate development Alexi Baker said "the team takes the effort to understand the strategic context, commercial objectives and appetite for risk in any situation" and credits the leadership of general counsel Rachel Launders.
Innovator of the Year | sprintlaw
Clients of sprintlaw have commended the relatively new firm on the team's "innovative and forward-thinking approach" to legal practices, including in how the firm integrates technology into their services and their knowledge of the space. The firm is celebrated for heralding in new and innovative programs into the traditional corporate space. This has included unique online practice management systems and a custom-built range of tools for legal practice sales, marketing and knowledge management.
Insurance Team of the Year | Holman Webb Lawyers
The insurance team at Holman Webb Lawyers consistently provides high levels of legal services and increasingly "[shows] themselves as being responsive". A client of the firm, Claim Central, said "the depth of understanding of pressures I, and my organisation, are under, the ability to foresee what is needed and deliver advice with a strong and commercial focus really sets Holman Webb apart."
Intellectual Property Team of the Year | King & Wood Mallesons
KWM's intellectual property team offers "strategic commercial solutions and a enviable track record in disputes". The team specialises in advice for global and Australian IP owners and covers patents, trademarks, copyright, designs, trade secrets and advice and disputes. The firm said it "offers unique insights from working with some of the most notable international and Australian brands and corporations".
Law Firm of the Year | Polaris Lawyers
This year's Law Firm of the Year was awarded to Polaris Lawyers for its commitment to providing clients with "the highest quality legal advice, expertise and support" to see that all rights are protected and stress is limited. Their client services are governed in a way that ensures there is a consistently positive response to its services. Polaris has prided itself on the way it interacts with clients, from its professionalism and empathy to its appropriate referrals and its efficiency in addressing any issues.
Law Student of the Year | Michael Jeffries, University of the Sunshine Coast
Recently graduated from the University of the Sunshine Coast with recognition of most distinguished contribution to the university and community, Michael Jeffries has had many experiences and successes as a law student. At his graduation ceremony, Mr Jeffries was awarded the Chancellor's Medal, the highest honour conferrable to a student. Sir Angus Houston, chancellor of the university, said his boardroom and leadership ability "stands him in good stead in continued pursuit of [his] ambitions".
Legal Support Professional of the Year | Viktorija Melnikova, Maurice Blackburn
In her work at Maurice Blackburn Lawyers, Viktorija Melnikova is regarded fondly by fellow colleagues and managers as a "natural leader" with a "calm and friendly manner and an acute emotional intelligence" that have led to a rapport with legal assistance teams who look to her for guidance and input into their own work. She has played a critical role in improving administrative practices and is familiar with delegating and giving her colleagues and fellow legal assistants the opportunity to show their own skills.
Managing Partner of the Year | John Ramsden, Ramsden Lawyers
John Ramsden founded Ramsden Lawyers and heads up its corporate and commercial law group. He has been instrumental in a number of large projects for clients, including property developments, offshore funding transactions, joint ventures and multinational corporations and general counsel services for large AFSL entities. Some of his major qualifications include solicitor of the Supreme Court of Queensland and the Supreme Court of NSW as well as solicitor of the High Court of Australia.
NewLaw Firm of the Year | LegalVision
The 2019's New Law Firm of the Year has been commended for its efficiency and its high-quality work when turning around major cases and deals. Caltex recently worked with LegalVision and was impressed with the firm for "coming in at short notice" and being instrumental in "breaking down a big project into individual tasks". LegalVision's work with technology and processes "really sets them apart from other law firms".
Partner of the Year | Jason Betts, Herbert Smith Freehills
In his capacity as partner for Herbert Smith Freehills, Jason Betts is regarded as "one of Australia's leading class action specialists". At the time of nominations, he was working with WorleyParsons in a significant shareholder class action litigation that has been in action for five years before the Federal Court of Australia. Group company secretary at the company said Mr Betts demonstrates "skill and passion to get across the particular circumstances and push for thorough legal analysis".
Pro Bono Program of the Year | Australian Government Solicitor
For over 10 years, the Australian Government Solicitor (AGS) has provided pro bono work to the community, including offering free legal support and encouraging its staff to undertake support work in law centres. AGS' pro bono program "is a vital part of the pro bono landscape in Australia", according to some of its major clients. The firm's pro bono work extends to community legal education, training and support for clinics and assistance to a range of not-for-profit organisations, charities and legal centres.
Property Team of the Year | Colin Biggers & Paisley
Colin Biggers & Paisley's property team is celebrated by clients for their "strong client focus and commercial approach to business needs". The team is recommended for its expert advice, pragmatic solutions, professionalism, approachability and its technical proficiency. Development operations manager at Pellicano Michael Kent said the team "immediately impressed me with their knowledge, responsiveness, organisation skills and ease in confidence navigating difficult solutions and matters."
Regional/Suburban Law Firm of the Year | Ryan & Seton Lawyers
The NSW Central Coast team of lawyers "[likes] to be different in the way we help you". Michael Seton and Tony Ryan are the youngest directors of all law firms on the Central Coast and lead a "dynamic, progressive team" with an average age of 29. The firm has more than doubled in size from eight to 17 in the past three years. On the award, Mr Seton said: "We are thrilled and humbled beyond belief to have won. All the credit must go to our incredible team. This is due recognition for the care, attention to detail and quality of legal solutions that [are provided] day in, day out."
Regional/Suburban Lawyer of the Year | Kath Manby, VM Family Law
Kath Manby takes a holistic approach to her clients to ensure they are receiving all the necessary support during tumultuous legal proceedings. Her firm, VM Family Law, has "grown in leaps and bounds" and has aided many clients, often in a pro bono capacity. Salvos Legal, which often works with Ms Manby, said she "should be commended on her commitment to dedicating many hours to pro bono matters" and for her amount of support and work for women affected by domestic and family violence.
Rising Star of the Year | Blake Connell, Herbert Smith Freehills
With a passion for using technology to solve legal problems, Blake Connell has advised on technology-related legal questions and aided the firm in creating legal products and services which harness technology. In his role, he assists a broad range of clients from leading global ASX-listed companies. Outside of law, Mr Connell is COO of Out for Australia, a national not-for-profit providing LGBT+ role models for the community.
Senior Associate of the Year | Luke Hawthorne, King & Wood Mallesons
Luke Hawthorne "easily ranks as one of the most effective and committed senior lawyers to our program", according to King & Wood Mallesons. In the last year, Mr Hawthorne has been credited with undertaking almost 135 hours of pro bono work, leading a class on aiding community partners in identifying legal issues and has been seconded to the Torres Strait for one week as part of a partnership with Arts Law Centre of Australia. As a direct result of his legal work, the firm has raised $22,000 in support of the Artists in the Black Project, enabling the arts centre to employ an Indigenous paralegal.
Sole Practitioner of the Year | Siobhan Mullins, Separate Together
To ensure the divorcing process is smoother, Siobhan Mullins founded Separate Together, a firm designed to fill in the gaps the legal profession was missing in addressing clients' needs to avoid conflict, expensive lawyers and court appearances. Ms Mullins has had a number of awards for her work, including winning Lawyers Weekly 30 Under 30 and finishing as a finalist for 2017 Legal Website Design and Innovator of the Year.
Special Counsel of the Year | Lydia Daly, McCullough Robertson
For her support of many major organisations and companies, Lydia Daly was nominated due to not only her dedication to her work but also to her professionalism and integrity. She has provided advice on a number of serious matters and, in the case of Australian Dental Association Queensland, "made our organisation more robust and transparent for all our stakeholders, including, most importantly, our members". Her work across a number of client cases has been widely celebrated, particularly for her high-quality and dedicated work and for her ability to communicate effectively with clients.
Transaction Team of the Year | M&A Team, Herbert Smith Freehills
HSF's M&A team has bolstered the firm's reputation for successfully handling deals in major cases. The firm ranked first by value in Asia Pacific in a Thomson Reuters ranking, and first by deal value in the Asia Pacific and Australia and New Zealand by Bloomberg and Mergermarket. Australian corporate partner Matthew FitzGerald said 2019 will be much of the same, "with heightened M&A activity expected from private equity funds, infrastructure funds and superannuation funds executing direct investments."
Wellness Advocate of the Year | Clarissa Rayward, Happy Lawyer Happy Life
In response to a growing number of lawyers and other professionals reaching out for advice on how to find "happiness" in their careers, Clarissa Rayward founded Happy Family Lawyer and the course "Happy Lawyer Happy Life". Her podcast and her book offer an insight into resources for legal professionals seeking fulfilling careers and happiness in both their law profession and in their life outside of the workplace.
Wellness Initiative of the Year | Lander & Rogers
Landers & Rogers' "The Resilience Project" has led to major change in the workplace, with many of its staff reported that they have improved in resilience and have a better connection with family and friends. Almost all staff said Landers & Rogers' Discovering Resilience session taught them something new and inspired them to practice empathy, gratitude and/or mindfulness in the workplace. A pro bono client for the firm said: "It was both informative and entertaining, as well as extremely relevant to our work."
Workplace Relations and Employment Team of the Year | Australian Business Lawyers and Advisors
Australian Business Lawyers and Advisors are at the forefront of providing advice and assistance around employee engagement within the workplace. The organisation has published many guides on how to best engage with employees, which HR practices in the workplace should be implemented and responding to workplace insurance claims.