How can legal workplaces be more accessible and inclusive for people with disabilities?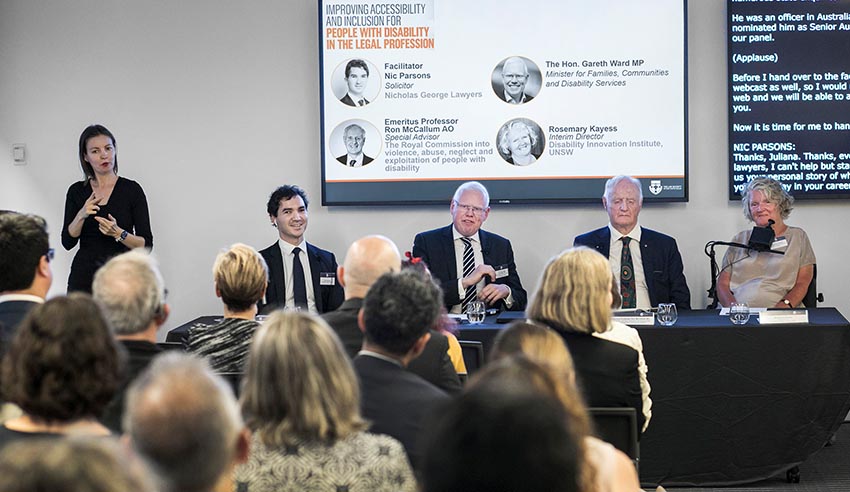 There are numerous, practical ways that the legal profession can ensure that those with living disabilities are better accommodated for.
At a recent panel event, hosted by the Law Society of NSW in support of International Day of People with Disability, NSW minister for families, communities and disability services, the Honourable Gareth Ward MP, said it was important for private businesses to employ people with a disability.
"Confounding expectations is really important to me and being the first NSW minister for disabilities to actually have a disability is an opportunity for me to demonstrate what people, who some will try to frame as having an impairment, can actually achieve," he said.
"There's a misconception in a lot of workplaces that people with disability are somehow not up to standard or not able to make the same contribution as others and I just think that's totally wrong. People should see the employment of people with disabilities as a real opportunity to reach out to people who can make a great contribution to the legal profession.
"There are a lot of challenges across all professions – it's about attitudes, it's about inclusive workplaces, that applies to governments as much as anybody.
"We need to say to managers and to employers that employing people with disabilities is not a burden – it's a great opportunity to demonstrate that you are an inclusive employer and an inclusive workplace."
There are a number of ways that law firms, for example, can implement "straight away" to employ more people with a disability in the legal workplace, he posited.
These include: considering the existing Disability Inclusion Action Plans available from the state government, setting targets for employment of people with a disability in the workplace and ensuring that the needs of people with a disability currently working in the legal workplace are being met to the highest possible standards.
Sydney University Emeritus Professor Ron McCallum – who was the first totally blind person to be appointed to a full professorship at any Australian or New Zealand university – said there is a need to make the justice system more accessible for people with a disability.
"We have to reach to our clients who are persons with disabilities, and we have to reach out to the courts and tribunals, and we have to make things as appropriate and as fair as possible," he said.
"I sat on the Administrative Appeals Tribunal for many years and I found it was very important for those people challenging a decision to know that there was a person with a disability hearing the matter."
Disability Innovation Institute human rights lawyer and interim director Rosemary Kayess warned, however, that it is difficult to build an inclusive legal profession when the bulk of members of that profession are not aware of disability.
"I think law schools need to start putting a more realistic framework on their subject matter… people with disability are over-represented in the justice system, especially criminal law, yet disability gets mentioned very rarely through law subjects," she mused.
Elsewhere, the NSW Bar Association marked the International Day of People with Disability by calling for greater awareness of the challenges people with a disability face in accessing justice.
"This International Day of People with Disability we are calling on our members to start a conversation with their chambers and colleagues about improving access to, and engagement with, the justice system for clients and colleagues with disability," president Tim Game SC said.
"Some of the challenges include considering adjustments to physical environments or infrastructure to make our courts and chambers more accessible for everyone. Consideration should also be given to promoting greater flexibility in court procedures and properly resourcing legal assistance to support those in need."
Dr Robert Dubler SC – who is chairing the Bar Association's accessibility panel – said it is fundamental to listen to members of the profession, including barristers with lived experience of disability, and work collaboratively with chambers, courts and community to drive meaningful solutions.
"Increasing awareness among all who engage with the justice system is critical to improve justice outcomes and promote equal opportunity for people with disability," he said.
"[We look] forward to working with the courts, chambers, our members and the community to improve equal access to justice. We also recognise the important work currently underway by the disability royal commission and look forward to engaging with the commission."