Lawyer X and Paul Dale: The story of dirty tricks, cover-ups and corruption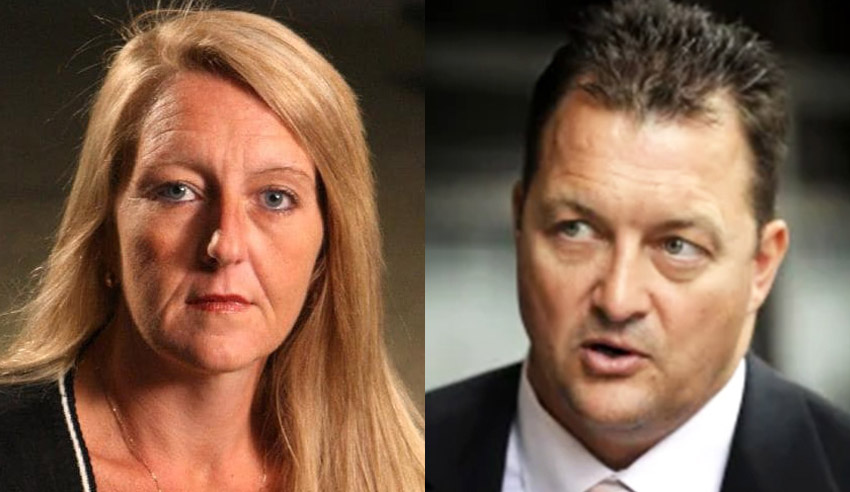 For quite some time, and even now still, Paul Dale would open his newspaper or switch on the television to see his face and the label "disgraced ex-detective". Now an inquiry into Lawyer X has finished, Mr Dale is ready for a new story, he tells Lawyers Weekly.
Nicola Gobbo is Lawyer X, a criminal barrister who represented the who's who of crime in Melbourne's underworld. From the likes of Tony Mokbel to Carl Williams, Ms Gobbo was privy to information about drug importations, rivalries and murders. Although this was all told to her in confidence, she took the information straight to police.
Lawyer X has left a trail of victims; some 364 people who went on to spend time behind bars because of the information she breached legal professional privilege to tell police. One of her victims was Mr Dale, a former senior detective of the drug squad who, at different points during the 2000s, was her friend, lover and then client.
In a covert, wired conversation organised by Victoria Police, Ms Gobbo said to Mr Dale one line: "But, Paul, the reality is that, um, you are entitled to talk to a lawyer about it."
And he did. And she passed this on. And he was charged.
With this wired conversation and a statement from Mr Williams, Mr Dale was charged with the 2003 burglary of a house belonging to Mr Mokbel and then the murders of the police informer Terry Hodson and his wife Christine. Both of these charges were struck off, mostly due to the deaths of several witnesses at the centre of them.
"A lot of you have judged me guilty," Mr Dale wrote in a book Cops, Drugs, Lawyer X and Me, released recently. "All I can do is humbly ask for you to consider both sides."
The book follows his evidence before the Royal Commission into the Management of Police Informants (RCMPI), which was set up to examine the level of corruption within Victoria Police, particularly concerning the use of Ms Gobbo as a human source. When Mr Dale heard about it, he was eager to give his own evidence.
"It was quite interesting," Mr Dale told me. "Chris Winneke, assistant to commissioner, he actually said during his examination, 'Mr Dale, you wrote a letter to the commission stating that you wanted to appear here'. He said, 'You wrote that in that letter that if we didn't call you, you would stand on the steps out the front of the commission here and tell all the media your side of events'. That was exactly right."
"I was a very, very willing participant," he added. "I was a very happy, happy person when I heard of the royal commission being called."
In an exclusive interview with Lawyers Weekly, Mr Dale said he has had to live with a "media barrage of negative publicity, falsehoods, false stories, misinformation" and he has wanted to get his side of events out. In two books – the first Disgraced – a couple of interviews, the royal commission and now this piece, Mr Dale lays it all bare.
Police agent to royal commission witness: A history of Gobbo's duping
A big question at the centre of the royal commission was how Ms Gobbo managed to, time and again, dupe her clients. Mr Dale has been asked that many times, by myself included, and he said it's not a question of how he got duped so badly. It's that she did dupe a lot of people because she had a very, very good cover: she was a barrister.
"You cannot be a criminal barrister representing people and at the same time, being a police informer providing evidence against them," Mr Dale said on how Ms Gobbo got away with it. "It just – it can't happen. That's why we have the royal commission, so we can unravel it, on how it happened and how the hell it was allowed to continue."
Ms Gobbo's status as a criminal barrister solidified her reputation in the underworld of Victoria. She was the "go-to" lawyer, but she also had many friends in the police force. Mr Dale said he trusted her as a legal professional and, as such, trusted that she would maintain confidentiality in their conversations about his impending charges.
"She was who I sought for legal advice and that was in my mind the whole time. I have example after example to show unbeknownst to me and unbeknownst to many others, she was a police informer," Mr Dale told me.
"She was a police agent. I might as well have just been talking to the police. It's [an] absolutely disgraceful conduct."
Her conduct has been questioned time and again and there is no mistaking she indeed breached many legal professional privilege obligations. But it's not just that. During the evidence that came from the royal commission, Mr Dale said she's clearly implicated herself in murders by arranging payments: "She visited one of the crooks in jail and he asked where his money was, get the guys to pay me the money, and she did."
Ms Gobbo has, of course, denied the wrongdoing. She has, however, been open about the "f---ed" ethics, that she had breached legal professional privilege obligations and that police encouraged her. She certainly told them everything she could about clients, privileged and non-privileged, and "police lapped it all up as she did".
"You would have to charge them too," Mr Dale said. "So, whether the commission has got the willingness remains to be seen. But boy oh boy, there's some strong evidence that came through the commission from some serious offences."
During her evidence before the royal commission, Ms Gobbo seemed forthright, open, transparent. Where the senior members before her would spout "I don't recall" at least a couple of dozen times during their examination, Ms Gobbo would rarely fall back on that excuse. If she did, she had almost convinced listeners that she was telling truths, that if she was saying she couldn't recall, then she really couldn't.
But the way Mr Dale puts it, Ms Gobbo almost got away with duping everyone again – perhaps myself included. Mr Dale said her evidence was "bizarre" (there's not really a different way of describing it, he adds) because "she gave evidence in exactly the way she behaved with Victoria Police and Federal Police and anyone who would listen".
Mr Dale said the disgraced barrister was "so willing" to tell Mr Winneke, counsel for RCMPI, everything. She never "arced up or carried on" and, when counsel for handlers Geoff Chettle had his chance of examination, she did the exact same thing. She would agree with everything, but in doing so, would contrast everything else she had said.
"I could see Mr Winneke sitting there shaking his head," Mr Dale said. "I could see his assistant there with him and when he had a chance to re-examine, he was baffled. He said 'Ms Gobbo, you basically gave evidence here for the last two weeks and it is all completely contradictory to what you told me in the last few days'."
To Mr Dale, this means: "You just cannot believe a word she says."
Simon Overland 'puppet master' behind history of corruption
There was no love lost between members of the police force and former top cop Simon Overland. If there was a consistent theme during the 12 months of inquiry, it was that police tended to shift blame on anyone else. More often than not, it was to Mr Overland.
There is no doubt in Mr Dale's mind that Mr Overland was the "puppet master" behind the corruption at Victoria Police. This was never more clear than when the former chief commissioner sat before the royal commission and, clear as day, lied under oath.
"There's no black and white question about it," Mr Dale told me about the lies from the top of the police force. "It's as clear as Simon Overland sitting there and taking an oath and telling everyone that he didn't keep diaries and notebooks. Then, two weeks later, some disgruntled ex-assistant, knowing he was lying, found three of them, thank God."
It was very clear that Mr Overland was an influential member of the police force. There was a clear indication of this when Ron Iddles took the stand and said he had to fight back when Mr Overland ordered he charge two police members. Mr Dale said that had he had a Mr Iddles on his side, he never would have been charged for anything.
"[Mr Overland] hand-picked his taskforces knowing they were puppets and no one was going to question his authority and direction, and that's how it flowed," Mr Dale told me about why Mr Overland was at fault, adding it was always going to "end up on his lap".
Moreover, he thinks Mr Overland's actions left other senior members embarrassed – current chief commissioner Graham Ashton first and foremost. Mr Ashton was the lead of the Office of Public Integrity (OPI), an association independent of the force charged with ensuring there was no police corruption, but he still worked with Mr Overland.
"Simon was his boss previously and when things were happening at the OPI that they didn't want to happen, Simon would ring him," Mr Dale explained. "It happened when Nicola Gobbo was called to give evidence. He rang him and convinced him not to call her. Simon was influencing the OPI through Graham Ashton."
But what consequences could Mr Overland possibly face, now that he's no longer with Victoria Police? Mr Overland was let go from the force – perhaps given the opportunity to resign – and he has since been sacked from two government jobs. Mr Dale said he has certainly got the karma he is owed for the part he played at Victoria Police.
"He hasn't escaped it, no way in the world. There is no doubt there is going to be some adverse findings to him again. Whether the commission is strong enough to go all the way or recommend criminal charges against him [is open]. I really hope and pray they do. That would bring some confidence back into our system, in my mind and the minds of a lot of people that have been watching him lie," he said.
The 1%: How corruption at the top damaged the whole system
A common phrase that got on the nerves of most people following along with the royal commission was "I can't recall". It was used offhandedly by a number of members from Victoria Police in place of answering a question or an allegation levelled at them. This was especially used by senior members of the force, time and again.
Mr Dale watched as much as he could of the royal commission. He said that watching his former colleagues left him "disgusted". Having fought his own way through the legal system, he prays that many of them are charged for lying under oath to the commission and to the counsels: "They put me through it, I hope they get put through it."
"I was just left really disheartened by the fact that I had sort of expected that someone at some point – at rank of assistant commissioner, deputy commissioner, or from chief commissioner, who are all just trying to cover their own ass – I was waiting for just one person to come out of the blue, take the Bible in their right hand, hold it up high, swear to tell the truth and actually do that, and just be accountable.
"But they all just went 'I can't recall, I can't recall, I don't remember, it was a long time ago'. No one believes that," is Mr Dale's scathing review. "It just undermines potential of them being truthful. It really undermines the confidence everybody has in the police."
He said all of it was so frustrating for him because he was there. Mr Dale was in these positions where he prosecuted people. He was at the Homicide Squad. He spent many years at that highest level, understanding the rights to legal professional privilege.
And so he knows that Victoria Police hid the fact that Ms Gobbo was a police informer. He said it's completely open now, there's no hiding that fact. When they spoke before the commission and said that they "can't recall", it's all about more hiding.
"I took an oath of office and I was taught, as every other policeman that took that stand and tried the whole 'I don't know about legal professional privilege, I haven't had a lot of training about that, we only have basic knowledge'. Bull f---ing shit. We knew damn well what legal professional privilege was, because every time we made an arrest, we had to read them their rights. Every single arrest, you read them their rights," he said.
"They knew what they were doing was wrong. They knew."
Mr Dale said it wasn't up to the police to take Ms Gobbo's information and decide what part of it was available to investigators. The lawyers are on one side, prosecutors are on the other, and police are gatherers of information – and that's it. But Mr Dale noted that, instead, they took it upon themselves to be "judge, jury and executioner".
He took particular frustration with Shane O'Connell, the detective senior sergeant from Victoria Police who worked closely with Ms Gobbo and on Mr Dale's case. He said the evidence was "incredibly atrocious" and he wonders if he was left to last to really "finish off the complete disbelief of Victoria Police" before the royal commission.
"There are some very good people in our police force, and some very good members out there, I'm not just generalising. Ninety-nine per cent of them wouldn't have had a clue about what was going on, but there's that 1 per cent – and a very powerful 1 per cent – at the very top, that did know and did nothing about it," Mr Dale said.
"I really pray that some of them are held accountable. It's too big a thing to just come up with a policy and procedure scenario. No, this was more than that. This went well beyond that. This was a perversion of our justice system and if people are not held accountable for it, you just sort of have to wonder."
So, what happens next for Paul Dale?
There is a line of people waiting to hear the final recommendations from commissioner Margaret McMurdo before they make their move. Mr Dale may just be one of the many but he also may have the greatest leg to stand on when it all comes down to it.
"There are a lot of people waiting with bated breath for [the report], and not just from an appeal or custody scenario," he told me. "There are a lot of people like myself that have spent hundreds of thousands of dollars defending ourselves and spent months incarcerated in horrible conditions, which we now know was a tactic by Victoria Police."
"I will never forgive them. It will be something I will be seeking restitution for."
There is the small issue of a suppression order breach in his book, one that the police have not confirmed they are pursuing. Whether they do find something or not, Mr Dale got a chance to finally tell his side of the story to an audience ready to listen.
"I've gone through that much lies and bullshit and deceit for so many years, I have got nothing to hide. I've never made a 'no comment' interview to anyone, I've never balked at a question, I've never had an issue. Because I was innocent," he said.
"These people got up there and have lied and deceited [sic] and cheated and they can barely hold their heads up. I can. Even though their media machine has destroyed my reputation, I can still hold my head up because I've told the truth and they still can't."
This email address is being protected from spambots. You need JavaScript enabled to view it.