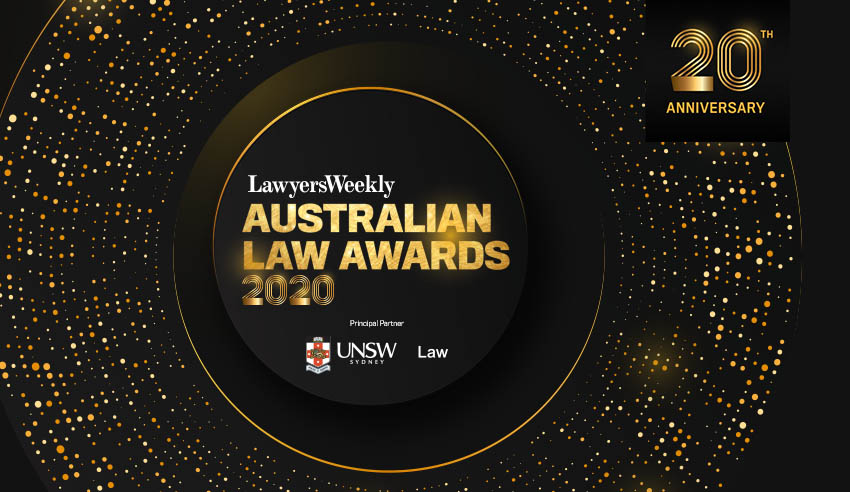 Lawyers Weekly, in partnership with UNSW Law, is proud to announce the finalists for the Law Firm of the Year category at this year's Australian Law Awards.
In a similar fashion to the 30 Under 30 Awards, this year, finalists for the Australian Law Awards will be revealed category-by-category in the lead up to the event. 
Finalists will have a dedicated profile page to display their valuable contribution to strengthening Australia's legal profession.
Kicking off with one of the most coveted awards of the night, this year's Law Firm of the Year finalists are recognised as leading employers in the business of law. 
Judges were impressed with these finalists, recognising their outstanding performance FY19-20 and highlighting them as a leading law firm in Australia.
Click here to see this year's finalists for the Australian Law Awards Law Firm of the Year
Now in its 20th year, the Australian Law Awards sets the premier benchmark for legal professionals across the country, providing an unparalleled opportunity to be recognised at a national level. There are over 30 individual and team categories up for grabs, representing all portions of the profession – from managing partners and general counsel, to those at the bar, legal scholars and law students.
"This year marks the 20th anniversary of the Australian Law Awards and UNSW Law is proud to continue our support as principal partner in this milestone year. This year has been one like no other, and I'm delighted that UNSW Law is able to support talent and achievement in the legal profession during such unprecedented times," said UNSW Law dean, Professor George Williams AO.
Also commenting on the launch, Lawyers Weekly editor Emma Ryan said it's become that much more important to pay tribute to those legal professionals going above and beyond.
"We're proud to be launching the 20th Australian Law Awards at a time of such rapid change. Faced with never before seen challenges, legal professionals have had to alter their core offering, and have done so whilst remaining headstrong in delivering supreme value to clients and the community alike," she said.

"This event provides a pivotal platform to recognise not only this amazing work but the commitment and dedication being carried out in progressing the business of law in the face of adversity."
Finalists have also been revealed for the following categories:
To learn more about this year's Australian Law Awards, click here.