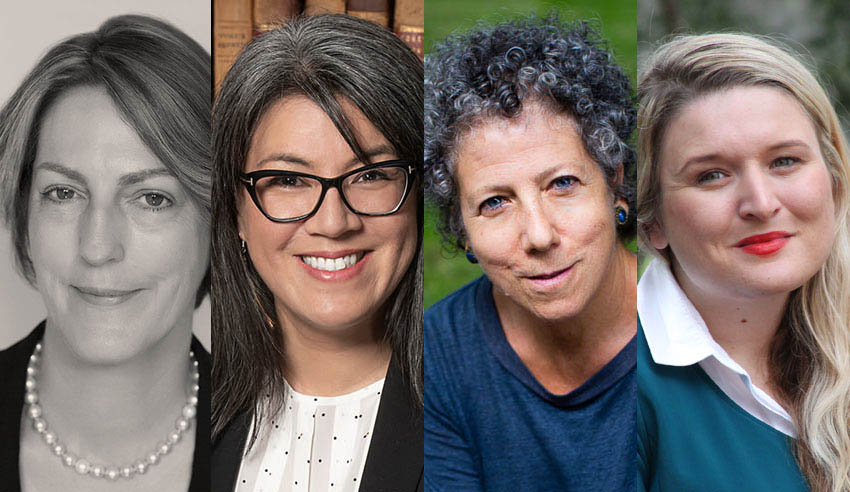 One month on from "bombshell" allegations a former justice of the High Court sexually harassed female associates, four prominent legal women addressed the power-based struggles that led to the toxic culture and discussed how to transform the profession.
Only a month ago, the Honourable Chief Justice Susan Kiefel revealed the allegations of sexual harassment against one of the High Court's own in a "powerful statement" – in doing so, spurring the profession into action to address its power-based culture that led to the prevalent, but mostly secretive, sexual harassment in the legal profession.  
Fran Kelly, an Australian radio presenter and political correspondent hosting a UNSW Law webcast, said what really struck her as an outsider to the profession was "the realisation that harassment in the law is rife. It is rife and is known and yet it still goes on".
According to Newcastle Law School's senior lecturer Dr Kcasey McLoughlin, the legal profession's harassment has been shaped by its history and exclusion of women – not to mention the exclusionary terms in cases of race, sex and wealth status.
"A woman's entry into the profession was not easy at all," Dr McLoughlin said. "There was huge resistance and if we revisit some of those arguments, the idea was that law wasn't going to be an appropriate profession because of women's reported intellectual inferiority and that they would be too sexually tempting to men."
Even though women have entered the legal profession in significant numbers – having outnumbered men for some time – Dr McLoughlin said those historic power structures have still not changed and has, "by and large, stayed the same". It speaks to the issue that the onus is still on the individual as the least powerful person in the room.
While the profession has made moves to change this culture – Victoria's review of the courts and firms; a recent roundtable discussion; institutes' commitment to changes – there is still a long way to go. Barrister Jane Needham SC said she has had a "tsunami of complaints", formerly prevented from speaking up due to the hierarchal structures.
"With the hierarchal-based structures and gender-based structures, we just don't have an easy, welcoming, approachable complaint structure yet. We need to build it and it's really what we're focused on doing now. What is really important is hearing the voices of survivors and taking that forward into a structure that would serve them," she said.
Ms Needham addressed the Heydon complaints, explaining that there has been a major response because it was not just that "somebody thought somebody was cute", it was an "unacceptable exercise of power". The issue comes back to power and attitudes of the judiciary to feel they have a right – or are beyond reproach – for their behaviour.
This was an issue Ms Needham herself had early in her career. She told the webcast that she had been "sexually approached" by a judge that she was due to appear before the following Tuesday and then had to recalibrate a "what do I do now" approach.
"It's really, really hard because it is your job as an advocate to persuade the bench the case should win and your case is the best, but if you're sitting there saying 'judge, that is inappropriate, shut up', it is really difficult to get them on side," Ms Needham said.
Australian Women Lawyers president Adrienne Morton pointed out the culture of treating junior women in the profession as some sort of collateral, get the position, request the good office, the best positions and the "pretty" intern to go along with it.
"Women aren't things and we are not rewards to be doled out," Ms Morton said. "There are so many instances where judges or senior people asked for an intern or a research assistance that is young, female and attractive," she said.
On top of rejecting these requests, Ms Morton said the profession is in need of female senior leadership across the board. There have been many surveys demonstrating the firms with women in charge have less – or no – complaints of harassment.
"As we get more women across the board in senior positions, hopefully we will see the shift there," Ms Morton said, adding: "In relation to what has changed from having the allegations against someone so senior in our profession, it is being taken seriously as opposed to 'oh yes, he's a bit handsy' or 'I stay away from him when he drinks'."
UNSW Law professor Andrea Durbach added that the legal profession needs to start addressing the issue – particularly in relation to women, but also in relation to lawyers with disability, or of colour, or in the LGBTQI+ community – because "diversity is really fundamental to the success of the legal profession and the success of law firms".
While the responsibility and the onus for shifting the culture of a profession lie within powerful associations and institutes, Ms Needham called for another group to step up and address the power gaps and the secrecy of sexual harassment.
"One of the ways we will get real change is if we harness this moment [created by the Heydon revelations] and we get men involved," Ms Needham said. "Get men to say 'no, that's not appropriate' and enforce zero tolerance. I am not seeing that from all men, I am seeing that from some men, so I'm calling on them to step up."
Ms Needham added that until there is some real, significant cultural change within the profession, complaints and young professionals leaving the profession "will not stop".
"For women to be able to tell their stories of sexual abuse and harassment – no matter the forum, whether it's at home, on the streets or the highest court of the land – to be believed is critical," Ms Kelly said.
Voting is now open for The Lawyers Weekly Award, to be presented to one individual for making substantial, consequential achievements in advancing the Australian legal profession since 2000. Finalists for this prestigious award have been confirmed as those listed below. To vote for your preferred winner, click here. 
Julian Burnside AO QC (barrister)
Bernard Collaery (barrister, former Attorney-General of the Australian Capital Territory)
Kate Eastman SC (barrister and co-founder, Australian Lawyers for Human Rights)
The Hon Robert French AC (former chief justice, High Court of Australia)
Sue Kench (global chief executive, King & Wood Mallesons)
The Hon Chief Justice Susan Kiefel AC (chief justice, High Court of Australia)
The Hon Michael Kirby AC CMG (former justice, High Court of Australia)
Jane Needham SC (barrister and former president, NSW Bar Association)
Geoffrey Robertson AO QC (barrister)
Professor Gillian Triggs (assistant secretary-general, United Nations and former president, Australian Human Rights Commission)