New virtual masterclass for dealmakers launched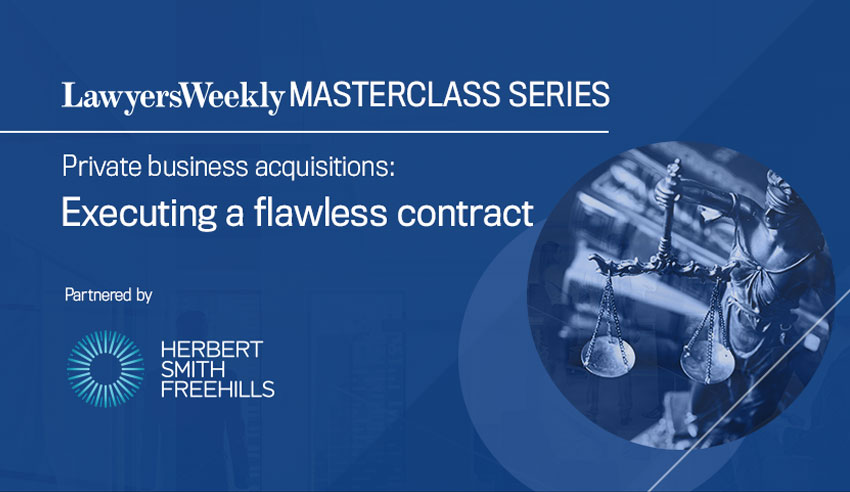 Lawyers Weekly is hosting its first-ever masterclass, equipping emerging leaders in law with the necessary tools to run private business acquisitions.
In the looming "new normal", opportunities abound for the new cohort of legal leaders to step up and stand out in a modernised yet still competitive legal landscape. Having a deeper understanding of how to navigate critical tasks and best serve clients in a post-pandemic world will be fundamental for individual and team success.
The team at Lawyers Weekly is bringing you a Masterclass Series to equip you with the practical tools needed to be a successful legal practitioner.
For our first-ever masterclass – "Private business acquisitions: Executing a flawless contract" – we are teaming with leading dealmaking lawyers from Herbert Smith Freehills, partners Rebecca Maslen-Stannage, and Malika Chandrasegaran.
The pair will role-play the "buyer" and "seller" roles in a hypothetical private business acquisition, in which they will demonstrate both perspectives of the negotiation table, what to push for and what tactics should be employed in order to secure the best outcome for one's client.
The pair will also cover:
Transaction structuring;
Due diligence;
Regulatory considerations;
The framework for a sale and purchase agreement;
Adjustments to capture value; and
Much more!
This first masterclass will be centred around a case study, including real-world elements from private M&A transactions and will come with a workbook for viewers to work on throughout the presentation.
Questions will be taken throughout the masterclass, with Lawyers Weekly senior writer Jerome Doraisamy acting as moderator for the audience.
Whether you are working on a small business sale or a complex blue-chip transaction, this masterclass will teach you to execute a contract like Australia's top deals lawyers. Get your questions answered and ensure you are set for success by registering your interest for the inaugural Lawyers Weekly Masterclass Series now!
What: Lawyers Weekly Masterclass Series: 'Private business acquisitions: How to buy or sell'
Date: Tuesday, 10 November 2020
Time: 2pm-4pm AEST
To learn more, click here.