Law Society welcomes first female president, vice-president's executive team in 87 years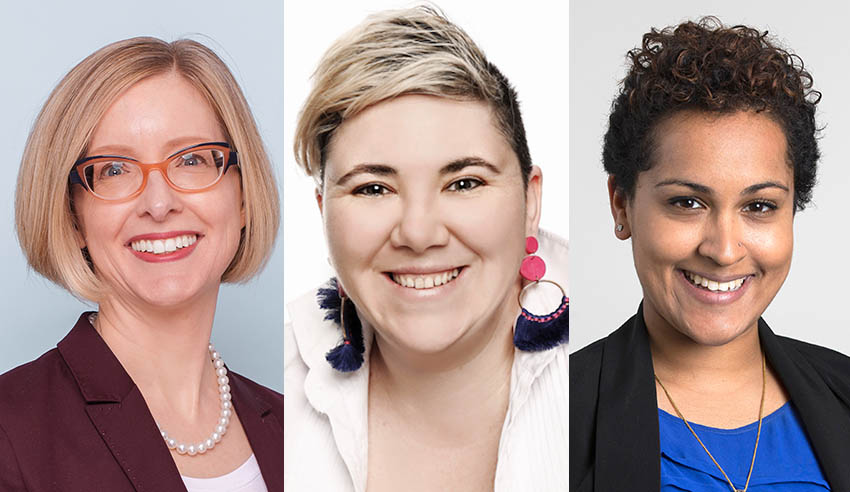 For the first time since 1933, the ACT Law Society has announced its new executive committee will be led by a female president and vice-presidents.
On Thursday, 24 September, the ACT Law Society announced a new executive committee, headed up by new president Elizabeth Carroll and vice-presidents Sarah Avery and Farzana Choudhry. For the first time since its formation in 1933, the Law Society has appointed three women to the top of the executive committee, hailing in a new era in female leadership. 
Reflecting on the new role, Ms Carroll said she was honoured to be appointed to the Law Society and will be using this new position to address and support the "unique nature" of the legal profession throughout the territory with the Law Society working as "a link between private practice and government lawyers". 
"The profession has shown a huge capacity to adapt in these challenging times and the society needs to support its members into the future," Ms Carroll said to Lawyers Weekly. "I will be working to ensure all members of the profession are able to reach their full potential and that support is available to those who need it."  
Ms Carroll is currently chief legal counsel at IP Australia and has contributed to many Australian innovations by providing strategic legal advice and managing a provision of legal services to the agency. She also brings a decade of experience leading law teams in three Commonwealth agencies and 10 years in private practice.
From 2015-19, Ms Carroll was the chair of Australian Government Legal Network (AGLN) and a board member for six years. As a strong supporter of the professional development of young lawyers, she established the AGLN's mentoring program. 
Ms Carroll was a finalist in the General Counsel of the Year category for the Lawyers Weekly Women in Law Awards 2019 and is currently a finalist for Government Team of the Year and Government Lawyer of the Year in the Corporate Counsel Awards. 
On the executive committee being headed up by female leadership, Ms Carroll said that she wanted to echo a statement from US Supreme Court Ruth Bader Ginsburg: "'Women belong in all places where decisions are being made'. As women are over half the profession, it is essential that our representative bodies reflect our society." 
New vice-president Ms Avery said it was an honour to serve the legal community in Canberra and the broader population. As a former – and the youngest – president in the ACT Law Society executive committee in 2016, Ms Avery hopes to use her past experiences "to support our new leaders and encourage emerging leaders". 
Ms Avery has worked as a solicitor since 2007, mostly in private practice. Recently, she opened a solo practice, Sarah Avery Legal Practice, where she operates within criminal law, occupational discipline and coronial process in line with her passion for helping vulnerable people and professionals facing disciplinary action. 
Reflecting on the female leadership team – and her own role model, the first female ACT Magistrate Karen Fryar AM who had a "straight talk mixed with compassion" – Ms Avery said the present and emerging legal profession needs to see itself as leaders. 
"It is important that lawyers of all genders get to see themselves as potential leaders. This ties in with the goal of wider intersectional representation in all sectors," she said.
Fellow vice-president Ms Choudhury said she was "absolutely stoked" to be working alongside Ms Carroll and Ms Avery. While disappointed that more women have not been nominated for the council in the past, Ms Choudhury said she was thrilled that the society has now appointed three women to the top of the executive committee. 
"We know there is an under-representation of women on boards and in the leadership positions more broadly and structural barriers have limited leadership opportunities for women. This is especially the case for women from diverse backgrounds," Ms Choudhury told Lawyers Weekly. 
"My hope is the ACT Law Society will pave the way for more people from a range of backgrounds to put their hands up for leadership roles within their own organisations and the broader community."  
Ms Choudhury is the disability discrimination law senior solicitor within Canberra Community Law, providing advice, casework and advocacy assistance to the people facing disadvantage in relation to disability discrimination and related matters. On top of that, Ms Choudhury is passionate about access to justice for people who are experiencing disadvantage, which she channels through legal advocacy. 
"My colleagues at Canberra Community Law (most of whom are women) inspire me everyday with their passion for social justice and dedication to supporting the people that might otherwise not have access to legal support," Ms Choudhury said. 
"My first supervisor, Anusha Goonetilleke, has been a wonderful mentor, introducing me to the wonderful world of community lawyering, encouraging me to learn to ride a bike and always being a phone-a-friend when I need advice or pearl of wisdom." 
Ms Choudhury has been a member of the council since 2018 and is active with the Law Society's inclusion and diversity committee. She said it is a "huge honour" that she is now appointed to lead the committee as one of its new vice-presidents. 
"I am really excited to have the opportunity to now be part of the executive team and hopefully make a bigger contribution to the legal profession and the community that we serve," she told Lawyers Weekly. "I think we have great representation of various legal sectors within the ACT profession through the new executive committee." 
The complete executive team is: 
    Ms Carroll, president (IP Australia)
    Ms Avery, vice-president (Sarah Avery Legal Practice)
    Ms Choudhury, vice-president (Canberra Community Law)
    George Marques, secretary (HWL Ebsworth Lawyers)
    Mark Tigwell, treasurer (Bedfords Legal)
    Chris Donohue, immediate past president (Donohue & Co)
    Veena Bedekar, councillor (Maddocks)
    Rahul Bedi, councillor (Maliganis Edwards Johnson)
    Tim Dingwall, councillor (Griffin Legal)
    Annie Haggar, councillor (Accenture Australia Limited)
    Alan Hill, councillor (Nelson & Hill Lawyers)
    Gavin Lee, councillor (Arthur J Gallagher)
    Susan Platis, councillor (ACT Justice & Community Safety Directorate)
    Kevin Robinson, councillor (Robinson + McGuinness Family Law)
    David Swanson, councillor (Department of Defence)
    Angus Tye, councillor (IP Australia)