Spice, life and law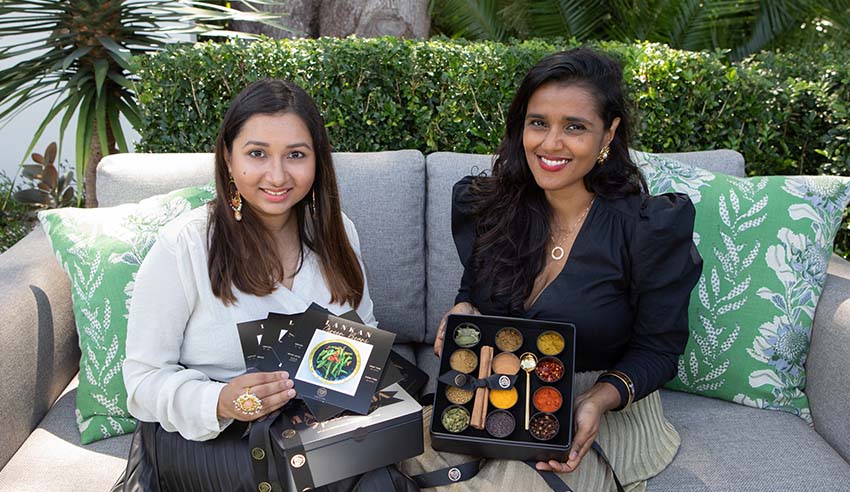 Eresha De Zoysa isn't just a special counsel at a national law firm – she is also the co-owner of a burgeoning spices business, which not only allows her to bring family recipes to life, but also embrace her heritage in ways she hadn't done so before.
Having been born in London, growing up in Sydney and visiting family in Sri Lanka every few years, Sparke Helmore special counsel Eresha De Zoysa (pictured, right) identified as "being from everywhere but also nowhere".
It wasn't until the age of coronavirus arrived that she found an avenue through which she could "really embrace, for the first time", her Sri Lankan culture and heritage.
"Our family has been in the spice business for generations but I never really understood the incredibly rich history or the business of the spice trade. I remember as a child playing hide-and-seek with my cousins in amongst the vats and barrels in the factory adjoining my grandmother's house in Sri Lanka, but I didn't quite appreciate how reliant on spices I was until 2020 forced us to be locked down inside our homes," she told Lawyers Weekly.
The uncertainty of the early days of the pandemic saw her, she detailed, in the kitchen cooking food to deliver to family, friends and neighbours, as a means to better connect with people during lockdown.
"Spices are in my blood and I began paying closer attention to the lessons I was taught by my mother and grandmothers," she said.
It therefore made sense, she surmised, to launch a spices business – Lord & Lion – "as a means to share tightly held secret family recipes with everything you would need to bring those recipes to life".
The business concept is one that had been percolating for some time, Ms De Zoysa mused, and then the "wild ride" that was 2020 accelerated the move towards the launch of this side hustle.
"In amongst it all, I found the perspective and the drive to do something creative, something which also tied in with one of my passions – cooking deliciously good food for our friends and family," she said.
"I teamed up with my dear friend and fellow school mum, Noopur Bakshi (pictured, left), who is incredibly talented, creative and clever, and the two of us workshopped all the different permutations and combinations in the early hours of the morning and in the late hours of the evening, and Lord & Lion was born. I couldn't be more excited about it!"
Success and the juggle
What's been incredible for Ms De Zoysa – who works as a corporate and commercial special counsel – is just how much the heritage and culture of her and her co-owner have been embraced by others around Australia.
"We were recently approached by one of our absolute favourite celebrity chefs for a collaboration which is about to launch soon. This, I am particularly excited about! We are also stocked across the country, all the way up to Darwin. I was especially chuffed when my peers at law firms supported Lord & Lion and bought our products for corporate gifting," she reflected.
Such overnight success, however, is challenging in that there simply aren't enough hours in the day, she noted.
"You learn to better prioritise all the things that will make the biggest impact to your clients and not compromise the quality of work for them but at the same time leave you with a feeling of achievement," she said.
"The juggle is a struggle. That said, I am having the time of my life!"
Ms De Zoysa explained that she has found ways to better carve out time where she otherwise would not have any – something, she added, that has been made infinitely more possible due to both her business partner's talent and also the unwavering support of the "encouraging and commercially savvy team at Sparkes", who were her first customers and have been trialling her products and acting as cheerleaders.
Complementary professional hats
It has also become clear to her, she outlined, just how beneficial the launch of Lord & Lion has been to her holistic capacities as a lawyer.
"I am a relentlessly optimistic person, but I am also prepared for the worst, and that is thanks to my training as a lawyer over the last couple of decades. It goes without saying that I have been better prepared when negotiating terms in contracts and anticipating what the other side's expectations and challenges are likely to be. It very much feels as though my work with Lord & Lion brings even more colour and dimension to my work as a lawyer," she said.
Moreover, being "on the other side" has helped her better understand the pressure points of logistics, government regulations and fast-moving consumer goods from the perspective of suppliers to clients of Sparke Helmore, among others.
"It's been a steep learning curve since we launched, but I am definitely learning about how to be more creative with the solutions to challenges," she proclaimed.
"Another positive, yet somewhat surprising, consequence of Lord & Lion has been the increase in legal work I have been able to take back to the firm from people I have met through my new networks. They know I am a practising lawyer and that I really understand their business, so have referred M&A work to me."
Advice and looking ahead
When asked to offer guidance to other lawyers around the country who might want to tap into their entrepreneurial sides in the wake of the pandemic, Ms De Zoysa said that the downtime that emerged during lockdown presented – and continues to present – opportunities for legal professionals to "take stock, think strategically and laterally about how you might set or refine your goals and, where you have managed to carve out additional time, whether that be from saved travel time, fewer extracurriculars for the children and far fewer obligatory social outings (in my case), use it to start the important process of implementation".
"As lawyers, we often seek to work in an environment of full information. You have to trust yourself and what you have learned over the years, that having complete information is not entirely necessary or even possible, that you can learn as you go! It is part of the excitement too," she submitted.
Turning her attention to a post-pandemic world, Ms De Zoysa said she is motivated to make "even more of a difference" to the lives of others, by way of helping people experience a new culture in fun and novel ways. This includes, she said, "some very rural communities in Sri Lanka and India, who gain the benefits from our housing and other community-based projects funded entirely by Lord & Lion".
As a lawyer, she is motivated to bring a greater sense of commerciality and broader perspective when negotiating agreements.
"There have been times more recently when clients have been surprised about my understanding around the details of freight, shipping and supply chain and logistic issues, and that's always a good feeling," she concluded.
"I look forward to building on what I have learned through experience and bringing even more to the table as a lawyer."