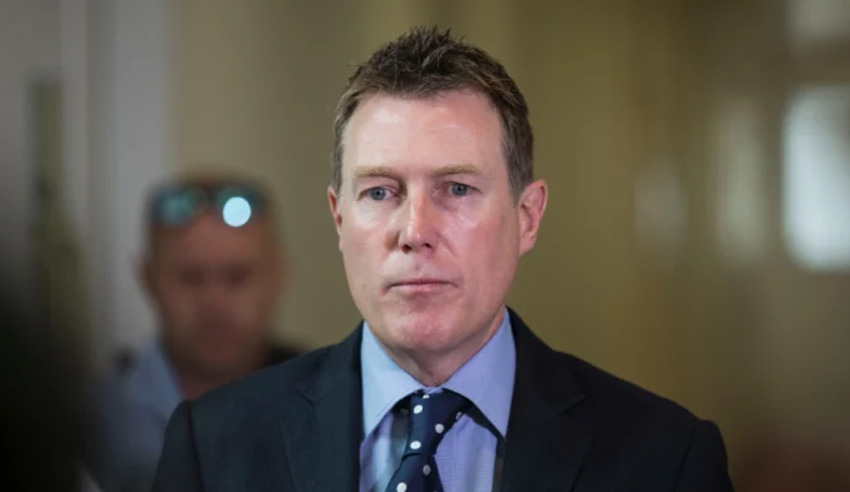 The dossier that detailed three rape allegations against former attorney-general Christian Porter has been made public for the first time.
CW: Rape, sexual assault and suicide. Every effort has been made to limit the reporting of the more graphic allegations, but reader caution is advised.
In a 31-page document released late on Thursday, 24 June by the Federal Court, the woman known to the courts as "AB" disclosed her association as a teenager with the former attorney-general before and after he allegedly raped her three times. The allegations are over 30 years old and Christian Porter has strenuously denied them.
AB alleged that during the early hours of 10 January 1988, Mr Porter had raped her three times while she "felt dizzy and was very drunk". In the dossier, she said that given the "surreal quality" to her memories and the dissociative state she was in, "I suspect that [Mr Porter] put some sort of date-rape drug into my drink".
This belief, AB said, was supported by her psychologist and psychiatrist. She added that she was aware of alleged "rumours" at the time Hale School students – where Mr Porter had attended – had used date-rape drugs during the 1980s.
In the room, AB said Mr Porter had first propositioned her by asking about a "pearl necklace". She agreed to this, understanding that it was a "sex act of some kind" that did not involve penetration. At that time and prior to the first alleged rape, she said she was deeply hurt by a past comment he allegedly made about her appearance and "probably wanted to show him there was nothing inadequate about my breasts".
When the sex act was "unsuccessful", AB said Mr Porter complained she "couldn't leave [him] with blue balls" and then "forced me to perform oral sex on him". She said she tried to protest by saying "please don't make me" and "no, I don't want to".
"It was a harrowing ordeal. I felt dizzy and was very drunk. I was also extremely frightened," AB said, and added she was recounting a time from a few years earlier when she learnt a young girl had been raped and killed by her older brother.
AB said that she remembered losing track of time and "disassociating so badly in order to cope". After she vomited, she said Mr Porter took her into the bathroom to "clean" her and was vaguely aware that she could not stand on her own.
Waking up later, she alleged Mr Porter was anally raping her, adding that she recalled him saying he didn't "want to get [her] pregnant". She said she could remember some of the details of this alleged second rape vividly as it "was so violently shocking". AB said she was too ashamed to report the incident the next day.
Part of the dossier was a letter sent to several ministers by AB's friends. In it, they said AB felt "the risk of killing herself if she did pursue the claim had to be weighed against the risk of killing herself if she did not pursue the claim". AB would ultimately withdraw her statement to police in the days prior to her death.
"[AB] had been unable to have a happy and peaceful life in the years since the 1988 rape. [AB] believed that the rape had ruined her life and that the only possible path that she could take to ease her pain was to address the issue. In her mind, not confronting the issue fully since 1988 had not worked and so it was necessary to adopt a different strategy to fully confront the rape," the letter read.
In finalising the letter, her friends said that there would be "considerable damage to community perceptions of justice, the judiciary, and the parliament" when the story becomes public if senior members of Parliament who were aware of accusations had done nothing. They also called out defamation law and political inactivity as having "adversely impacted the ability of [AB's] claim to be properly assessed".
"Failing to take parliamentary action because the NSW police cannot take criminal action would feel like wilful blindness. We request in this case that the three of you work together to find a path forward in this case that does justice to [AB's] memory while not unfairly prejudicing the Attorney-General," the letter finished.
Mr Porter has denied all allegations, telling media after he and the ABC settled his defamation case in mediation that "the things that were alleged to have happened just didn't happen". He stepped down in March after fronting reporters following an ABC article that did not name him, but he alleged identified him with the claims.
In the months following, Mr Porter was moved into another portfolio, he launched defamation proceedings against the ABC and his barrister faced the Federal Court over claims of confidentiality breaches. The Federal Court is still yet to rule on whether more documents from the defamation case can be made public.
This story is still unfolding. More to come.
Help is available. Contact Lifeline on 13 11 14 or Respect on 1800RESPECT (1800 737 732). Every law society and bar association of each state also has further contacts available on their respective websites.