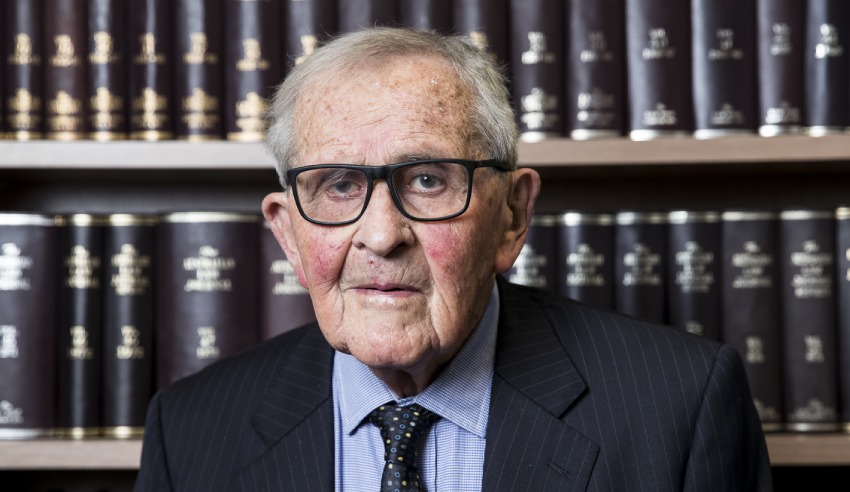 Several UNSW professors have paid tribute to a UNSW law school founder, who passed away last week.
Emeritus Professor Hal Wootten AC QC was the founding dean of the UNSW law school and passed away on 27 July at the age of 98. He also served as a commissioner on the Royal Commission into Aboriginal Deaths in Custody in the late 1980s to early 1990s and was a co-founder of the first Aboriginal Legal Service (ALS) in Redfern in 1970.
The Aboriginal Legal Service NSW/ACT has said that Professor Wootten will be fondly remembered for his insight, compassion, and his great legacy in helping establish the country's first Aboriginal legal service.
John McKenzie, NSW Legal Services Commissioner, former chief legal officer at the ALS and commissioner on the Royal Commission into deaths in custody, said that the two establishments had been Professor Wootten's proudest achievements.
"The two proudest achievements of Hal's life were the establishment of the law faculty at UNSW and being part of the establishment of the Aboriginal Legal Service. He said that many, many times throughout his life – they were the two things that meant the most to him," he said.
This year, the UNSW faculty is celebrating 50 years and its new name, "Law & Justice", aptly reflects Professor Wootten's vision and purpose, according to Professor Andrew Lynch, acting dean of the Faculty of Law and Justice.
"Although Prof. Wootten would have been 99 in December, I am sure his death will come as something of a shock to many," he said.
"His energy, his undimmed interest in the state of the world and his constant example of the responsibilities we have to people facing adversity and injustice gave him a near immortal quality."
Professor Ian Jacobs, president and vice-chancellor, UNSW Sydney, added that "as founding Dean, Hal Wootten set UNSW Law and Justice on a stellar trajectory."
"But more than just creating a faculty with an excellent international reputation, Hal Wootten instilled in his students a sense of social justice and compassion," he said.
In 1971, Professor Wootten's vision for the faculty was ahead of its time and his view was that the law was capable of doing more for the community it served.
"This vision of a different kind of law school has two corollaries: first, black letter law must be set in its social, historical, political and economic contexts; secondly, learning happens best through mutually respective interaction between teacher and students," said Professor David Dixon, former dean of law, 2006-16.
"While generations of colleagues have contributed to this success, his distinctive achievement was to build an institution whose commitments and priorities have stayed fresh through decades of change.
"At the core is an idea of legal professionalism, built on basic principles of justice and the rule of law, involving service to the whole community: First Nations people as well as commercial law firms; refugees as well as government departments; the disadvantaged and marginalised as well as the rich and powerful."
The Faculty of Law and Justice will continue the work of Professor Wootten through The Hal Wootten 50th Anniversary Scholarship to provide underprivileged students access to legal education and promote diversity in the legal industry; and The Hal Wootten Lecture series to commemorate his founding vision for the faculty.