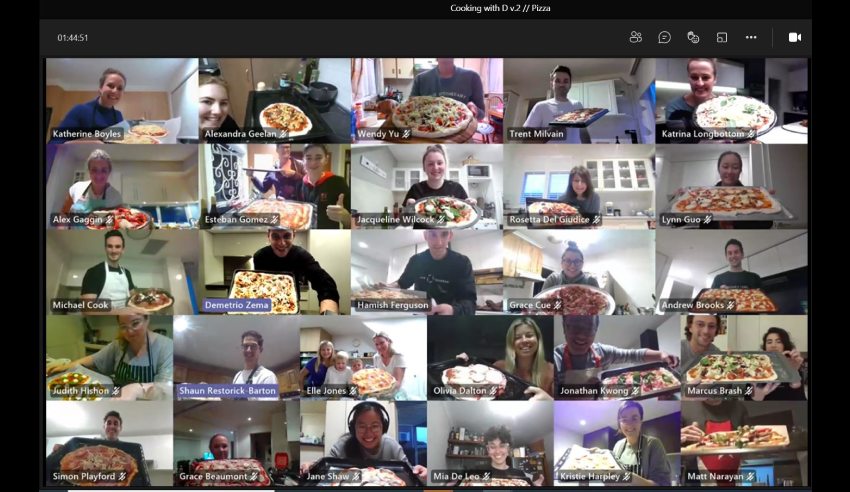 Law Squared staff, clients and friends tuned into an online cooking session last week, learning Italian cooking methods from the firm's founder and director.
In a bid to stay connected with one another amid further lockdowns, Law Squared founder and director Demetrio Zema hosted a virtual pizza-making masterclass, sharing his family's special pizza sauce and leading staff through the process of making pizza dough from scratch.
This is the second virtual cooking session Law Squared has held, the first being in 2020, in the midst of the second lockdown in Melbourne. During the first virtual event, Mr Zema shared a family gnocchi recipe but opted for home-made pizzas this time around and posted it on social media.
"With the extended and ongoing lockdowns a couple of weeks ago where we had our Melbourne, Sydney and Brisbane teams all simultaneously locked down, we decided to run another [session]," he said.
"Our post on LinkedIn got a lot of traction with clients, friends and supporters asking if we would host one. So, we've decided to run four sessions for our NSW and VIC friends, clients and supporters going through lockdown!"
Over the next two weeks, Law Squared will continue to host virtual cooking masterclasses for clients and friends of the firm.
"I certainly don't aim on hosting virtual cooking sessions full time, however I am all for keeping connected with our clients, friends and supporters in these challenging times, so if this is a way to do it, then great!" Mr Zema added.
A number of firms have opted for online initiatives to support staff during recent lockdowns, with HSF launching a variety of Sydney Connect virtual events earlier this month.
For Law Squared, Mr Zema said that his love of cooking and sharing recipes with family and friends was the driving force behind the idea of a virtual cooking event.
"I've shared recipes from my mum and my grandmother, two of the best cooks I know, and I have been lucky to learn so much from them," he said.
"In a time when so many of us are battling with lockdowns, balancing working from home, some homeschooling kids and just the general challenges that have arisen from lockdowns, I thought sharing these recipes with people could be a good distraction for an afternoon, bring a sense of community and connectedness in a time when we very much feel apart."