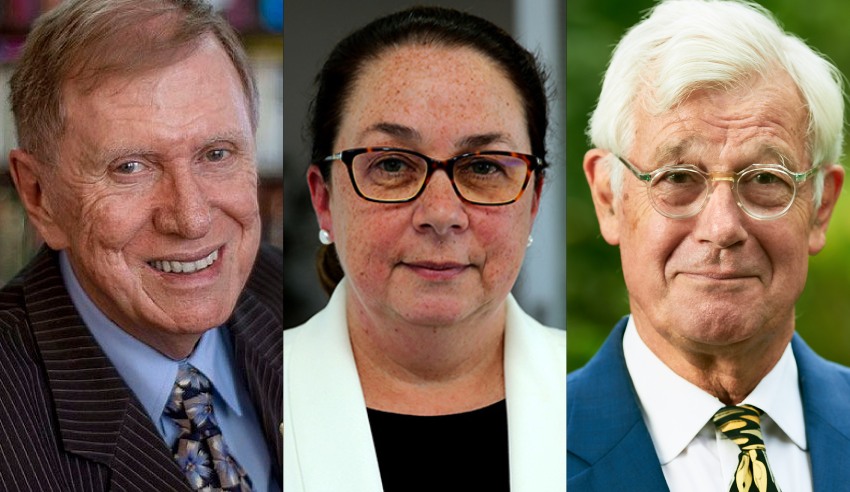 From student politics, correcting personal injustices or simply falling into it, three of Australia's eminent human rights legal professionals fell into law very differently but each shares the same values for what makes a good lawyer. The Honourable Michael Kirby, Kate Eastman, and Julian Burnside share how these values were shaped. 
In the first of a series exploring how Australia's eminent human rights lawyers came to be, Australian Lawyers for Human Rights (ALHR) hosted former High Court of Australia judge, the Honourable Michael Kirby AC CMG and prominent barristers Kate Eastman AM SC and Julian Burnside AO QC to hear about their journeys. 
All three have an incredible story for finding a passion for human rights law and following it to correct great injustices, whether it be righting the charges against protesting students, ensuring that young children with disabilities have a future, or making history with first-of-its-kind legal decisions in Australia's major courts. 
For aspiring human rights lawyers, they share their best advice for making a real career out of helping others: from having the courage to stand up and push boundaries (but not too far) to being aware of what's happening in the world. 
The Hon Michael Kirby: Injustices, war, and taking opportunities
"Life is full of chances," Justice Kirby said. "We have to seize opportunities and make the most of them. You can't sit down and plan how you're going to be a great human rights lawyer. It's got to be like the Dead Poets Society: you have to be standing on a table and shouting 'Carpe Diem!' Be ready for opportunities when they come."
For Justice Kirby, being ready for opportunities was what established him as one of Australia's most eminent legal professionals: as a High Court judge, president of different courts and commissions, and a prominent member of the International Bar. He started out as the "king of school politics" where he campaigned for others any chance he got and, in many more profound ways, continued to do so across a lot of his roles in his long (and not yet nearly over) legal, people-centred career. 
King of student politics coincided with the Vietnam War. As president of the University of Sydney's Students' Representative Council, Justice Kirby appeared for a lot of young people in demonstrations against the war. He learnt then from some very talented lawyers the value of evidence and contradicting testimony.
Justice Kirby said he did this by searching through film he convinced the local television station to hand over and then matching up the footage with the student before "showing the student had done nothing, nothing, nothing" wrong. 
"That was a very good lesson in the forensics of human rights. When I left university, I became very involved in the NSW Council for Civil Liberties – just about everybody on that council ended up being a judge. It's a good thing to appoint the people who have this sort of background, so that you do get people on the bench who have a commitment and experience in defending human rights." 
He said to be a human rights lawyer, "you've got to be courageous, imaginative, professional and skilful with a determination to succeed". This, he said, all lawyers should learn when they're taught about "proof not truth" because in it is an element of civil liberties that exists at the heart of the accusatorial system. It's a very important element that Justice Kirby said should remain an important element for as long as it protects people's liberties, particularly in criminal law matters. 
Around the same time that he was championing human rights as a law student, the world was "waking up to White Australia". This, he said, meant "becoming more alert to racial issues, to Indigenous issues, and to gender issues". Missing from the docket, however, was sexuality issues. Back then, Justice Kirby said he never mentioned it because that's what churches and others expected – "some of them still". 
This was an opportunity he had to let slide: "That particular era had to be explored later. When I look back on it, I really feel I ought to have stood up earlier but, if I had, there's no way I would have been appointed to my early judicial posts."
"The deal was that I would go on pretending lifelong that I was straight and it was only my partner who said this has got to stop, we owe it to the younger people. Sometimes lawyers don't get it and they need a non-lawyer to shake them and say it's irrational. Yohan was just the person to do that in my life." 
Reflecting on what it is that makes a good human rights lawyer, Justice Kirby said it takes "hard work, long hours, serious advocation, close examination of files, taking all the evidence" but, above all, "being interested in the world".
"We've muddied our way here in Australia to correct some of our problems, but there is a world out there [in need of help]. Like the situation in the last week in Afghanistan with the Taliban … the violence, the desperation, the stress, the fear, the position of women, letting down the people who helped us."
Kate Eastman: A classic novel, a great injustice, and putting people first
"It started with To Kill a Mockingbird," Ms Eastman said, describing that she was first drawn to the makeshift laws behind the story. It also had something to do with her mother who was fired from her job and prevented from pursuing a career simply because she had married. "Just the indignity of it, even to this day, that my mother would not be able to work or start a career at all because she was married." 
Growing up, Ms Eastman said she wasn't as well connected as her peers to the profession – "I don't even think we knew who the local solicitor was" – but there was a social justice ethos from her Catholic school and a sense that law was "a place where you could have a voice" for making real change for real people. Then, after starting law school, the very first academic she met was Margaret Stone. 
"I was really quite taken in that there was someone my mum could have been. To see women teaching us at law school was a very important thing for me – that what you want to be has to be someone you can see," Ms Eastman said. After that first introductory lecture, Ms Eastman got into the groove "and there was no stopping". 
"A lot of the law that I did in my undergraduate degree very much had a focus on human rights. I wasn't so good at the business side of law, and there weren't a lot of human rights undergraduate courses back then so that encouraged me to pursue the post-graduate work in the United Kingdom," Ms Eastman explained. 
In 2020, Ms Eastman worked on the Royal Commission into Violence, Abuse, Neglect and Exploitation of People with Disability. This, she said, "really took me back to this grassroots approach" of always putting people front and centre of work: "We talk a lot about the importance of person centred approaches and that has been the driver for me in the way I want to practice and the way I want to contribute." 
Earlier, while working at a firm, Ms Eastman said she went to Port Hedland to act for detained asylum seekers. Here, she said, she was "really annoyed" to discover that people from the Department of Immigration had come up with an old floppy disc and proceeded to "put that disc into their computer and do not much other than changing the names [of the asylum seekers] but keeping the same judgement decision". 
She took it as high as she could: "I had no idea what I was doing, but off we ran the class action and that turned into a High Court decision, which Michael will remember. I just felt quite stunned by what I saw was the injustices of it. I am still a little challenged sometimes when I think the courts get the decisions wrong. As I get older, I have to accept that, but I still get an overwhelming feeling about it." 
Justice Kirby, who has worked with Ms Eastman in the past on more than just this High Court decision, praised her for her work: "She is as hard as nails. She's a top lawyer. This is a very important point to make. Human rights law, it's not just all heart. You've got to be very good, talented and a hard-working lawyer and have skills in black letter law that are vital for success as a human rights lawyer."
When asked what her most memorable case was, Ms Eastman had two answers. First, she was the only Australian represented during negotiations for an International Criminal Court statute in Rome. She told the webinar that to be present on the floor of the United Nations where all participating states had to vote on whether or not to accept the statute was "quite significant for me". 
On the other hand, Ms Eastman values the smaller cases just as much. One, she said, involved securing the ability for a child to return to school after being expelled for having a disability and watching as his future opened up again. Sometimes, Ms Eastman said, these small moments are the "most pivotal" to her career. 
"There was this young boy who is hearing impaired and is now into his 30s, but I still get a note every now and then giving me an update about how he's doing and how important it was for him to go to school. Those are pivotal because it gives me faith that taking on these cases makes a difference, not for the world but for one person." 
Addressing aspiring lawyers – or those looking for a career change – Ms Eastman said that to work in human rights means to go beyond the slogan: "A good human rights lawyer is someone who is very skilled, understands the principals, can work their way creatively in bringing human rights concepts to orthodox black letter law and to think creatively about pushing boundaries but not too far." 
Addressing specifically aspiring female lawyers, Ms Eastman added: "For women, you must be braver than these men. Be prepared that you might be invisible sometimes. You may be discriminated against. You may be treated in a manner that does not make you comfortable, but you have to persist." 
Julian Burnside: Asylum seekers, mandatory detention, and national charters
Mr Burnside admitted that his introduction to law was a little less inspirational as it is for Justice Kirby and Ms Eastman, but his passion for human rights law and specifically for the many injustices in mandatory detention – which Justice Kirby quipped is something he "never loses an opportunity to talk about" – is just as strong. 
At the end of his final schooling year, Mr Burnside said he received five invitations to different faculties at Monash University but had no idea what one to follow. If it weren't for a former boyfriend of his sister's, he may never have made it into law. Instead, he could have followed an interest in photography into a whole new career. 
Once he was firmly in law school, however, Mr Burnside said he gravitated towards mooting. Then, out of fear law wouldn't pan out, towards an economics degree. Pair both with a meeting with New Zealand's High Commissioner and Mr Burnside was on his way into economics law and then, incredibly, to the Waterfront Dispute. 
In 1998, he received a call from a solicitor asking for his help in the dispute. However, with a honeymoon due around the same time, he refused. The next day, when a separate call came through and with the encouragement of his partner behind him, he was locked in: "First it was the farmers. Then it was the unions." 
"It changed my thinking about the significance of unions," Mr Burnside shared, and then joked: "I always thought unions were a pain but the case made me think that they were quite useful if they behaved themselves." Later, his career would take a significant – and very important – turn towards human rights law. 
"The next big turning point," he said, "was the Tampa case. I did this sort of by accident. I did it because I knew nothing about refugees, about refugee law or practice or policy, but ever since my early childhood, I felt the heat very badly and I thought of those images of these people stuck on a steel deck ship in the tropical heat. It was a terrible way to treat people, so I said yes, I would act for them." 
Mr Burnside's interest and advocacy for those locked up in mandatory detention was born around this same time and has followed him throughout his career. He believes strongly that Australia should adopt a national charter of human rights and holds a lot of anger towards both sides of government for locking up innocent people. 
"Our current Prime Minister said it was all a matter of border protection. We locked up criminals to protect ourselves. If that was true, it might make sense. But it's a lie," Mr Burnside said, and added a swipe for part of the media: "The Murdoch presence maintains that lie. They never question it. I don't know how you get past the fact that we're mistreating human beings in a way that is based on a lie. If we had a charter of human rights, maybe we would be a bit like the rest of the world." 
One of Mr Burnside's most important cases is acting for an Indigenous man named Bruce Trevorrow against the state of South Australia. Mr Trevorrow became very sick at just 13 months old and was rushed to hospital. While he was treated appropriately, a week later he was taken and given to a White family. 
"He is, as far as I'm aware, the only Aboriginal person in Australian history to be found by a Supreme Court to be unlawfully taken," Mr Burnside said. "What I learnt from this case was that the relationship between Aboriginal people and the land is like the relationship between child and parent. The relationship was damaged tremendously when we came along and then redoubled when we took their children." 
In his advice to aspiring human rights lawyers, Mr Burnside said he agreed with both Justice Kirby and Ms Eastman but added: "Remember that we are all human beings. We all want our rights respected. Maybe people watching what happened in Kabul recently will think, why are we locking up people who are fleeing? Yet, the fact is, most of the Afghan asylum seekers in the last 20 years have been fleeing, too."