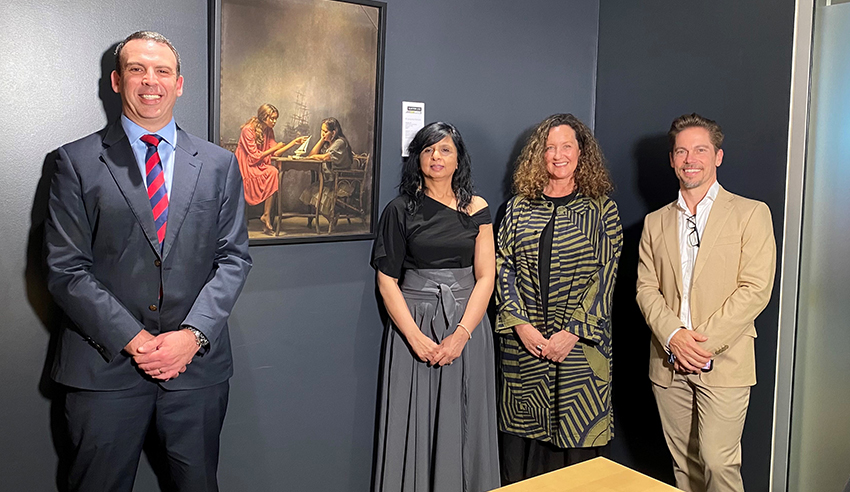 Photographer Sangeeta Mahajan has won the annual Clayton Utz Art Award for 2021 with a thought-provoking photographic print.
Ms Mahajan took out the $20,000 Clayton Utz Art Award for 2021 with her photographic print titled January 26.
In its 14th year, the Clayton Utz Art Award aims to encourage, reward, and promote artists with a connection to Queensland, according to a statement from the firm.
In Ms Mahajan's work, award judge Carol McGregor observed in the work "layers of considerate meaning and the emphasis of ongoing generational trauma", which "provokes discussion about the recognition of the dispossession and the changes that have happened over the last 251 years".
"Artworks like this start conversations we all need to have – respectful and thoughtful, and that it is everyone that needs to reflect on our combined future," she said.
Ms McGregor also awarded "exemplary" highly commended accolades to several artists, noting their work "stood out for their storytelling and mastering of their mediums": Lori Pensini, Pepijn Thijsse, Marlies Oakley, Lyn Bartolo, Lindy Sale, and Ashlee Becks.
Clayton Utz Brisbane partner-in-charge Scott Sharry thanked all entrants for participating in this year's award and showcasing their rich creative talents.
"As a firm, we're passionate about supporting the arts, and the Clayton Utz Art Award is one way we can show that support," he said.
"It's always a highlight for our people and clients to be able to enjoy the finalists' work in our reception area and meeting rooms, and engage in conversations about it – which our guests at our Award function last Thursday night certainly did in good measure."