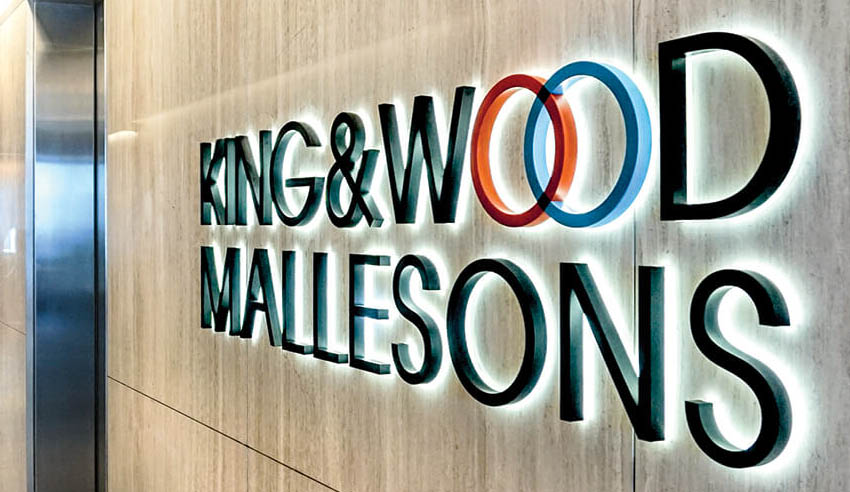 Global law firm King & Wood Mallesons has named 16 new special counsel, 59 new senior associates, five promoted applied legal technology professionals and 10 promoted shared-services professionals.
Following the firm's recent elevation of 13 to partner in Australia, KWM has made 90 more promotions, all effective 1 July 2022.
The 16 new special counsel are Ryan Iskandar, Andrew Rajanayagam, Lilian Tay, Jie Zhang, Bridie Egan, Kione Johnson, Chloe Moore, James Robb, Nita Alexander, Jennifer Cheung, Karim Issa, Luke Mulcahy, Tom Crompton, Bing Wang, Melanie Shaw and Sarah Silk.
The 59 new senior associates are Millie Burnett, Nicholas Camac, Rachael Coffey, Shael Geffen, Tiffany Ha, Laura Holmes, Danny Ke, Yin Ma, Liqing Mao, Shubho Mukherjee, Georgia Mullins, Emma Reed, Theresa Tezengi, Louise Yun, Elle Zhang, Chris Andrews, Caitlin Babington, Jon Bowes, Miguel Ferreira, Sarah Goddard, Victoria Jones, Zoe Jones, Katerina Lonergan, Taylor Macdonald, Patrick Mackenzie, Sarah McCauley, Georgie Parletta, Emma Sestito, Aarthi Sridharan, Katie Warner, Lenny Andreev, Lauren Bourke, Bryton Chin, Charles Garbett, Magan Goh, Richard Hanson, Alison Ho, David Holland, Christopher Kew, Daniela Lai, Dominic Landvogt, James McGrath, Caroline Paskevich, Cal Samson, Yuan Sun, Stephanie Swan, Jing Wang, Eleni Carrol, Matthew Clark, Anthony Di Gregorio, David Ellis, Travis Irons, Paul Propper, Maya Ranck, Aisling Scott, Luke Udvardi, David Blight, James Gould and Thomas Wu.
The five professionals elevated in the applied legal technology team are Lee-Anne Cox to manager, Scott Viney and Astrid Alfaro to specialist, and Trang Ha and Yvonne Chan to senior legal analyst.
And the 10 professionals promoted in the shared-services team are Helen Evans, Hannah McNab, James Walker, Marc Rayson, Nando Coldebella, Mitch McDonald, Rhiannon MacDonald, Akesa Robinson, Renee Smith and Jane Timbs.
The diverse group of professionals who have been promoted, the firm said in a statement, "have demonstrated consistently outstanding performance and have each made a significant contribution to the firm and our clients".
Speaking about the promotions round, KWM chief executive partner Renae Lattey said that the firm has a "strong commitment to developing the next generation of leaders and offering our people fulfilling career paths".
"I am incredibly proud to see our 2022 promotions reach the next level of their careers and I'm really looking forward to seeing their continued growth," she added.