Aussie law students compete in Vienna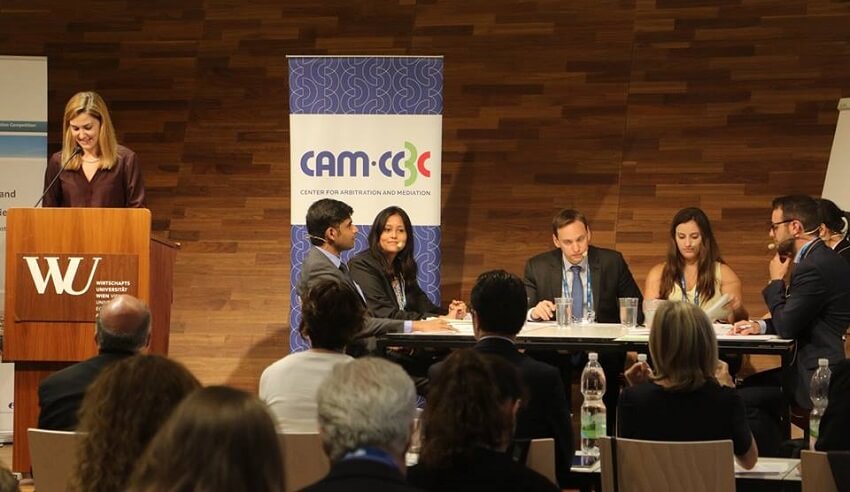 Students from two Australian universities have competed in an international dispute resolution competition in Vienna.
Two groups of Australian law students competed in the third Consensual Dispute Resolution Competition (CDRC) in Vienna from 10 to 14 July.
Participants from over 40 countries competed in the CDRC, assessed and coached by 70 professionals with backgrounds in law, mediation, negotiation and academia.
The students competed in teams of negotiators and mediators over seven rounds. The dispute was based on the 24th Willem C. Vis International Commercial Arbitration Moot, which was held in Vienna earlier this year.
The UNSW contingent was comprised of Anne Wang, Jessie Shu, Rohan Muscat and Nanak Narulla. The University of Notre Dame Australia was represented by Jacob Deigan and Thomas Adams.
The UNSW team reached the semi-final stage, while Notre Dame made the quarter finals.
For these Australian law students, the CDRC was an opportunity to compete with and learn from top students and practitioners from around the world. Each round of the competition was evaluated and followed by a half-hour feedback session from the panel of three expert assessors.
Sydney-based mediator Catherine Davidson, one of the expert assessors at the CDRC, said it was an invaluable learning opportunity.
"There's a unique atmosphere to this competition," Ms Davidson said.
"It is purposefully intimate and rigorous, so the collaboration and learning opportunity for students and assessors is energetic and inspiring.
"Those participating are engaging in both a global conversation and global education about disputes. This sits comfortably with the research and findings of the recent Global Pound Conference Series and suggests that we are arming our future decision-makers in business with the capacity to both appreciate the value of mediation and the capacity to negotiate."
The University of Bonn, based in Germany, won Best Mediator Team. India-based National Law School of India University Bangalore won Best Negotiation Team.
Pictured above: students compete in the finals of the CDRC
Image source: CDRC Vienna Facebook page