'Bamboo ceiling' thought piece wins inaugural law prize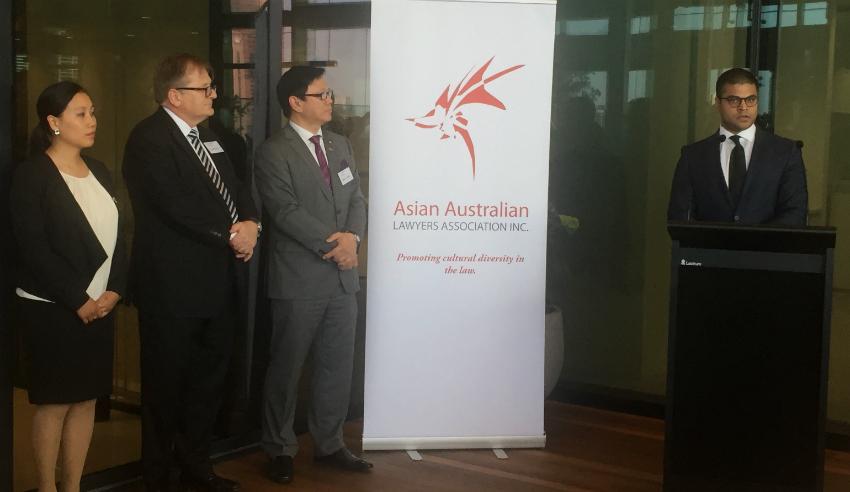 A paper that explores the idea of affirmative action to achieve greater diversity among members of Australia's legal profession has taken out the prize for the William Ah Ket essay competition.
A Victorian solicitor from the State Revenue Office has been named as the inaugural recipient of a scholarship named in honour of Australia's first barrister of Chinese descent.
K Abraham Thomas (pictured far right) won a $5,000 cash prize for his paper entitled, Affirmative Action in Piercing the Bamboo Ceiling within the Australian Legal Profession.  
The essay discusses affirmative action as a means to address inequality in the profession, ultimately identifying Frans Johansson's 'Medici Effect' as a preferred way to realise diversity of thought in law.
Chief Justice Wayne Martin AC, from Western Australia, sat on the judging panel for the essay competition. Other panellists included Maddocks CEO Michelle Dixon and Australian Race Discrimination Commissioner Dr Tim Soutphommasane.
"Each was very thorough and reflected a great deal of research and thought. In my view, each would have been a worthy winner of the scholarship," Chief Justice Martin said.
AALA vice president and Victorian barrister William Lye echoed the judge's sentiments and commended the ideas explored in the winning piece.  
"The quality of entries this year was outstanding, but it was Mr Abraham's paper that stood out."
He went on to say he hoped the scholarship would enjoy a long history.
"This year was the inaugural year for the William Ah Ket Scholarship and our aim is for this to grow into a prestigious legal scholarship," Mr Lye said.
National law firm Maddocks, where William Ah Ket completed his articles in 1903, announced the winning essay at a special event in Melbourne. The scholarship is a joint initiative between the firm and the Asian Australian Lawyers Association (AALA).
Mr Abraham graduated from the University of Tasmania in 2014 and was admitted in 2015. The young lawyer of Indian heritage completed a number of legal internships in Singapore and, according to LinkedIn, was most recently employed by Victoria's State Revenue Office.
A statement issued by Maddocks described Mr Abraham as "passionate about law and its interaction with society".
The $5,000 prize was presented to Mr Abrahams by descendent of William Ah Ket, Blossom Ah Khet (pictured below).