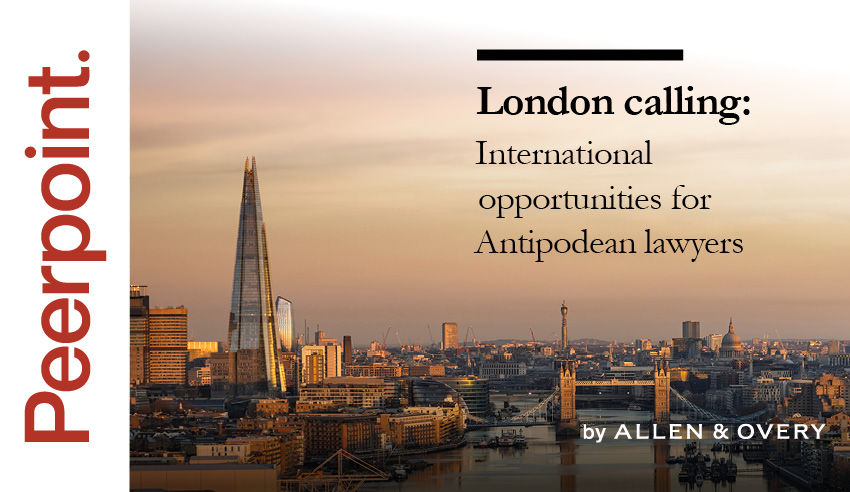 Peerpoint, Allen & Overy's flexible resourcing business.
As the world reawakens it's time to ask yourself whether the UK could be beckoning. We explore how consulting can offer a great way to gain international experience.
For many Australian and New Zealander lawyers, the UK has historically been an exciting place to build careers, enjoy new parts of the world and experience the buzz of London. Like the rest of the world, that all came to a halt in 2020. 
It now finally feels like the world is opening up and, for many lawyers, that means being able to explore exciting new opportunities in new jurisdictions. Legal consulting with Peerpoint can offer lawyers access to top-tier experience on a global scale. You'll be empowered to advance your career and diversify your experience at a faster pace and experience a variety of roles without having to commit on a permanent basis. 
Does it feel like time for you to get more out of your legal career? Are you keen to gain experience in the London market, whilst enjoying the flexibility of time to travel and see more of Europe? Are you looking to return to the UK after a period of living away?
Take the path to adventure, and success.
Conventional legal career paths are no longer the only route to success. Legal consulting enables you to take control of your time with a wealth of high quality assignments within top-tier organisations in a range of sectors. There are many reasons why people choose to become consultants, but a common theme is control, variety, balance and flexibility. 
Many Antipodean lawyers enjoy working in London as it provides a good base to travel around Europe. In a permanent role, this might be largely limited to weekend City breaks whereas, with legal consulting, you can take extended breaks between assignments for more extensive trips. Legal consultancy also allows you to develop your skillset by experiencing market-leading work within a variety of clients and roles, rather than all of your time in London being spent within one organisation.
For England & Wales qualified lawyers who are looking to return to London having spent a number of years in Australia or New Zealand, legal consultancy offers an opportunity to re-establish yourself in the UK market and familiarise yourself with the types of roles on offer. Even if you ultimately decide a permanent role is right for you, you will be able to make an informed choice as to which opportunities will suit you best.
A key benefit of consulting through Peerpoint means being part of Allen & Overy (A&O). It also means that you will be fully supported on your journey by our highly experienced and specialist team, who will get to know your personal motivations and ambitions and support you in achieving those objectives. Whilst on assignment, you will have access to A&O partners and professional support lawyers and a wealth of resources and training opportunities. 
You are also part of the Peerpoint community of like-minded lawyers and we look to create a variety of opportunities for you to connect, share experiences and learn from each other. While you enjoy greater independence as a Peerpoint consultant, you are never on your own.
Who's Peerpoint for? 
We're keen to hear from lawyers who are currently based in Australia or New Zealand and have a number of years of top tier experience in their area of expertise, including within private practice. We have demand for consultants in a variety of areas, from banking and finance to technology and data privacy law to funds and asset management. To get an idea of the type of roles that we have available, click here. It's worth noting that we can't sponsor visas so applicants must have the right to reside and work in the UK.
Most assignments with Peerpoint are 6-12 months in duration and so we would typically be looking for individuals who are going to be in the UK for a minimum of 1-2 years, though we are happy to discuss different individual circumstances. 
What next? 
For more information, and to express your interest in learning more about Peerpoint, please visit our dedicated website.
Or, if you are ready to make an application then please do so via the link shared above outlining current available roles.