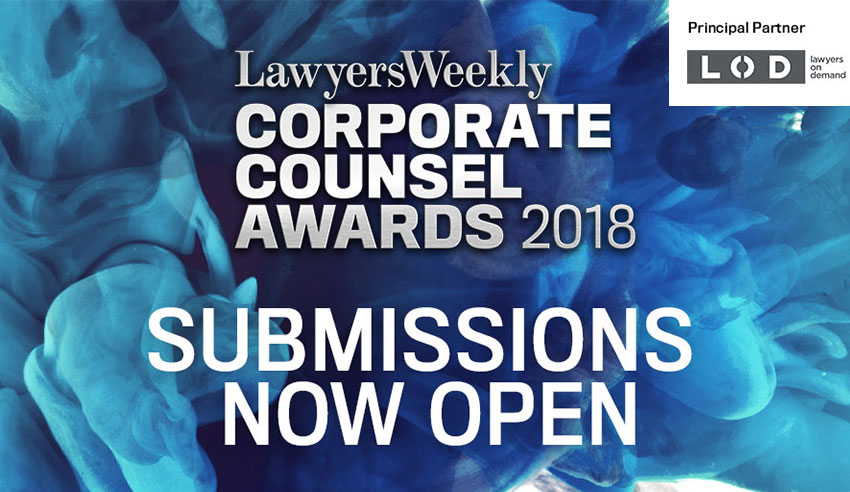 Submissions close on 10 November for the Lawyers Weekly Corporate Counsel Awards 2018, which will recognise Australia's leading in-house lawyers across a wide range of industries. 
After the success of the inaugural Corporate Counsel Awards in March 2017, Lawyers Weekly is pleased to welcome submissions for the 2018 event.
The awards will be presented on 1 March 2018 at a gala dinner event at the Four Seasons Hotel in Sydney. Submissions and nominations close on 10 November. 
With legal teams in all sectors experiencing unprecedented change, the awards will recognise the individuals and groups that are adapting to, and indeed thriving in, this dynamic environment.
The Corporate Counsel Awards 2018 is supported by principal partner Lawyers On Demand (LOD).
"Lawyers On Demand is delighted to partner with Lawyers Weekly again," said Paul Cowling, head of client solutions in Australia at LOD.
"The achievements and innovations within the in-house community grow year on year, so we are truly excited to help honour their overall contribution by sponsoring these awards."
To learn more about the event, click here. 
To lodge your submission or nomination, click here. 
Individual categories:
Academia, Training and Education Lawyer of the Year
Agribusiness Lawyer of the Year
Banking and Finance Lawyer of the Year
Construction and Real Estate Lawyer of the Year
FMCG Lawyer of the Year
Government Lawyer of the Year
Healthcare, Pharmaceuticals and Biotech Lawyer of the Year
Industrial, Materials and Manufacturing Lawyer of the Year
Infrastructure, Utilities and Energy Lawyer of the Year
Insurance Lawyer of the Year
Sports and Entertainment Lawyer of the Year
Technology, Media and Telecommunications Lawyer of the Year
Transport and Logistics Lawyer of the Year
Travel, Tourism and Hospitality Lawyer of the Year
Group categories:
Agribusiness Team of the Year
Banking and Finance Team of the Year
Construction and Real Estate Team of the Year
FMCG Team of the Year
Government Team of the Year
Healthcare, Pharmaceuticals and Biotech Team of the Year
Industrial, Materials and Manufacturing Team of the Year
Infrastructure, Utilities and Energy Team of the Year
Insurance Team of the Year
Sports and Entertainment Team of the Year
Technology, Media and Telecommunications Team of the Year
Transport and Logistics Team of the Year
Travel, Tourism and Hospitality Team of the Year