Goodbye job applications, hello dream career
Seize control of your career and design the future you deserve with
In-house heavyweights
The second annual Lawyers Weekly Corporate Counsel Awards recognised Australia's best in-house lawyers.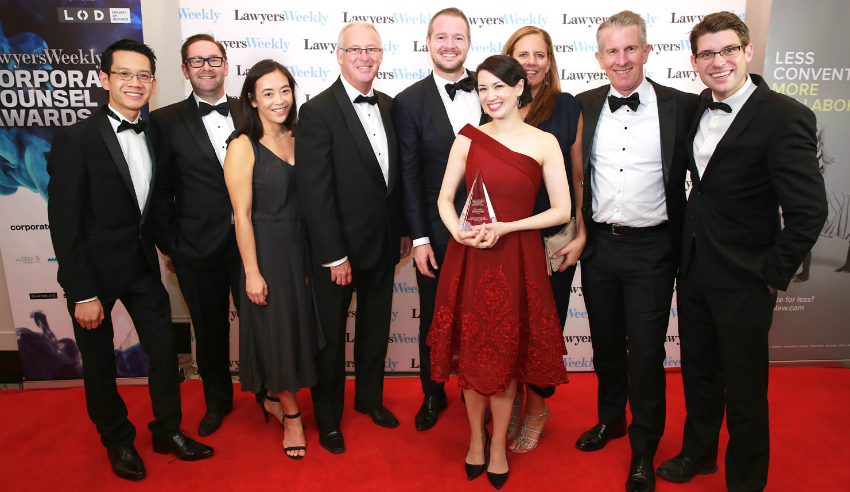 In early March, over 500 people gathered together at Sydney's Four Seasons Hotel to celebrate the best of the best among Australia's in-house community. 
You're out of free articles for this month
To continue reading the rest of this article, please log in.
Create free account to get unlimited news articles and more!
The event, principal partnered by alternative legal services business Lawyers on Demand (LOD) saw 27 blockbuster awards handed out to the best individual in-house lawyers and teams across the nation.
Sold out faster than any other event of Lawyers Weekly thus far, this year's Corporate Counsel Awards recognised outstanding performance among the top legal minds of businesses, celebrating the success of teams of all sizes and individuals in all areas of expertise.
The guest list of the black-tie evening – made up of winners, finalists, friends, colleagues and family – were treated to a three-course meal and entertained by writer and comedian Craig Reucassel who took to the stage as master of ceremonies. A gallery featuring photos from the gala dinner can be viewed here.
On behalf of the Lawyers Weekly team, we'd like to thank our guests for helping us celebrate some of the brightest in-house lawyers in Australia. We'd also like to thank our valued partners for their continuous support, and the judges for so generously giving their time to select the recipients of the night. Without further ado, here is your list of the winners for this year's Lawyers Weekly Corporate Counsel Awards.
Academia, Training and Education Lawyer of the Year
THEO KAPODISTRIAS, UNIVERSITY OF TASMANIA
MR KAPODISTRIAS has successfully taken out this category after demonstrating significant contribution to the students and staff of University of Tasmania, and the broader community. Over the past 12 months, Mr Kapodistrias has worked autonomously to provide legal advice to all divisions of the university, including on matters concerning commercial contracts, the protection of intellectual property and dispute management.
VIEW ALL
Agribusiness Lawyer of the Year
JOHN LANE-MULLINS, OLAM AUSTRALIA
MR LANE-MULLINS is a valued member of the Olam Australia business. Over the past 12 months, he has advised on a number of high-profile transactions concerning Olam, including the US company restructure. In addition, he has dedicated his time as a member of Olam's global legal executive committee, where he has been involved with various formation and implementation of initiatives such as the company's Ethical Business Program and Global Continuing Legal Education for Business Stakeholders.
Agribusiness Team of the Year
GRAINCORP LIMITED
ASX-LISTED GRAINCORP LIMITED is second to none in this category, demonstrating a "punch above their weight" approach to getting matters done diligently. In the past year, the legal team behind the international food ingredient and agribusiness has handled various deals, most notably the divestment of its 60 per cent investment in Allied Mills Australia to funds advised by Pacific Equity Partners. The team is committed to its investment in a series of capital projects, as well as its focus on maintaining a disciplined approach to capital management and portfolio optimisation.
Banking and Finance Lawyer of the Year
CATHERINE JAMES, CHALLENGER LIMITED
MS JAMES is an instrumental part of the banking and finance team at Challenger Limited. She has successfully demonstrated her high level of expertise over the past 12 months, most notably through her work in launching a new annuity relationship with Mitsui Sumitomo Primary Life Insurance Company Limited to provide Australian dollar annuities in Japan, described as a unique and innovative transaction as well as an Australian-first.
Banking and Finance Team of the Year
AMERICAN EXPRESS AUSTRALIA (AMEX)
THE LEGAL team at well-known Amex has had a busy 12 months supporting its Australian business. In the past year alone, the team has worked tirelessly to implement the Payment System regulatory reform by the Reserve Bank of Australia, as well as advise on the wind down and termination of three significant card issuing partnerships with Westpac, ANZ and NAB. In addition, the team also renegotiated three key airline cobranded card partnerships with high-profile airlines Qantas, Virgin and Air New Zealand.
Construction and Real Estate Lawyer of the Year
CLAIRE HASHMAN, DEXUS
AS THE winner of this award, Ms Hashman has demonstrated that she is a critical part of the Dexus legal team. The past year has seen Ms Hashman work on creating the company's first healthcare property fund, intended to grow to approximately $800 million. She has also had a firm hand in managing legal aspects of major projects and transactions, including, but not limited to, the acquisition of a large industrial facility in Braeside, Victoria, and retail developments such as Queensland's Smithfield Shopping Centre and Gateway's dining precinct.
Construction and Real Estate Team of the Year
VICINITY CENTRES
THE IN-HOUSE team at real estate investment trust company Vicinity Centres has had a busy year. Among the many matters they have advised on over the past 12 months is the sale of a significant interest in Chatswood Chase in exchange for interests in the Queen Victoria Building, The Galleries and The Strand Arcade, including co-ownership and property management agreements. Maintaining avid involvement with the SCCA, the Property Council of Australia and the Law Institute of Victoria Property Law Committee, the team at Vicinity is well up to speed with current and potential changes to legislation in all aspects of construction and real estate law.
FMCG Lawyer of the Year
DAVID DWYER, UNILEVER AUSTRALIA AND NEW ZEALAND
AS GENERAL COUNSEL and company secretary for Unilever Australia and New Zealand, Mr Dwyer is well versed in all matters concerning his legal team. Over the past 12 months, he has been instrumental in leading his team through an array of legal and compliance risks arising from the company's businesses across Australia and New Zealand. Working at the company since 2014, Mr Dwyer has gained considerable respect for his key focus on making legal processes simpler and internal clients' work easier.
FMCG Team of the Year
MONDELEZ AUSTRALIA PTY LTD
AS THE winner of this award, the legal team at Mondelez Australia Pty Ltd demonstrated that it has successfully implemented key strategies to drive their organisation to new heights. The team is described as being "solutions-driven" whereby it provides options, not just the identification of legal risks. The team maintains a pro-active and resilient approach to its organisation, ensuring that it is able to move at a greater speed and respond to competitive pressures as they arise.
Government Lawyer of the Year
MARK CUNLIFFE, COMMONWEALTH DEPARTMENT OF DEFENCE
MR CUNLIFFE of the Commonwealth Department of Defence maintains an impressive track record. In winning this award, he is recognised as the government lawyer who has most efficiently upheld legal responsibilities within a government organisation, while enhancing opportunities for further growth and legislation. Mr Cunliffe is not only an inspirational lawyer but is also described as a kind and gracious person by those around him.
Government Team of the Year
DEFENCE LEGAL, COMMONWEALTH DEPARTMENT OF DEFENCE
DEFENCE LEGAL is an unstoppable in-house international legal practice in the Department of Defence. Its core function sees it responsible for the provision of legal advice and other legal services to the defence ministers, the Australian Defence Force and the Department of Defence. The past 12 months have been a whirlwind for the team, working on various operations law matters, including humanitarian law matters, and international agreements and arrangements.
Healthcare, Pharmaceuticals and Biotech Lawyer of the Year
SIMONE TIERNEY, LODESTAR LEGAL
AS THE recipient of this award, Ms Tierney has demonstrated that she is a valued member of the team at Lodestar Legal. Some of her most notable work over the past 12 months are centred around growing businesses and marketing opportunities, and promoting Solar D products. Ms Tierney brings significant expertise in her role, having spent over 11 years working in a variety of senior in-house roles and a further 10 years working in private practice firms.
Healthcare, Pharmaceuticals and Biotech Team of the Year
SWISSE WELLNESS PTY LTD
SWISSE WELLNESS PTY LTD (Swisse) has shown it is more than capable in effectively managing the pressure of upholding vital legal responsibilities to the vulnerable Australian consumer and has adequate patent protection in place to deter competitors. The past year saw the Swisse legal team work closely with its local and international commercial teams, from both Swisse and other entities within the Health and Happiness Group. The team consists of esteemed legal professionals who not only work hard to produce the best results for their company, but also have fun doing it by maintaining a happy workplace, where each member of the team feels motivated and positive about coming into the office.
Industrial, Materials and Manufacturing Lawyer of the Year
ALICE POLGLASE, COTTON ON GROUP
ALICE POLGLASE has been recognised in this award for displaying tenacity in her commitment to uphold legal responsibilities within this sector. As head of legal, Ms Polglase is responsible for the training across the seven Cotton On Group brands — not an easy feat especially when you consider the 19 countries in which they operate. Some of her most notable works for the past 12 months include, but are not limited to, the significant training and legal rebranding of the company, as well as being involved in a both payroll and product compliance committees.
Industrial, Materials and Manufacturing Team of the Year
COTTON ON GROUP
LED BY the winner of the individual category in this sector, Alice Polglase, the Cotton On Group has exceeded expectations. Over the past 12 months, the legal team has been involved in numerous contracts with Australia Post, Telstra, Toll, PayPal, ASOS, Zalora, Ozsale, Nestlé, New Balance, Puma, Warner Bros, Disney and Ravado, among others. The team is an unstoppable force, managing seven brands and over 1,500 stores, and operating in 19 countries with over 22,000 team members.
Infrastructure, Utilities and Energy Lawyer of the Year
JOHNNY SHORT, TRANSURBAN
JOHNNY SHORT is the general counsel of Transurban's Australian operations. In winning this award, Mr Short has demonstrated that he is someone who has successfully capitalised on market opportunities and driven further business growth throughout their organisation in the past 12 months. In his role, he makes certain that the Transurban legal team is focused on ensuring that knowledge is captured, that the team works seamlessly and consistently across regions, and that it operates as efficiently for the business as possible.
Infrastructure, Utilities and Energy Team of the Year
YANCOAL AUSTRALIA LTD
AS THE winner of this award, Yancoal Australia Ltd has cemented that it is the best infrastructure, utilities and energy team in the nation. During the past year, the Yancoal in-house team has been instrumental in the successful completion of a suite of some of the largest and most complex transactions undertaken in Australia. Some of its most noteworthy deals include the multibillion-dollar acquisition of the Coal & Allied business from Rio Tinto and a partial sell-down of joint venture interests to Glencore.
Insurance Lawyer of the Year
ELISSA BAXTER, LAWCOVER INSURANCE
AS GENERAL COUNSEL of Lawcover Insurance, Ms Baxter has been well-versed in many complex transactions arising over the past 12 months. She has been instrumental in transforming Lawcover's financial position by devising and implementing an evaluation model for external legal advisers, and providing legal advice on the structure and mechanism for paying policyholder rebates. In addition, Ms Baxter also acted in the matter concerning Lawcover vs Muriniti in late 2017.
Insurance Team of the Year
AIA AUSTRALIA LIMITED
THIS AWARD recognises an insurance legal team that has effectively managed fair compensation within its organisation. As the recipient of this year's award, the legal team at AIA Australia Limited has been recognised for their commitment in ensuring transactions are dealt with productively. Some of the most significant matters the team has encountered over the past year include advising on a $3.8-billion proposed transaction involving Commonwealth Bank of Australia's life insurance business (CommInsure) and life and health insurance businesses in New Zealand (Sovereign).
Sports and Entertainment Lawyer of the Year
SUNIL PURANIKMATH, TELSTRA 
AS a forward-thinking lawyer, Mr Puranikmath has successfully taken out the gong in this category. His award recognises him as a sports and entertainment lawyer who has properly upheld the corporate responsibilities of their organisation and displayed a passion for the industry in which he operates. Despite being a junior lawyer, Mr Puranikmath punches well above his weight, earning the role of managing all of Telstra's marketing operations, including high-profile launches for iPhone, Pixel and Google Home, among others.
Sports and Entertainment Team of the Year
FOOTBALL FEDERATION AUSTRALIA
THE LEGAL team at Football Federation Australia (FFA) has been hot on their toes over the past 12 months, advising on many integral matters. Most notably, the team was enlisted to support the Socceroos World Cup Qualifying Campaign, advising on associated legal issues which included, but was not limited to, chartering planes to destinations like Honduras, negotiating sponsorship/event agreements, managing FIFA regulatory issues, and pursuing ambush marketers to protect the brands/interests of FFA, players and sponsors. Together, they represent a team committed to their organisation and the industry itself by having an attitude that goes above the norm, providing more than just day-to-day technical legal advice for FFA.
Technology, Media and Telecommunications Lawyer of the Year
DOMINIC WARD, BHP
THIS AWARD recognises the technology, media and telecommunications lawyer who has most effectively capitalised on evolving market opportunities and driven demonstrable growth within their organisation. In winning this award, Dominic Ward has proven he's one to watch in the technology, media and telecommunications stratosphere. He has shown significant effort in providing legal advice to BHP across a range of matters, and has successfully maintained his focus on protecting BHP's intellectual property rights in its technology, media platforms and telecommunication systems.
Technology, Media and Telecommunications Team of the Year
AMAYSIM
THE LEGAL team at Amaysim is to be congratulated for their work in successfully completing many projects that have "underpinned the company's evolution into a multi-vertical business". The legal team's efforts over the past year have benefitted Amaysim tenfold, directly contributing to a significant increase in the company's growth and trajectory, as well as influencing the business' strategic priorities and financial goals. Made up of two people, the legal team continues to provide commercial advice to a business that has grown atomically in terms of verticals, headcount and geographic location.
Transport and Logistics Lawyer of the Year
KIMBERLY STATHAM, WOOLWORTHS LIMITED
THIS AWARD recognises a transport and logistics lawyer who has helped their organisation evolve with this changing sector. In receiving this award, Ms Statham has been recognised for her role at Woolworths, specifically working for its supply chain function. Over the past 12 months, Ms Statham has undertaken various matters for Woolies, including contracting arrangements within the supply chain business unit to assess and understand risk exposure and compliance across the entire supply chain portfolio.
Transport and Logistics Team of the Year
COBHAM AVIATION SERVICES 
OVER THE past 12 months, Cobham Aviation Services (CAvS)'s legal team has delivered on substantial matters concerning their business. Some of the team's most outstanding works include advising on and successfully negotiating a five-year extension of CAvS' contract to deliver complex FIFO services to Chevron, with respect to its Barrow Island operations, and successfully negotiating a new two- to three-year aircraft charter services agreement with OZ Minerals with respect to its Prominent Hill operations.
Travel, Tourism and Hospitality Lawyer of the Year
CHRIS TODD, ARDENT LEISURE GROUP
IN TAKING out this award, Mr Todd has demonstrated that he is committed to achieving the best possible outcomes despite what has been a challenging and unprecedented period for the multi-site entertainment business. Acting as group general counsel of Ardent, Mr Todd has been working pro-actively in managing and balancing Ardent's relationship with workplace health and safety regulators, which will ultimately facilitate the establishment of new industry safety benchmarks, benefitting the broader Australian community. 
Lawyers Weekly Corporate Counsel Excellence Award
CATHERINE JAMES, CHALLENGER 
THIS CATEGORY cannot be nominated for. In taking out this award, Ms James received the highest score across all individual lawyer-orientated categories of the Corporate Counsel Awards.