Goodbye job applications, hello dream career
Seize control of your career and design the future you deserve with
Celebrating the achievements of the in-house market
In-house work is become increasingly attractive to the next generation of lawyers coming through the ranks and given the calibre of legal professionals attending the 2019 Corporate Counsel Awards, as well as the work the finalists and winners get to tackle, it isn't hard to see why.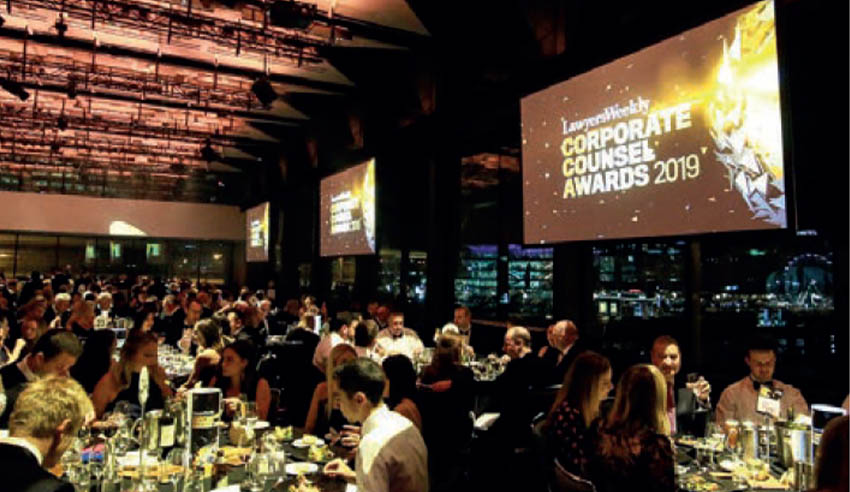 On Friday, 29 March 2019, around 600 guests packed out the Hyatt Regency Hotel in Sydney's CBD, mere hours removed from the inaugural Corporate Counsel Summit, which many of the Award guests also attended.
You're out of free articles for this month
To continue reading the rest of this article, please log in.
Create free account to get unlimited news articles and more!
The evening's event was an impressive showcase of the extraordinary work being undertaken by legal counsel across the spectrum, reinforcing that Australian corporate and business interests are secure in the hands of our nation's legal professionals.
The Awards – expertly hosted by comedian-turned-lawyer Corinne Grant – saw legal counsel of all stripes and practice areas recognised, with 14 individual and 11 team categories and the annual Excellence Award, which this year went to WaterNSW regulatory and corporate strategy adviser, Dr Madeleine Hartley.
Lawyers Weekly would like to congratulate all winners and finalists of this year's Corporate Counsel Awards.
Academia, Training and Education Lawyer
Elizabeth Grinston, The University of New South Wales
As the general counsel for UNSW, Ms Grinston led legal training programs across the educational institution on a wide range of topics, including privacy, IP, good decision-making, Australian Consumer Law and trade promotions, in addition to spearheading the legal team's function. The university has, she said, benefitted from her role as an "independent, ethical, skilled and experience lawyer".
Construction and Real Estate Lawyer of the Year
Andrew Selim, Home Consortium
Mr Selim played a "critical role" as general counsel this past year, advising on all M&A, banking, construction and real estate aspects of the $1 billion acquisition of the entire Masters Home Improvement real estate portfolio, drawing on his 15 years of local and international legal experience and acknowledging that even the "slightest mistakes" can cost organisations like his a "crippling amount of money", driving him to succeed.
VIEW ALL
Defence Lawyer of the Year
Nicholas Sedgwick, Thales Australia
As the director of legal and contracts for a company operating four unique defence businesses, Mr Sedgwick is required to work in "some very complex and high risk manufacturing and operating environments", with him and his team responsible for providing advice and support to the delivery of some of Australia's largest defence contracts, including the Land 121 Phase 4 $1.3 billion Protected Mobility Vehicle-Light contract with the Australian Defence Force.
Financial Services Lawyer of the Year
Fiona Harding, Bank of Queensland
Appointed at the start of 2018 as the lead project manager to manage the bank's response to the banking royal commission, Ms Harding appreciated that poor management of the issues raised in the national inquiry could have "catastrophic" effects for BOQ, and thus set about managing and limiting reputational risk, minimising customer impact as well as risks for future legal action. Such efforts brought, she said, a "great sense of fulfilment".
FMCG Lawyer of the Year
Lily Wong, PepsiCo Australia & New Zealand
Ms Wong had the opportunity to work on numerous "transformation" projects this past year, including reducing PepsiCo's Geographic Footprint, contract manufacturing with an offshore third party and rationalisation of offices and distribution centres, as well as leading a handful of self-help business tool initiatives for the business, such as advertising with alcohol guidelines and notifiable data breaches.
Government Lawyer of the Year
Dr Madeleine Hartley, WaterNSW
In assisting with non-urban water reform, Dr Hartley's role has seen her work alongside government departments responsible for implementing water reform to ensure proposed reforms are practical, giving expert advice on the regulatory impacts of reform, drafting responses to reform discussion papers and sitting on an intergovernmental panel managing environmental water flows. Her involvement helps contribute to broader society, she said, given the "social, cultural and economic importance of water in NSW and Australia".
Healthcare, Pharmaceuticals and Biotech Lawyer of the Year
Alexandra Sweeney, GenesisCare
Described as "passionate and zealous", Ms Sweeney serves as the senior legal counsel for Genesis Care, which she has helped lead through a significant growth period. She has been critical the success of the business, supporting it through a corporate capital raise and advising on an acquisition strategy. Ms Sweeney also serves as the company director.
Industrial, Materials and Manufacturing Lawyer of the Year
Belinda Murray, BGC (Australia)
Ms Murray is the general counsel for the entire BGC Group, comprising 48 companies and 30 businesses. She has over 15 years' experience with the group, getting to know the materials and manufacturing industries inside and out. In a male-dominated sector of the marketplace, Ms Murray has been able to carve out expertise and capacity as a leader for her teams.
Infrastructure, Utilities and Energy Lawyer of the Year
Jacob Leslie, CPB Contractors
It has been a busy year for Mr Leslie, advising on numerous billion-dollar tenders and negotiating the supply of tunnel boring machines for various state infrastructure projects. What has set his work apart, he says, is the level of involvement he has had outside of the legal function – "something I believe should not set me apart by instead should be the norm" for in-house counsel, he remarked.
Insurance Lawyer of the Year
Marea Hickie, Woolworths
In leading the internal defence team for Woolworths and conducting litigated public liability matters over the past year, Ms Hickie has had a significant impact, saving the supermarket chain in excess of $8 million, and reducing the length of claims by an average of 34 weeks, taking it from almost a calendar year to 16 weeks. This, she said, demonstrated a commitment to the company philosophy of "We love our customers".
Not-for-profit Lawyer of the Year
Katrin O'Sullivan, The Fred Hollows Foundation
Boasting an "unrivalled depth of knowledge" about the foundation, Ms O'Sullivan this year helped to implement two innovative flagship programs to help advance global eye health equality and access for people of all income levels. In addition, she has helped set up the foundation's operations in the US, which required "extensive liaison" with American attorneys to ensure regulatory compliance of charitable operations.
Sports and Entertainment Lawyer of the Year
Sunil Puranikmath, Telstra
When Telstra was going through its "biggest ever transformation" in 2018, Mr Puranikmath played a crucial role in designing a new way of working for the in-house legal team, demonstrating an ability to transform and innovate where necessary, particularly in times of evolution in the TMT space. According to the company's media and marketing teams, he "is" Telstra Legal.
Technology, Media and Telecommunications Lawyer of the Year
Amanda Ong, NOVA Entertainment
As part of NOVA Entertainment's diversification strategy, Ms Ong led negotiations on strategic partnerships in the experimental industry, such as for a chocolate festival, and helped a new youth-targeted online editorial platform get off the ground. She has also implemented "creative and comedy-based legal training" on matters including privacy and spam laws, showcasing her capacity for innovative strategy.
Travel, Tourism and Hospitality Lawyer of the Year
Dennis Tuan-Mu, Delaware North
It was a "landmark" year for transactional work for Mr Tuan-Mu, advising directly on all legal aspects of negotiations for the $188 million acquisition of the Darwin Casino & Resort and the catering services for the Athletes Village for the Gold Coast Commonwealth Games, among other major matters. His work, he said, has been able to drive "significant benefits to the broader Australian community".
Construction and Real Estate Team of the Year
CBRE
The legal team at CBRE had a "huge year", helping to develop major initiatives for the company including contract automation, an innovation toolkit and a real estate compliance program. As a team of seven lawyers, it celebrates being collaborative, diverse and progressive, and hopes its success in 2018 is just a sign of things to come in the following years.
Financial Services Team of the Year
ASX
The critical ingredient for the success of the in-house team at the Australian Stock Exchange has been "effective collaboration", it said. With ASX now generating and administering the bank bill swap rate, a "major interest rate benchmark" for the Aussie dollar, it said, meaning ASX Legal had to work closely across the board to develop new methodology and trading guidelines, ensuring consensus between regulators and industry in a "climate of concurrent litigation in ASIC's proceedings against the banks for BBSW manipulation".
FMCG Team of the Year
Coca-Cola Amatil
The in-house team at CCA went "above and beyond" in 2018, advising on 420 matters in the three months before the Awards alone, most of which were "highly complex and highly important". It also supported and helped drive a range of M&A projects, including the acquisition of Feral Brewing and securing distribution rights for Mojo Kombucha.
Healthcare, Pharmaceuticals and Biotech Team of the Year
Western Health
Working at all times on medico-legal matters in the civil and coronial jurisdictions, the in-house team at Western Health has had to work hard to ensure that quality and patient safety is a "top priority". As counsel for a service that reaches around 800,000 people, their work has involved the management of health service internal legislative compliance and public sector governance as well as assistance on major contracts.
Industrial, Materials and Manufacturing Team of the Year
Boral Australia – Industrial Relations
As an all-female team of solicitors in a sector that is "predominantly male" the in-house function at Boral has faced challenges that led it to strive for change and diversity, as well as promote flexibility and diversity programs within the broader business. This was all achieved on top of advising on major industrial developments, such as changes to the Fair Work Commission's Enterprise Agreement Approval Process.
Infrastructure, Utilities and Energy Team of the Year
Transurban
Teamwork is inextricably linked to the success of the Transurban legal team, saying "together [the individuals make] a contribution that is bigger than is achievable by any one member of the team". It helped the $30 billion market capitalisation transport and infrastructure company realise its M&A, financing and operational objectives for the past year by not just performing the "basic legal work", but also adding value "every step of the way".
Insurance Team of the Year
AIA Australia
It was a jam-packed 12 months for AIA's legal team, who had to provide guidance and support to the company's board and executives throughout the banking royal commission as well as advise on the acquisition of CommInsure and Sovereign. The team was able to be so successful, it said, by embracing AIA's vision to be the "Best in Life" and being as collaborative and innovative as possible.
Not-for-profit Team of the Year
UNSW Sydney Legal Team
The past year has seen this in-house team provide support for a "staggering volume and diversity" of research on educational and commercial activities for the Sydney-based university, with flow-on benefits both for the institution and the Australian community. The team also said its success is shaped by its "unique context, the scale, complexity and variety" of on-campus activities to advise on.
Sports and Entertainment Team of the Year
Tabcorp Holdings
The gambling entertainment company's legal team said it is driven to ensure the business is trusted and acts with integrity. In addition to helping Tabcorp navigate "significant regulatory reforms" which it said will have a meaningful impact on consumers and stakeholders, it also helped drive the business' charitable activities, such as the 50-50 Foundation and drought relief package.
Technology, Media and Telecommunications Team of the Year
Canva
This in-house team has successfully completed a number of "significant" acquisitions in the past year that are "critical" to the future growth plans of the online platform, and have helped coordinate and drive the creation of Canva China, working extensively with King & Wood Malleasons to launch in a "record time" of eight months.
Travel, Tourism and Hospitality Team of the Year
Carnival Australia
As a team of five lawyers and one support staff member, providing legal services for 10 large cruise ships accounting for over 1.2 million passengers annually, the in-house function for Carnival Australia has had to span multiple international jurisdictions in contract, maritime, consumer and criminal law, claims and litigation, ethics, compliance and privacy, not to mention "intrinsic involvement" in the operations of different Carnival brands.
Corporate Counsel Excellence Award
Dr Madeleine Hartley, WaterNSW
Speaking to Lawyers Weekly, Dr Harley said it was "incredibly humbling" to win the Excellence Award. "I'm truly passionate about the water law space and have had an amazing opportunity to work in this field through some turbulent times. This award is an acknowledgment of the tireless hours all my colleagues have spent on the substantial body of work that is water reform, and in that respect this award also recognises the hard work and multidisciplinary nature of the WaterNSW team of experts," she said.
This email address is being protected from spambots. You need JavaScript enabled to view it.