Goodbye job applications, hello dream career
Seize control of your career and design the future you deserve with
Responding to changes to director resignation requirements
Recent changes to the Corporations Act provide an opportunity to bolster internal processes and ensure law departments have steps in place to better notify regulators.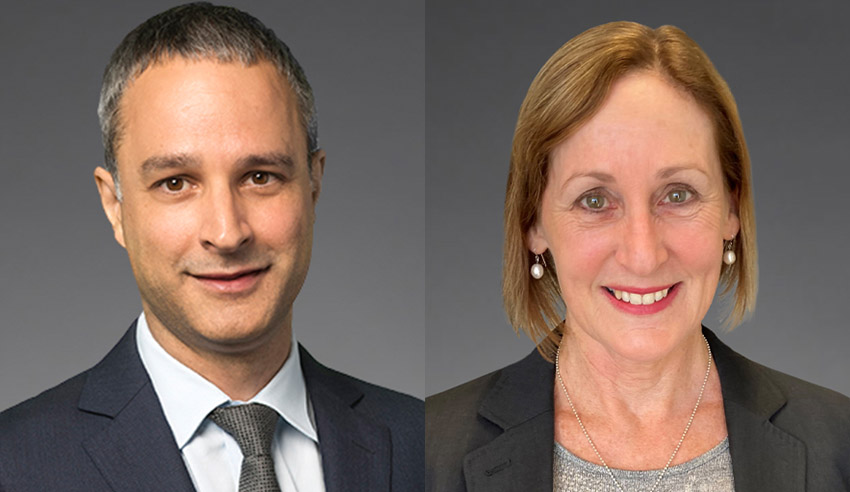 Last week, Lawyers Weekly reported that Treasurer Josh Frydenberg's move to "discourage opportunistic class actions", by proposing to make permanent the temporary changes to Australia's continuous disclosure laws, had received mixed reactions from law firms nationwide.
You're out of free articles for this month
To continue reading the rest of this article, please log in.
Create free account to get unlimited news articles and more!
Changes have also been made, K&L Gates special counsel Ben Benson and Susan Parker (both pictured) said, to director resignations. From 18 February 2021, changes to the Corporations Act 2001 made by the Treasury Laws Amendment (Combating Illegal Phoenixing) Act 2020 came into effect. The new provisions commenced on 18 February 2020 but due to a 12-month transitional period, are only now about to apply.
The effective date of a director's resignation, he said, will now depend on when ASIC is notified of the resignation. 
"If the ASIC Form 484 notifying ASIC of the resignation is lodged within 28 days of the change, the resignation will be effective from the date the person stopped being a director. However, if the form is lodged after that 28-day period, the resignation date will be the date of lodgement," the pair outlined.
"A director's resignation will also not take effect if it will leave the company without at least one director. Similarly, a director may not be removed by a resolution of members of a proprietary company if doing so would leave the company without a director – such a resolution is void.
"These changes were introduced as part of a package to combat illegal phoenixing activities by preventing directors from backdating resignations or leaving companies without directors in an effort to obscure responsibilities, shift accountability and avoid liabilities."
The role of law departments
When asked how in-house teams can and should view these changes, particularly in the wake of the aforementioned proposed changes to continuous disclosure laws, Mr Benson and Ms Parker said that although the new provisions are intended to "deter and disrupt nefarious behaviour", they will more frequently apply to catch out administrative oversights and inadvertent mistakes by companies and their advisers.
VIEW ALL
"It is no longer a case of the company just being liable to pay late fees and having ASIC's records updated to reflect an intended resignation date. While both ASIC and the courts are empowered to determine a different resignation date if an application is made within specific timeframes and certain criteria are met, fees will be payable and such applications can expect to be closely reviewed," they explained.
When it comes to proactive steps on challenges that might arise from the changes, it said that it is "now even more important that companies lodge Form 484s to notify ASIC of director resignations within the required 28 period from the date of the change".
"Companies and advisers should pay special attention to this in the context of transactions involving changes in control and management," Mr Benson and Ms Parker noted.
The changes may, however, provide an opportunity to ensure that the law department has the current "corporate key", issued by ASIC, for each company within a group and is registered to access ASIC's online lodgement services, they advised.
"As this process is a significant departure from how directors have traditionally been removed under Australian Corporations Law, many directors will appreciate being made aware of these reforms and given comfort that the in-house team or external service providers have arrangements in place to notify ASIC of resignations on time," the pair said.
"Directors should be aware of the importance of receiving evidence of the filing of a Form 484 and should be prepared to follow up to confirm that the notification is lodged within time, to ensure that their resignation is effective from the date they believe they have resigned. Alternatively, they may also choose to notify ASIC of the resignation or removal from the company themselves through an ASIC Form 370."