Goodbye job applications, hello dream career
Seize control of your career and design the future you deserve with
Steps to move from corporate to creative roles
Pursuing a more creative path doesn't have to be a full-time job, or stray too far from the law, according to these lawyers-turned-creatives.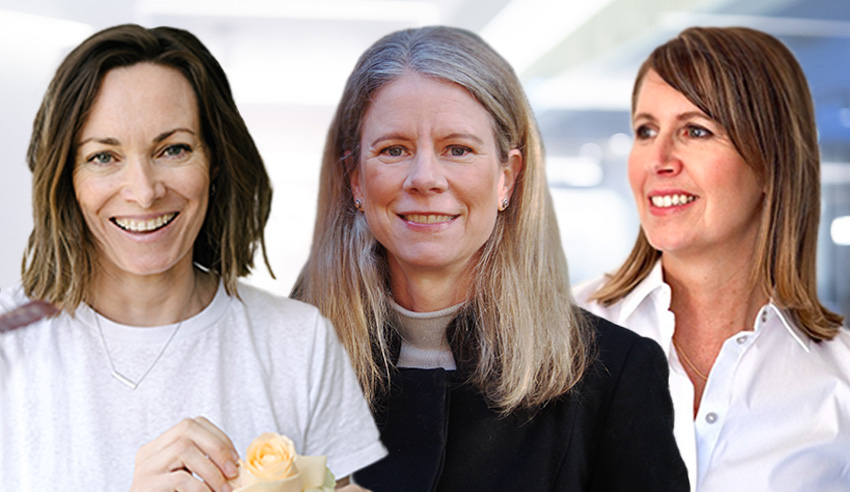 Katie Riddell, Corrie McGregor, and Kate Nakashima (pictured) all used to work as in-house counsel for The Just Group; and now focus on more creative pursuits. Ms Riddell left the legal world to become an interior decorator, Ms McGregor started her own floristry business, and Ms Nakashima left law to venture into creative writing.
You're out of free articles for this month
To continue reading the rest of this article, please log in.
Create free account to get unlimited news articles and more!
Speaking recently on the Corporate Counsel Show, the trio chatted about what made them decide to leave their in-house roles and their advice for other lawyers looking to do the same.
Ms Nakashima had worked in in-house roles for 20 years and said that after years of having to have a "tough skin" to survive in the profession, hers was wearing a little thin.
"It was time to move on to pursue something that was more about the things I was interested in discussing or in writing about," she said. 
Her advice for those looking to leave the corporate world was to look for things they truly enjoyed doing, then find a way to slowly incorporate them more into your life.
"For me, it was great to think about what did I like doing as a child and what was I like when I was young? Because those really early inklings that you had often give you a clue to what you might like to do if you're going to change.
"I knew I liked to write little stories and I knew I liked certain types of work, doing things by myself with some coloured pens and papers and things so I'd always known that that was something that was inside me," she said.
"I pursued that through doing little courses; the CIE had various things that you could try out. So, I did try these courses before I actually took the big leap. I ended up doing an associate degree at RMIT to ensure that was something that I really wanted to do
VIEW ALL
"I would encourage anyone thinking to go back in time and imagine what they were like when they were little, if that's of some use," Ms Nakashima added.
Ms Riddell worked as a lawyer for 10 years and, having always been creative, felt like something was missing in her former career. She decided to study interior design part-time over three years, while still working as a lawyer full-time and agreed that looking back on what interested you most as a child could be extremely helpful when looking to make a change.
"I think there's something in that – that as a child, you have this unfettered imagination and freedom. And as we go through that sausage factory of school and then university and work, it gets a bit squeezed out of you. I think that's probably not a bad suggestion to look back to what really lights you up," she said.
"It's also just a bit of a gut feeling too. What gives you joy? What makes you feel happy? And it may not necessarily be leaving a career. It might just be something on the side that you really enjoy doing. And then you never really know where that might lead you."
Similarly, Ms McGregor has always been a bit more creative and – when her husband got posted in Africa for six months – took the opportunity to think about what she really wanted to do, and enrolled in a floristry course once they returned. 
"If you can do a little side course, a short course on the side while you're working to try things out, try different areas, there's no harm done if you find out you don't like the area and you don't need to throw yourself in it," she said.
"Even if you do want to start something small on the side, Instagram is amazing just for making little sales. You don't have to have a website. You can do it all by message. You can start everything so small, just by Instagram and anyone can set up a page."
Ms McGregor added that setting up a business, even on the side of a professional career, can offer a number of flow-on benefits and insights.
"You'll be exposed to all these little things as they surface. It makes you a more well-rounded lawyer," she added.
In terms of getting started whilst still maintaining a legal career, Ms Nakashima said that it's easier than ever to explore creative pursuits post-pandemic.
"I think COVID has certainly made the online availability of things to learn or do a lot wider than perhaps it used to be. So, I think there are many ways to explore new hobbies or new interests and just put your toe in the water," she said.
"There are also vocational guidance-taught courses or people that you can speak to that sometimes help as well. There are many resources I suppose now, that are either online or sometimes face-to-face, that you can explore, that perhaps weren't available before."
Ms Riddell agreed – and added that a side hustle doesn't have to be completely different from your career to be beneficial.
"You don't necessarily need to take a huge, huge jump into something completely different creative-wise. You could always do something related to law.
"I've come across online legal firms that provide niche advice. There's an events law company, which provides advice a lot to the wedding industry and she's branched out from her legal practise. So, a little side shoot that's still law-related, but could give you your creative edge at creating your own business as well and dealing with that could be a sidestep," she said.
"It's easier said than done, but just trust yourself."
The transcript of this podcast episode was slightly edited for publishing purposes. To listen to the full conversation with Katie Riddell, Corrie McGregor, and Kate Nakashima, click below: