NewLaw firm adds 3 group principals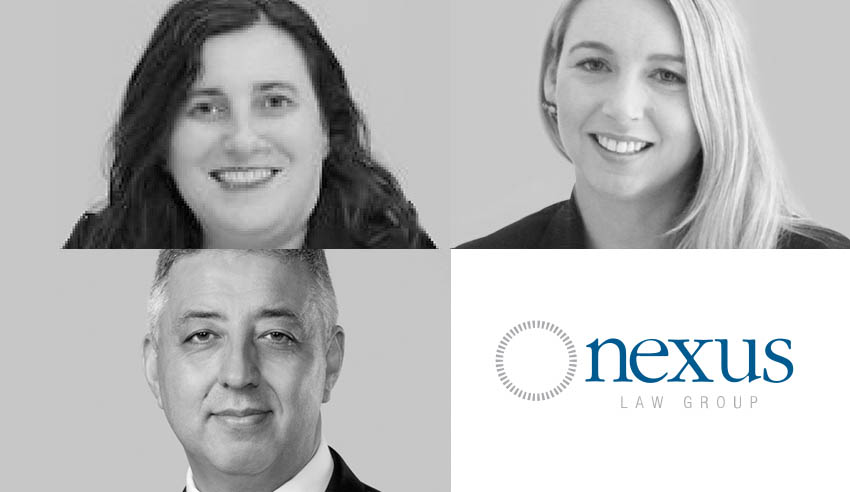 Nexus Law Group has appointed three new group principals across its Sydney and Gold Coast presences.
Maria Monastiriotis and Claudio Venegas will take up positions in Sydney, while Tara Lucke will boost the firm's Gold Coast office.
Ms Monastiriotis joins the NewLaw firm from Slater & Gordon, where she was formerly the Sydney family law practice leader.
The accredited family law specialist has more than 25 years of experience across the navigating of complex family relationships and financial matters, the firm said.
Nexus Law Group's founder, Marcus McCarthy, said Ms Monastiriotis' deep experience and passion for guiding clients through difficult circumstances makes her a valuable addition, while allowing Nexus to commence a new practice area "with a solid leader at the helm".
"Maria is a highly experienced Family Lawyer and her skills and compassion in dealing with clients during challenging circumstances is an absolute asset to Nexus," he commented.
"We are proud to have her on board."
For Ms Monastiriotis, the new appointment is "the perfect fit" for her future practice.
"It allows me to practice law in the way that made me want to become a lawyer in the first place," she explained.
"I am especially passionate about the pro bono work I have done with the National Children's and Youth Law Centre and am looking forward to continuing the role I've played in assisting children being returned to Australia," she elaborated.
Fellow Sydney starter Claudio Venegas joins the firm after almost a decade of owning and operating a professional services firm that focused on corporate insolvency, personal insolvency, turnaround and restructuring solutions, among other offerings, Nexus Law Group said.
"I thrive on helping business owners rebuild their businesses no matter how complex their situation has become", Claudio said, priding himself on personalised service and the deliverance of efficient and effective legal services in personal and corporate insolvency.
"My aim is to develop and grow a specialist insolvency, debt recovery and restructuring division within Nexus and secure our reputation as an industry leader in the field," he said.
Mr McCarthy said Mr Venegas "joins the Nexus with an enviable track record of advising, negotiating and executing complex turnaround plans for businesses both small and large", and makes him a welcome addition to the commercial team.
The Gold Coast's Tara Lucke has moved into her new role after previously founding View Legal.
With over ten years of experience in estate planning, asset protection, business succession, trusts and superannuation, Ms Lucke is excited to be joining the team.
"There is an amazing depth of expertise and experience there and I am excited to build my future career with Nexus," she said.
Commenting on her appointment, Mr McCarthy said the firm is "always on the lookout for forward thinking, entrepreneurial lawyers".
"Tara is certainly one of those and her experience using online estate planning platforms has exposed her to the kind of innovation in the legal industry that Nexus has been building for some time with its OpenLaw platform, [and] Tara will have a key role in that project."
In welcoming the new group principals, Mr McCarthy said "all three bring their own unique insights and perspectives in their areas of expertise and their contributions will have a significant impact to the Nexus Group as move forward, including as we deploy the OpenLaw smart contracts platform."