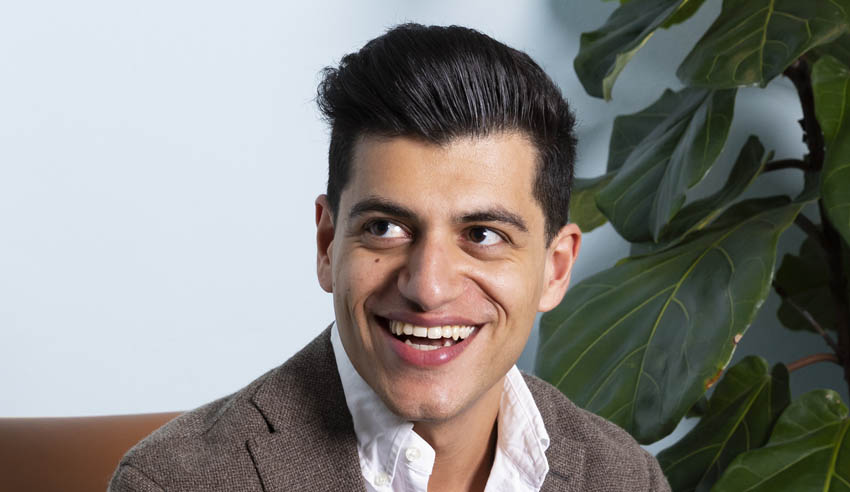 Demetrio Zema started his law firm with a laptop and a phone. An appetite for risk, and willingness to try new things, have served him and other NewLaw leaders well during the pandemic.
At the age of 28, Mr Zema – who up until that point of his life had worked primarily in litigation – decided that there "had to be a better way for legal services to be practiced".
Four years later, he leads a team of 20 professionals across Melbourne, Sydney and Brisbane, practising in commercial, corporate, litigation and employment law.
"My risk appetite is pretty high. I'd started a number of businesses before that – I had sold a technology business in 2015 – so I had risk understanding and I had sold a business and been through that process that many lawyers hadn't been through before," he said. 
"It was absolutely a scary experience and some days you still kind of question that. But I think what we've seen over the last four years is definitely a willingness and an ability for, particularly younger people, to thrive in this space."
The scariness of taking that plunge, he reflected, was exacerbated by becoming, he said, the youngest person to be issued with the principal practising certificate in Victoria at that time and starting up his NewLaw firm, Law Squared, with a laptop and phone.
The NewLaw space is still relatively young, Mr Zema said on The Lawyers Weekly Show, and can be met with scepticism because starting one's own business doesn't come with the same financial securities as more established, traditional practices.
But, in the wake of COVID-19, he feels strongly that headwinds are blowing in favour of NewLaw legal services – as was highlighted by Lawyers Weekly last month.
For the leading NewLaw firms, it has been "business as usual", Mr Zema posited. Compared to the big end of town, he noted, NewLaw practices are "set up in a much more agile way".
"There are so many stories of law firms who just haven't been able to move as quickly, because one, technology didn't allow it, and two, their system and processes didn't allow it, but also just their structure in terms of being quite admin-heavy. There are also other constraints, such as practitioners who are still using dictaphones or paper filing systems, that couldn't make that transition to working from home as easy as we could," he said.
"[Law Squared] was built on a phone and a computer. From there, everyone has their phone and their computer, and it meant no matter where in the world you were, you could work. We've had a lawyer in New York, she was there for eight months working remotely from New York for eight months. We were always ready for remote working or working flexibly which meant that when we made the decision as a business, which was very early, we're into week six now working from home, literally all people did was take a screen home and that's all they had to do. Otherwise, everything else was set up."
What NewLaw firms have been able to do, relative to other pockets of the profession, is keep continuity of service regardless of external factors, Mr Zema said.
"It meant there hasn't been any disruption from a technology perspective, for our clients. That's definitely been an advantage that I think a number of NewLaw firms have compared to some traditional firms, because the migration to remote working for some law firms has been massive. As has been reported, there's been some client discontent as a result of that, because the firms just weren't ready or able to respond as quickly."
The broader profession will have to review their leverage models, Mr Zema continued, given that – from an efficiency perspective, "it's not really working".
"Clients are demanding quicker turnarounds and you can only do that when you've got active service and active knowledge of people doing that work, as opposed to spreading it across a leverage. Of course, that depends on how big the matter is, but largely in everyday commercial transactions or base matters, we will really see a review of not only overheads, so admin-heavy, but also that leverage model," he argued.
When asked if looming adaptations to the ways that other legal businesses operate will present a challenge for Law Squared and other NewLaw firms in the marketplace, Mr Zema said: "I'm all for it".
"I've always said that Law Squared was born to change the conversation that people have about lawyers. So, if we have more law firms who are helping change our conversation, then I'm all for it," he proclaimed.
"The market is huge, as we know, and there are certain clients that will want to work with certain firms, and certain lawyers that have certain relationships with clients. I don't think it's saturated at all. I think it's a really great thing for the legal profession, if everybody all of a sudden is working in a more agile way, saving costs for clients, being client-focused and centric. I think it's a really wonderful thing."
To listen to the full conversation with Demetrio Zema, click below: