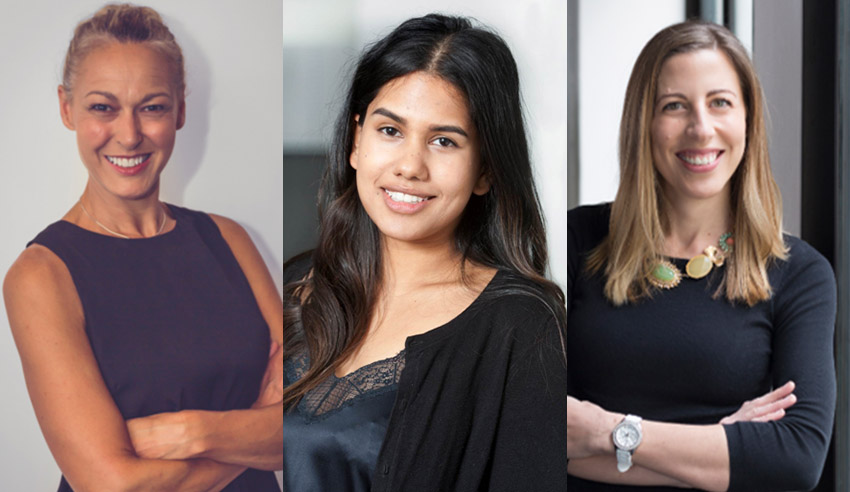 Award-winning NewLaw firm Hive Legal has elevated three of its lawyers to executive director, principal and senior associate respectively.
Hive Legal has promoted Melissa Lyon to executive director, Adrienne Trumbull to principal and Rachel Varghese to senior associate.
The roles are effective as of 1 January 2021.
Ms Lyon's promotion, the firm said in a statement, reflects its "progressive approach" to the delivery of legal services and our focus on improving the experience for our clients.
"Melissa, who was named Innovator of the Year at the 2020 Australian Law Awards, will continue to build Hive's consulting practice which provides service, product and strategy design and legal ops assistance using its design thinking based framework, HiveThink," the firm said.
Ms Lyon said she is "really excited" to be able to provide their clients with a blend of skills that reach beyond legal and provide a much more holistic service offering.
"It is also extremely fulfilling to be part of a firm which recognises that to improve the experience for our clients we need to think differently about their needs, draw together people with the required skills and design better and creative outcomes to address those needs. I am extremely proud and grateful to work with people who have the right purpose and mindsets to 'change things up' in our industry," she posited.
Ms Lyon's hope, the firm continued, "is that in the future we will see more firms providing career paths through to the Principal level for people with skills 'other than legal' as it will make for a 'much better experience' for them and our clients".
Hive principal Mitzi Gilligan added that "Melissa is the embodiment of Hive's purpose, vision and values. Bringing her into the ownership group is recognition of the fact that a law firm's success is not only driven by its practising lawyers".
Ms Trumbull's "ability to build great relationships with clients is evident, especially when you hear clients say 'we love Adrienne's willingness to get to know us, what we do, how we do it and what we are about… it makes our lives so much easier'", Hive said, giving rise to her elevation to principal.
Speaking about her new role, she said: "I am so proud to be joining an amazing group of principals leading an exceptional team."
"I love Hive's collaborative mindset, both with our team and our clients, and I'm honoured to be able to play a role in the future of the firm".
Hive principal Joanna Green noted that it is "rare to see the combination of technical skills and broad experience, mixed with the pragmatic, commercial and calm approach Adrienne brings to the firm and to our clients".
"Everyone loves her and feels confident when she is leading a matter that they are in safe hands. Adrienne is a great promoter of Hive and its values, internally and externally, and it is exciting to celebrate her promotion to principal," she said.
Elsewhere, Ms Varghese earned her promotion having developed a "level of technical expertise in energy law and a depth of understanding of our clients' businesses that is extremely rare and a source of inspiration to her Hive colleagues", said firm principal Andrew Brookes.
"She is already considered a trusted expert by our energy clients, known for her ability to solve complex regulatory and contractual problems and her exceptional communication and drafting skills. She works closely with key players in the Australian energy sector providing assistance on complex energy regulatory matters, energy market disputes, major energy contracts and projects," he said. 
"Her positive impact extends well beyond her legal work. Rachel is unusually generous in sharing her knowledge and supporting other young lawyers.  She is a major pro-bono contributor, as coordinator of Hive's Refugee Legal volunteer program and she is also Victoria's current representative on the national young professionals committee of AMPLA."
Ms Varghese said she is "excited to be taking the next step in my legal career, and extremely grateful to the mentors I've had along the way and the wonderful team that I work with".
"It's incredibly rewarding to be doing work that I enjoy, and collaborating with a diverse and highly skilled group of people who all share Hive's goal of improving the experience of its clients and employees. The firm, and our energy practice, have grown so much over the last few years (weathering the difficulties caused by COVID-19 brilliantly) and I look forward to seeing what 2021 and beyond has in store for us," she added.