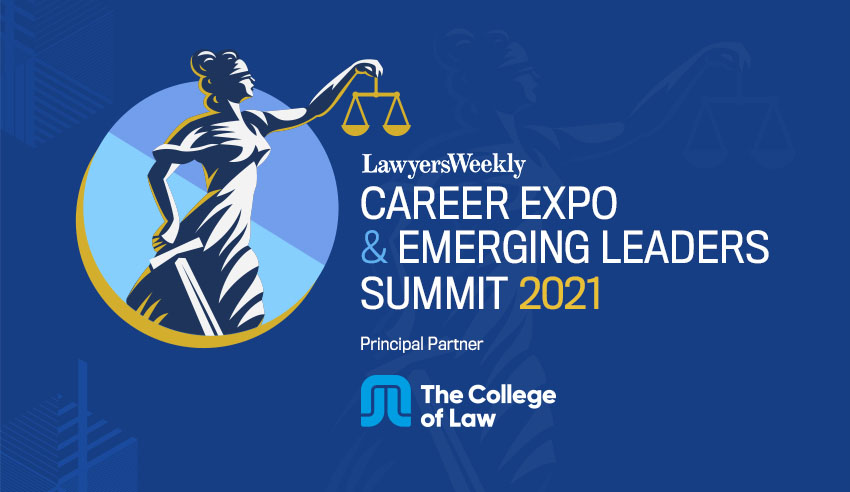 In just a couple months' time, new and budding lawyers can (virtually) attend a free and inaugural Career Expo and Emerging Leaders Summit! So, what can you expect by signing up and how will attending help shape the rest of your legal career? 
Earlier this month, Lawyers Weekly announced the launch of our inaugural Career Expo and Emerging Leaders Summit 2021 along with principal partner The College of Law. It's shaping up to be an exciting, unique and all-round useful event for law students, new graduates and lawyers with less than five years' experience. 
We have already locked in some inspiring (and highly experienced!) legal experts to walk you through some of the top tips and tricks for making it in law. There are The College of Law executive director Catherine Stokes, Sparke Helmore Lawyers special counsel Eresha De Zoysa, clinical neuropsychologist Dr Hannah Korrel, lawyer at Centre for Legal Innovation Sam Burrett, Birman & Ride senior associate Lucy Dickens and The College of Law careers professional Susan Pincus.  
You can view all of their profiles on the page here and you can check out how our other speakers have contributed to Lawyers Weekly in the past below: 
Mellissa Larkin

is the founder and managing director of Peripheral Blue. Over her legal career, Mellissa has worked in major international firms through to smaller boutique practices and has a wealth of experience from it all. She has already passed some tips onto Protégé, which you can take a listen to

here

. 
You can hear from all of these experts across the three-day agenda on topics like virtual networking, recruitment tips, ensuring optimal wellbeing, breaking through the ranks and finding the confidence to thrive in progressive pathways. Each and every session will be jam-packed with tips for making it in the law as a new lawyer as well as planning out your next steps into leadership progression (or your own practice!). 
Each day, attendees will also have the incredible opportunity to connect with a law firm, industry leaders and trusted career advisers of their choosing! This means full 15-minutes talking one-on-one with an expert to network, chat about their organisations and ask any and all questions to someone with the right answers. 
We will have more information over the next few months but in the meantime, feel free to check out the entire agenda, reach out with questions and register for the event here.