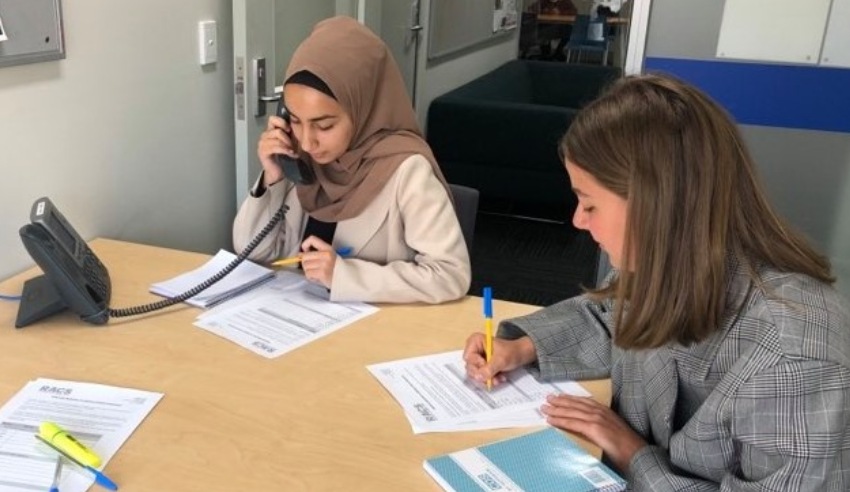 In an incredibly unique opportunity, soon-to-be lawyers can gain hands-on experience in Australia's first-of-its kind legal clinic dedicated to assisting stateless people and their children, where they will work closely with experts to understand the gravity of this niche and complex area of law while filling the data gap.   
For stateless woman Aisha, living on temporary visas has left her feeling "deeply sad" about not having a country and the last thing she wants is for her own children to "face the uncertainty this brings". To make things worse, Aisha and many other stateless people living in Australia find it hard to seek legal advice and resources dedicated to them, but a new University of Melbourne partnership could fill this gap. 
Inspired by the "A Place to Call Home Report" by the Refugee Advocate & Casework Service (RACS) and the Peter McMullin Centre on Statelessness (PMCS), a groundbreaking Stateless Children Legal Clinic manned by legal experts and student volunteers will ensure that stateless people have somewhere to go for advice. 
"The benefits of what you can get out of programs like this are two-fold," RACS director and principal solicitor Sarah Dale told Lawyers Weekly's Protégé. "Firstly, our clients are able to access assistance but secondly, students are able to get that hands-on experience in running legal matters and working with clients.
"You can go and do placements at firms and you might not get that opportunity to be running cases, to be drafting applications and to be working with clients one-on-one. This is one of the things we get to offer through this program." 
University of Melbourne students Claudia Cameron and Zahraa Albadri were the first to test the clinic during its pilot period, and both were given first-hand knowledge on the critical, unmet legal need for stateless children. For one, these children are usually unaware of the option to seek citizenship and, if they do, there is a critical gap in terms of legal provisions available for families wanting to pursue this option. 
PMCS research fellow and clinic director Katie Robertson said that Australia has been a leading nation in this area, and it did implement "reasonably good" legislation to ensure that those born to stateless parents in Australia are entitled to citizenship. 
"The problem is there is no point in having a good law if the very people it is designed to protect and assist don't know about it," she said. "Having identified this law but simultaneously identified this lack of knowledge by stateless children on the one hand and on the other hand, a lack of legal services to assist, we have been able to build upon the fantastic work that RACS has already done within their organisation by harnessing the assistance of Melbourne law school students." 
The research has also inspired the Stateless Children Legal Australia Network, which connects lawyers from across Australia to discuss the stateless cases that they come across and build on each other's resources. Ms Robertson added that its intention is to develop and enhance the knowledge of the wider profession. 
With Australian legal community centres under pressure from a wealth of other major issues and with statelessness generally a misunderstood concept within the legal profession due to a lack of data, the clinic will work to ensure that these gaps are filled. With plans to expand and to bring in more students, it hopes to give young lawyers a learning opportunity while also mapping out specific stateless research.
"The pilot clinic was incredibly successful in terms of the children and family groups we were able to assist within a very small period. Operating the pilot has indicated to us that there are more families in need out there of legal assistance," Ms Robertson commented.
"The [law students] were able to do really direct, hands-on clinical work, under the supervision of RACS and myself.
"They were able to meet with clients, take basic instructions, develop critical file management skills, develop legal licensing skills and work with interpreters. It has been a fantastic, practical learning experience for these children in terms of getting real and direct legal experience that will be of benefit to them in their future legal careers." 
Ms Dale said working with the clinic also gives these young lawyers a look into a very niche and complex area of law, while also engaging with the clients it affects. She said that working in the clinic and with RACS will hopefully inspire more young and soon-to-be lawyers to commit to working in similar spaces long-term. 
"We're hoping that people will come into RACS and walk away as advocates, in particular for people seeking asylum and refugees. More than that, I hope students walk away with an appreciation of human rights and the defence of human rights and the real implications on real rights. More than just advocates, I hope people leave our doors the next budding social justice warriors," Ms Dale said.
Are you an emerging legal professional and/or law student wanting to learn more ways to utilise a law degree and advance in your chosen career path? Lawyers Weekly's Career Expo and Emerging Leaders' Summit will connect you with Australia's top companies and leading educators to help secure the perfect role. 
The free-to-attend live-stream event is designed to arm you with the tools and strategies to succeed in the current market and is being held across three action-packed days over 8, 9 and 10 June. As well as being treated to a wealth of practical tips, the event is offering a prize to a lucky attendee – return flights to New Zealand! 
Click here to find out what you will gain from attending and head to the official site to register now!