Goodbye job applications, hello dream career
Seize control of your career and design the future you deserve with
Attending a protest? A new law student guide may help with legal questions
In an effort to better inform the community and protest organisers about their rights and basic legal information before protesting or conducting demonstrations in public spaces, a youth-based team of current law students has created an important guide that covers everything from what to do when detained and where to find legal help.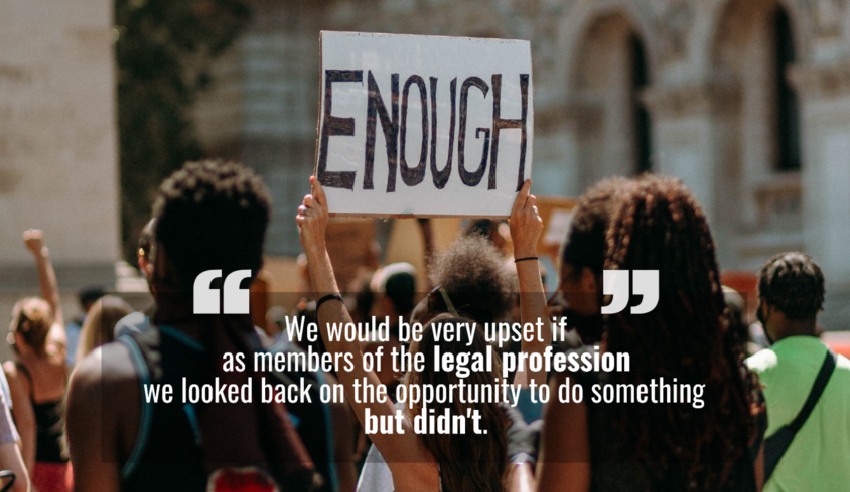 In 2019, allegations of police violence at climate change protests were rife and would only become increasingly prevalent as more people met in large, public spaces to protect and defend their rights. Inspired by the claims of violence, youth-based organisation GreenLaw started to work on a guide to inform the community of their legal options and detail the basic law knowledge that exists behind planning these events. 
You're out of free articles for this month
To continue reading the rest of this article, please log in.
Create free account to get unlimited news articles and more!
The "Practical Guide to Law and Protests in the Australian Capital Territory" consists of 17 chapters that detail everything from planning an event and notifying the relevant authorities through to minimising the risks to organisers, making a complaint about potential police violence and how people underage could be affected. 
Speaking on The Protégé Podcast, GreenLaw founder and law student at Australian National University (ANU), Annika Reynolds, said the guide was "very much focused on peaceful protests", but took into account that "when people are passionate, when they're marching out on the streets, things can sometimes go wrong". 
"The guide is a comprehensive and practical resource for non-lawyers, largely the organisers of peaceful protests," Ms Reynolds said. "The guide is intended to give organisers all the basic legal information they need. It's not strict legal advice but the basic legal information they need to be making informed decisions." 
In planning out the guide, Ms Reynolds said it was a "bit dismaying" for herself and her team to find that during research, "the information on watch houses in the ACT, on the process of arrest, on your rights and what that experience is like" is not easily publicly available to the wider community that may be attending protests. 
"As law students and legal academics, we were struggling to find the information, let alone someone with no legal knowledge in the space. So, the guide goes through all of those potential issues and what your rights are and how you can promote personal safety," Ms Reynolds said, adding accessibility was a key consideration.
Large portions of the guide, she added, are easily accessible in criminal law textbooks and are then easily accessible by someone in the legal profession, "so, for us, it really was about moving that information into an accessible space".
While NSW and Victoria have a "fantastic police accountability project", Ms Reynolds said that she noticed in the ACT – partially because it is a small jurisdiction – that information on police responses are not easily accessible. 
VIEW ALL
"This was particularly concerning for us because we started this guide in 2019 when there were allegations of police violence happening at climate protests, not in the ACT, but across Australia," Ms Reynolds said, and then added on behalf of her team, "We thought we would be very upset if as members of the profession we looked back on the opportunity to do something and then didn't."  
Responding to the question of why she believes these resources do not already exist in Australia's capital, Ms Reynolds said it starts with limited financial resources. 
"With lack of funding, and with the amount of work that lawyers do on a range of issues in the social justice space, it's hard to set aside resources for this and that results in gaps. Those gaps for people on the ground results in risk to their safety and potentially traumatic experiences," Ms Reynolds explained.
"We really felt a responsibility to contribute, to ensure that people in the ACT could exercise their right to peaceful association safely and provide that information." 
For more from Annika Reynolds on the guide, how she came to create GreenLaw and tips for other young lawyers on getting started with their own organisation, have a listen to the podcast episode here. 
If you have any questions about the episode or if there are any topics that you might want us to look into, please reach out – we would love to hear from you! 
We're also always open to new guests so if you have an exciting story to tell, if you're standing out as a student or graduate, or if you can offer some tips for our young lawyers, get in touch. 
You can reach us here:
Emails: This email address is being protected from spambots. You need JavaScript enabled to view it. or This email address is being protected from spambots. You need JavaScript enabled to view it.
Socials: Follow us on LinkedIn, Facebook and Twitter or reach out to me directly here.