Cuts to indigenous legal aid a backwards step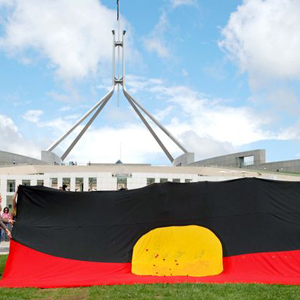 The Coalition's planned cuts to indigenous legal services will lead to increased prison costs and a shift in demand to already stretched legal aid bodies, critics have argued.
The Coalition plans to cut $42 million from the Indigenous Policy Reform Program, which funds legal services for indigenous people across Australia, over the next four years. It represents almost a 20 per cent drop in funding.
"It's not a huge amount of money in the overall scheme of things [but] it will have huge impacts on a highly specialised service," said the president of the Australian Lawyers Alliance (ALA), Geraldine Collins.
"You will see an increase in people facing custodial sentences and, if we're talking about this solely as an economic factor, that doesn't make sense; putting somebody in jail and keeping them in jail is far more expensive than providing funding for legal services for them."
Aboriginal and Torres Strait Islander prisoners make up just over a quarter of the total prisoner population in Australia, according to the Australian Bureau of Statistics.
The Australian National Council on Drugs found that the average cost per prisoner in Australia is approximately $315 per day or $114,832 a year.
Michael Smith, national convenor of the National Association of Community Legal Centres, said indigenous legal services help the courts make fairer decisions by presenting clear, well-articulated cases on their clients' behalf.
"The advice, information and complex support provided by the Aboriginal and Torres Strait Islander Legal Services play a critical role in combating the overrepresentation of Aboriginal and Torres Strait Islander men, women and young people in the criminal justice system," said Smith.
"[They] assist people to understand the legal system and support them through the intimidating process of going to court."
Michael Colbran QC, head of the Law Council of Australia (LCA), said the LCA had sought further information about how the Coalition proposes to maintain the "high quality of work" being done in the area if funding is removed.
"Reducing the rates of indigenous incarceration requires a genuine commitment to addressing the reasons for this worsening problem. The important policy work conducted by national indigenous legal services is the foundation for understanding the nature and causes of the crisis in indigenous imprisonment," said Colbran.
Soon-to-be Federal Attorney-General George Brandis said on Friday (6 September) that the cut was not expected to impact on indigenous legal aid, only policy reform carried out under the scheme, but the National Aboriginal and Torres Strait Islander Legal Service argued there was nothing to distinguish funding for legal services.
The move is expected to simply push the demand for legal services on to other legal aid bodies and community legal centres that are already in a funding crisis.
"Legal aid is so dreadfully underfunded and really under pressure. It's having implications throughout all jurisdictions," said Collins.
"In Victoria we now have serious criminal cases that are being adjourned, effectively indefinitely, because of a lack of funding and inadequate representation."
The level of pro bono work done in the legal profession is already high, said Collins, and she argued that lawyers could not be expected to take on more cases without adequate funding.