Strong relationships key to firm growth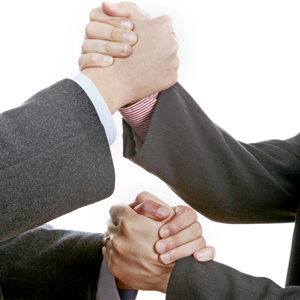 Young lawyers need to be involved in networking and managing client relationships from their first day in a law firm, according to a panel of business development experts at this year's Australasian Practice Management Association (ALPMA) Summit.
"Get the younger lawyers meeting with clients and doing the networking as soon as possible; they don't teach networking and client relationship management (CRM) at law school," said Richard Scott, the business development (BD) manager at Russell Kennedy Solicitors.
"They need to know what's expected of them as soon as they arrive at the firm."
Scott was sitting on a panel that was asked to address the question: If you don't have rainmakers, how do you grow your firm?, at the Summit last Friday (18 October); also sitting on that panel, which was facilitated by Robert Milliner (pictured below), the current B20 Sherpa for Australia and a senior advisor at UBS, were Clementine Scahill, the BD director at Hunt & Hunt Lawyers, and Suzanne Delbridge-Bailey, the business principal at Forsythes Accounting. 
Scahill said she believed rainmakers were "almost a myth", while Scott added: "You don't need a team of rainmakers to grow your firm; you need the majority of lawyers to have some sales and client relationship skills.
"Most lawyers have some element of sales skill hibernating somewhere."
Scott claimed BD should be talked about and promoted by senior management in the firm and that the firm's BD person should be meeting with graduate lawyers on their first day, as well as meeting with the managing partner on a regular basis.
"[It's a] perception thing ... if the BD manager is meeting with the managing partner they must be important."
Scott also emphasised that it is important for the achievements of junior lawyers in the BD space to be recognised.
"If a junior lawyer introduces a partner to a potential client that needs to be celebrated," he said.
Referring back
Scahill said that if a firm wants to attract clients without 'rainmakers' then they need to have a logical plan.
"Have a clear outline of what your desired client base looks like," she said, adding that firms need to ensure their clients' price point aligns with theirs.
Scahill also spruiked the importance of maintaining a good relationship with firm alumni, saying that, for many large firms, up to 80 per cent of referrals can come from alumni, "which goes back to the culture [of the firm]," she added.
Delbridge-Bailey also talked up the importance of referrals, saying that other BD activities, such as leveraging contacts and appearing at conferences to boost your profile, or getting involved with professional bodies, are no use if your firm is not providing "appropriate, timely, accurate and cost-effective service".
"The easiest source of additional work is your existing client base," said Delbridge-Bailey. "Do what you do really well and you will get referrals."
Social problems
One of the questions from the audience at the discussion was about young lawyers that are using social media as a marketing tool; both Scott and Milliner said this is something that firms should encourage rather than crack down on, provided the firm has a clear social media policy in place.
"Social media is another communication channel," said Scott."If that's the way they find easiest to develop contacts in the industry, that's fantastic.
"I would be getting them in the boardroom to show the other [senior] lawyers what they're doing ... to show them there is another way to communicate with people."