In-house rules law careers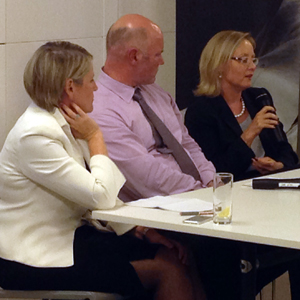 The head of Westpac's legal team told Lawyers Weekly that in-house is no longer the place where "great lawyers go to die".
The head of Westpac's legal team told Lawyers Weekly that in-house is no longer the place where "great lawyers go to die".
Justin Moses, corporate counsel and general manager at Westpac Banking Corporation, was a panellist at the Law as a Career: Firms, In-House and the Bar event held in Sydney this week (14 May).
The senior in-house counsel spruiked the rewards of an in-house career at the sold-out event hosted by Women Lawyers Association of NSW.
Speaking with Lawyers Weekly on the night, Moses said in-house is becoming a more attractive career path for young lawyers.
"Once upon a time there was a sense that the in-house market is the place where great lawyers go to die, that somehow it attracted a lower quality of lawyer, but now those beliefs are well and truly dispelled and there's a lot of interest from great lawyers."
He added that general counsels, under pressure to reduce costs, are creating positions for lawyers in their teams in a bid to reduce external legal spend.
"Certainly that notion of bringing into the company capability to take care of work which was previously being sent outside is an attractive proposition," he said.
"We can compete on a range of grounds with private practice firms and other types of legal practice to bring in really top talent."
Moses, whose first legal role was at Westpac 27 years ago, said he has never considered joining private practice.
Fellow panellist Felicity Rourke, a partner at Norton Rose Fulbright and private practice lawyer her entire career, admitted that corporate internalisation of legal work combined with a saturated jobs market has resulted in an oversupply of lawyers vying for a reduced volume of work.
She claimed that firms need to speak with their clients in commercial terms and "truly articulate what they can bring in terms of value" in today's highly-competitive legal market.
"You need to understand your clients' business, understand what their needs are, and think about ways we can help them meet those needs in perhaps a more deliberate way than lawyers have done so in the past," she added.
Striving for balance
Moses said work-life balance motivates many women to move from private practice to an in-house role.
"Organisations have a higher level of flexibility; they are much less driven by the external client need. The pressure to continue to generate revenue makes it harder [to find balance]," he explained, referring to the environment within private practice firms.
Moses encouraged graduates who value work-life balance to consider a firm or organisation's flexible work arrangements before joining their ranks.
Rourke, who recently spoke to Lawyers Weekly about the virtues of a career in private practice, said firms are recognising the need to be more flexible in order to attract and retain talent.
Referring to a landmark study by the Law Council of Australia, which exposed the high rate of female attrition in the legal profession, Rourke commented that firms that don't offer flexible work arrangements are making "a pretty dumb business decision".
"[Women are] a large part of our talent pool that we've invested in and trained and who've developed goodwill with our clients and who are the next generation of our business. If we can't find ways to cater to those people to balance family arrangements ... then we miss out because we lose our workforce."
Around 17 per cent of Norton Rose Fulbright employees work flexibly.
Rourke and Moses were joined on the panel by Elizabeth Cheeseman SC from Seven Wentworth, who provided insight into a career at the Bar.