In with the new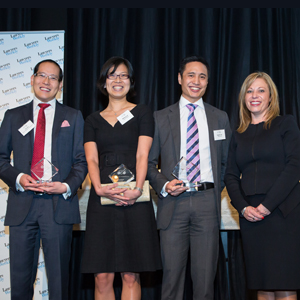 The winners in the Lawyers Weekly 30 Under 30 Awards are ready to leave their mark on the legal profession.
The winners in the Lawyers Weekly 30 Under 30 Awards are ready to leave their mark on the legal profession.
Around 300 people gathered in Sydney's Ivy Ballroom on Friday night (16 May) to hear the announcement of the 30 winners across 10 categories at this year's Lawyers Weekly 30 Under 30 Awards.
"It was a real shock and real honour when I was announced as a winner," said Eugene Tan (top picture) from Clayton Utz (Eugene is pictured, third from left, with Mellissa Lai from Minter Ellison and Jin Ooi, who is on the far left, from Corrs Chambers Westgarth; the three winners of the Government category. GrainCorp Limited group general counsel Betty Ivanoff is pictured far right).
Eugene, like many of the young lawyers that made submissions for the Awards, pinpointed a number of areas in the legal sector that are ripe for change.
"We need to see a change in the way firms are structured and organised," Eugene said, advocating a "decentralisation" of law firms that would enable more flexible and remote working options. "This would enable greater engagement from a more diverse range of people, such as women looking after kids, and people working in more isolated areas," he said. "So we don't have to choose whether to have a city lifestyle to work in big law, or to choose between a career in law or having a family… and that would be a great thing to see."
The Lawyers Weekly 30 Under 30 Awards were open to lawyers throughout Australia, in private practice and in-house, who were under 30 years of age on 16 May 2014, the night of the Awards. Three winners were selected from each of the 10 categories.
Diversity to characterise the leaders of tomorrow
Twenty of the 30 winners were female, eclipsing last year's tally of just over half of the winners being women (16).
In three categories – the Charterhouse In-House Award, the College of Law Pro Bono Award and the Intellectual Property Award – all three respective category winners were women.
A number of the winners also came from boutique or small firms, emphasising that clients are attracted to specialist advice rather than big firm reputation in selecting external legal providers.
"The level of access I have to work, the hands-on approach to clients and matters that a small firm gives is extremely rewarding," said Clare Kerley (picture below left), from Matthews Folbigg in Parramatta, who was one of three winners in the Workplace Relations, Employment & Safety category.
Clare (pictured on the far left with the other winners in this category, Erin Lynch from boutique firm People + Culture Strategies, David Burnton from national firm Mills Oakley and Betty Ivanoff), added that it is "a misnomer" that small firms don't get big work.
Clare's client list includes government agencies with over 5000 employees. She is also currently the chair of the NSW Young Lawyers Workplace and Safety Law Committee.
Winners also came from a diverse geographical area, with lawyers from Sydney, Melbourne, Perth, Brisbane and the ACT picking up an award.
Corrs crowing
The best-performing law firm on the night was Corrs Chambers Westgarth, with four winners.
"That is testament to the amount of training and experience Corrs offers to junior lawyers and the sort of work we are allowed to get involved in, even in early stages of our career," said 28 year-old Rebecca Measday (picture below right), a winner in the Intellectual Property category (Rebecca is pictured on the far left with the other two IP winners; Emma Bekens from Norton Rose Fulbright in the middle and Danielle Benecke from Baker & McKenzie. Exigent director Ted Dwyer, who presented the Award, is on the far right).
Minter Ellison also performed extremely well, equalling last year's record of three winners.
Monique Cowden from Minters, one of the winners in the College of Law Pro Bono Award, was also a winner in the Dispute Resolution category in 2013.
King & Wood Mallesons, Clayton Utz and Sparke Helmore each had two winners.
A total of 22 law firms and corporations were represented among the 30 winners.
There were 32 law firms and organisations among the 59 finalists.
Lawyers Weekly would like to thank all of the sponsors, judges and young lawyers that have supported these awards in various capacities.
Congratulations to all of the Lawyers Weekly 30 Under 30 Law Award winners (see full list below). Lawyers Weekly will be providing comprehensive coverage of each of the 10 category winners over the next fortnight.
The 2014 Lawyers Weekly 30 Under 30 Law Award winners:
The Noble Oak Banking & Finance Award
Charles Driscoll: National Australia Bank
Abigail Farrelly: Ashurst
Daniel Yim: Gilbert + Tobin
The KordaMentha Forensic Dispute Resolution Award
Tom Bridges: Webb Henderson
Nikki Mourginos: Holding Redlich
Maria Yiasemides: Corrs Chambers Westgarth
The JLegal Energy & Resources Award
Megan Coall: King & Wood Mallesons
Liam Davis: McCullough Robertson
Jasmin Singh: Clayton Utz
The Government Award
Mellissa Lai: Minter Ellison
Jin Ooi: Corrs Chambers Westgarth
Eugene Tan: Clayton Utz
The Charterhouse In-House Award:
Jessica Dodson: Medtronic Australasia Pty Ltd
Dianna Gu: SP AusNet
Kimberly Statham: Red Bull Australia and New Zealand
The e.law Insurance Award
Damian Clancy: CBP Lawyers
Hannah Rose: Sparke Helmore
Sarah Sharp: Sparke Helmore
The Intellectual Property Award
Emma Bekens: Norton Rose Fulbright
Danielle Benecke: Baker & McKenzie
Rebecca Measday: Corrs Chambers Westgarth
The Open Universities Australia M&A Award:
Lucy Repasky: Corrs Chambers Westgarth
Jason van Grieken: Arnold Bloch Leibler
Steven Wang: Minter Ellison
The College of Law Pro Bono Award:
Monique Cowden: Minter Ellison
Elizabeth Lathlean: Salvos Legal
Stephanie Puris: King & Wood Mallesons
The Workplace Relations, Employment & Safety Award
David Burnton: Mills Oakley
Clare Kerley: Matthews Folbigg
Erin Lynch: People + Culture Strategies