Exclusive: Maddocks senior partner quits to launch start-up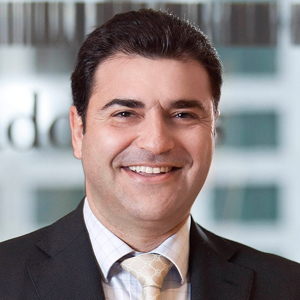 The head of Maddocks in Sydney has left the firm to start his own boutique practice.
Stan Kondilios (pictured) retired from the Maddocks partnership on 1 July to launch SK Partners Pty Ltd.
Speaking exclusively with Lawyers Weekly, Kondilios said his decision to leave Maddocks was "difficult and emotional".
Kondilios, 42, had been a partner at Maddocks for 12 years. He was the partner-in-charge of the Sydney office, the head of the firm's Public Law group and the chair of the Maddocks board.
"I had accomplished a lot and I was proud of what I had done … I have a genuine affection for the people who are still there," he said of his former firm.
Environment lawyer Patrick Ibbotson has replaced Kondilios as Sydney partner-in-charge. Mark Hayes, a partner in the firm's government practice, is the board's new chair.
Maddocks has also confirmed that Sydney partner Prue Burns has been promoted to head the firm's NSW Local Government practice.
Bring in the middle man
Kondilios is the principal and sole employee of SK Partners, which has been operating for less than two months.
The firm specialises in environment and planning law, and government contracts and contract analysis.
Kondilios said he is able to meet the legal and commercial needs of his clients by drawing on a pool of resources that includes, but is not limited to, law firms.
These "strategic alliances" span multiple industries, he explained, allowing SK Partners to provide a "solutions to client problems" as opposed to narrow legal services.
"This is a cost-effective model, it is a direct model and it is an expedient model," said Kondilios.
SK Partners does not currently have an office. Kondilios claimed that being accessible to clients is more important than having office space in Sydney's CBD.
"Clients ring you and you go to them and they love that," he said.
Another partner gone
Kondilios is the latest senior partner to depart Maddocks' Sydney office in recent months.
Peter Shaw, the former head of the firm's corporate group, left Maddocks in April to join ex-Maddocks partner Peter Keel at start-up consultancy firm Ash Street. Maria MacNamara, the director of business development and marketing at Maddocks from 2010 to 2012, also moved to Ash Street in August.
Late last year, Lawyers Weekly broke the news that Maddocks lost its CEO David Rennick, who quit the firm to launch the Australian practice of Pinsent Masons.
The move followed failed merger talks between Maddocks and the UK-headquartered firm.
Kondilios spoke to Lawyers Weekly at the time about the proposed merger, which had split the partnership.
When asked more recently whether his decision to leave Maddocks was related to the events surrounding the merger discussions, Kondilios said he would not discuss the issue further.
"I felt it was better for me, at my age and with my contacts … to do what I'm doing now for the next 10 years," he added.