Young Gun builds a bridge to Asia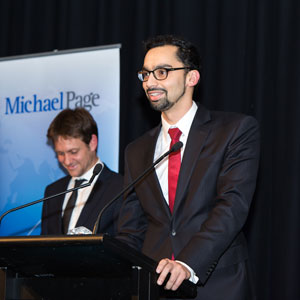 Baker & McKenzie lawyer Arjuna Dibley is the highly-deserving recipient of this year's Young Gun Award.
Baker & McKenzie lawyer Arjuna Dibley (pictured) is the highly-deserving recipient of this year's Young Gun Award.
Arjuna's unique expertise in Indonesian law and his talent for climate change advisory, M&A and dispute resolution sets him apart from other lawyers.
Upon accepting the award from Lawyers Weekly deputy editor Leanne Mezrani at this year's Lawyers Weekly Law Awards, proudly sponsored by Michael Page Legal, Arjuna thanked his firm.
"I just wanted to say thank you to Bakers for giving me the flexibility to get involved in all the initiatives that I am involved with and giving me the opportunity as a lawyer to travel."
Arjuna works with Bakers' environmental markets group in Melbourne, but regularly travels to work in the firm's Jakarta office. He started working at Bakers in 2012 after completing a summer clerkship in 2009.
He has led the production of climate change advisory documents, managed wind farm acquisitions by Malaysia's largest power producer and headed up a dispute resolution team dealing with a major case being heard in the Federal Court of Australia.
In addition, Arjuna has handled a number of complex transactions in the environmental space, including the privatisation of NSW Government renewable energy generation assets and a multi-million dollar contractual dispute regarding the breakdown of an environmentally-friendly composting facility.
In 2010 Arjuna undertook an international clerkship in Jakarta, where he deepened his knowledge of Indonesian law.
He is an associate at the University of Melbourne's Asian Law Centre and has had numerous articles published on Australia-Indonesia legal relations.
"My long-term objective is to pull together my interests in environmental and international law and Australian engagement in Asia to build a legal practice which focuses on providing advice to governments in the Asia-Pacific region," he wrote in his submission.
Arjuna is committed to pro bono work and has played a role within the Public International Law & Policy Group's Constitution Drafting Committee of Yemen, Early Childhood Intervention Australia and the Homeless Persons' Legal Service.
He feels passionately about increasing ties between the Australian and Asian legal professions. He is the founder and president of the Australia-Indonesia Youth Association (AIYA), which aims to connect young Australian and Indonesian legal professionals.
Arjuna's efforts have been recognised with the Prime Minister's Australia Asia Award and the Australian Davos Connection Australian Leadership Award.
The judges described Arjuna as "an outstanding young lawyer".
"Arjuna is already making senior management at Bakers sit up and take notice, having been a key figure in the establishment of an Asian engagement working group and has had articles on Australian-Indonesian relations published in mainstream media."
The other finalists in this category were William Kontaxis from Salvos Legal, Elizabeth Lathlean from Salvos Legal, Luke Hawthorne from Norton Rose Fulbright, Rebecca Petrie from King & Wood Mallesons and Kate Barry from Mills Oakley Lawyers.