NRF leader a great disruptor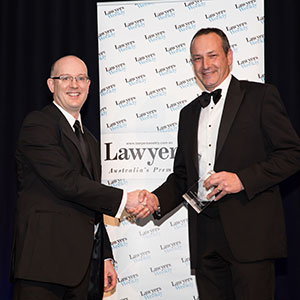 Norton Rose Fulbright managing partner Wayne Spanner has been commended for his dauntless leadership and willingness to shake things up.
Wayne accepted the prestigious Managing Partner of the Year Award, proudly sponsored by Burrows Legal, at this year's Lawyers Weekly Law Awards, proudly sponsored by Michael Page Legal.
Since he was elected NRF's Australian head in 2012, Wayne has been on what his firm calls an "unrelenting path of disruption of the global legal market".
Wayne admitted in his acceptance speech that his four years at the helm had been "a relentless journey" and thanked the NRF team for their hard work along the way.
"It's been an incredible journey to work with not only the people in the business, but also with the clients as well," he said on the Awards night held at Sydney's Four Season's Hotel this month (8 August).
A big "disruption" that Wayne contributed to was last year's merger between Norton Rose and US-based Fulbright & Jaworksi.
He has also driven major internal changes, including a successful gap analysis to fill the expertise requirements of the firm, which led to more than 40 lateral partner hires over a number of years.
Within NRF, Wayne's emphasis of Corporate Social Responsibility policy and programs has resulted in the firm nearly doubling the number of annual pro bono hours per lawyer last year. He has also been a driving force in establishing the firm's LGBT and Allies network, and elevated partner Sally Macindoe to the inaugural role of Global Head of Diversity and Inclusion.
"Wayne has been instrumental in establishing Norton Rose Fulbright as one of the most successful and well known law firms in Australia and it is no surprise that in June Wayne was appointed to lead the firm in Australia for a further three years," noted the judges.
NRF is one of the top 10 firms in the world by gross revenue (about $US1.9 billion) and was this year ranked second in a global list of the most recognised legal brands.
International recognition and financial success have not, however, distracted Wayne from problems that brew in large law firms, such as depression.
On his insistence, the firm spent a year working with the Tristan Jepson Memorial Foundation (TJMF) on its new workplace wellbeing guidelines, of which NRF is a signatory.
Wayne came out on top in what was a high-quality field including some of Australia's most well respected legal leaders.
The other finalists in this category were: Chris Freeland from Baker & McKenzie, Danny Gilbert from Gilbert + Tobin, Tony Macvean from Hall & Wilcox, John Nerurker from Mills Oakley and John Poulsen from Squire Patton Boggs.