Are we really producing 12,000 wannabe lawyers a year?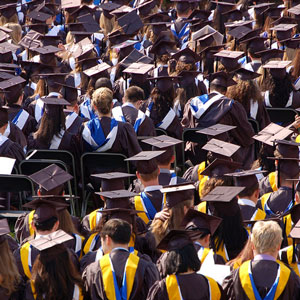 The media is "wildly wrong" about the number of aspiring lawyers being produced every year, according to the head of the College of Law.
CEO Neville Carter (pictured) spoke to Lawyers Weekly following a blog post on the College of Law website that criticised the 12,000 figure, which has been tossed around in the press.
The contested statistic comes from a report by Graduate Careers Australia published earlier this year, which put the total number of law graduates in 2012 at 12,742, up from 6149 in 2001.
According to Carter, the cohort of 12,000 can be broken down into 5917 who completed bachelor's degrees (LLB), 635 who completed Juris Doctors and the rest (5448) who completed master's degrees.  
Carter said the College of Law estimates that only about 5500 law graduates will actually go on to pursue careers as legal practitioners.
He said the Supreme Court admitted 5750 lawyers in 2013, and that this is a more reliable statistic to quote when talking about the number of graduates who are competing for jobs as lawyers each year.
Carter said there are two types of law graduates: "people who are studying for the purpose of attaining a qualification that will allow them to practise as a lawyer" and "people who are studying at a masters and a graduate level for a whole range of reasons unconnected to whether they are already, or wish to become, a lawyer".
"Master's degrees in law are studied by all manner of people for all manner of reasons, some by people who are already lawyers and hold an LLB, some by people who are from completely different industries and wish to have a masters in [a particular area of law]," he said.
By Carter's reasoning, half of the graduates from the class of 2012 that studied law will not go on to practise law.
Tough times
Carter said he was aware of the difficulties that law graduates face in the current economic climate, but that he was confident that jobs would return to their historic norms.
"Times are tough in the legal industry … we are passing through a very difficult stage where it is very difficult for graduates to find work."
Graduate Careers Australia recorded a record low in law bachelor graduate employment, with over one in five failing to find full-time jobs last year (78.5% employment rate).
This figure was, however, more promising than the overall bachelor degree employment rate of 71.3 per cent.
Many law graduates are seeking employment outside the law; the Sydney Morning Herald reported that only 70 per cent of employed graduates in 2012 were working in the legal field.
It is unclear whether students actually intend to study law in order to work outside the legal profession or whether they are being forced to consider broader options.
Too many law students?
One fact that Carter cannot deny is that the number of law schools and law graduates has increased dramatically in recent years.
Post-graduate law students increased 330 per cent and law students studying bachelors increased by 26 per cent between 2001 and 2012.
Carter argues that the increase in the number of law graduates is not an important factor in increased competition for jobs.
According to the College of Law's assessment, the volume of law graduates intending to practise law is only growing by about two and a half per cent every year.
He says the increase in the number of law graduates throughout the 1990s was much more significant than the growth we are seeing now.
However, many law students disagree with Carter. An online poll conducted by Lawyers Weekly in October last year showed that 71 per cent of the 3000 respondents felt that the current intake of law students by universities was irresponsible.
Recruiters are reporting that increasing numbers of high-performing law graduates are struggling to find jobs.
There has been an increasing quality of applications for clerkships at top and mid-tier firms, reportedly due to increased competition for limited numbers of positions.
Who to trust
When asked why the legal community should trust his interpretation of the statistics, Carter said the College of Law has a record of "responsible, accountable reporting on behalf of the legal profession that has been pretty flawless over the last 40 years".
He said that his organisation is a not-for-profit education foundation without shareholders that does not pay profits to anybody.
"My responsibility as the CEO of this organisation is to ensure that public debate is properly informed by the facts and not misrepresented by subjective and panicking statements," he added.