Respected NRF mentor says keep it casual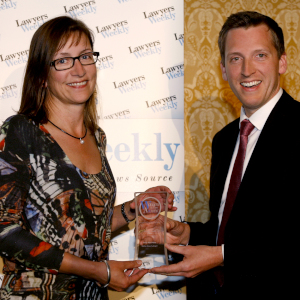 Norton Rose Fulbright partner Sally Macindoe spoke about the benefits of informal mentoring in accepting this year's Legal Mentor Award, proudly sponsored by e.law.
Sally was the successful finalist from a list of well-regarded senior practitioners vying for the award at this year's Lawyers Weekly Women in Law Awards held in Melbourne on 17 October.
In her acceptance speech, Sally admitted it was difficult for working parents, who have several competing demands, to dedicate time to formal mentoring programs. She added, however, that informal mentoring can be just as effective in providing support to lawyers in need of guidance.
"If you approach life thinking, 'at every opportunity, every discussion I have has an impact on somebody, the way they're thinking, their drive and their joy practising in this wonderful profession' … it makes a difference," she told around 150 attendees at the Awards night.
Sally is a working parent who understands the challenges of juggling work and family responsibilities. She empathised with barrister and mother Fiona McLeod SC, the Awards' keynote speaker, who earlier in the evening described her attempt to bake gingerbread cookies for her daughter the same night she had to prepare for a special leave application before the High Court.
"It's hard when you're juggling, and living through, some of the stories that Fiona talked about before… especially when you get the call when you've been away for four days of, 'Mum, where are you?' and they haven't actually noticed that you've gone," said Sally.
Like Fiona, Sally was at a critical point in her career when she decided to start a family, making partner soon after giving birth to her first child.  
Despite numerous demands from clients, the firm and her two children – now teenagers – Sally managed to mentor countless lawyers both within and outside the firm.
More recently, Sally has been the driving force behind NRF's diversity strategy. She is global head of diversity and inclusion at the firm, and in that role has established national and local diversity committees, led the firm's first pay equity audit and established organisational gender diversity KPIs, which are monitored each quarter to measure the executive team's performance.
Sally's influence on the careers of young lawyers, particularly women, has been significant. However, rather than focusing on how she has helped others, Sally paid tribute to the male and female mentors who have supported her throughout her career.
"Personally, I would say there have been more men than women that have mentored me, but both [sexes] have been so incredible along the way," she said.
The Legal Mentor Award was the only category at this year's Women in Law Awards that was open to both men and women. Sally narrowly beat Herbert Smith Freehills partner John Angus, the Awards' first male finalist; Baker & McKenzie partner Anne-Marie Allgrove; Sabine Phillips, a principal at Russell Kennedy; Mills Oakley partner Lisa-Marie McKechnie; and one of the founders of Hive Legal, Mitzi Gilligan.