Business-focused juniors win banking and finance award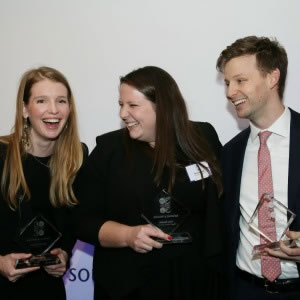 The hotly contested Lawyers Weekly 30 Under 30 banking and finance prize went to three commercially minded young lawyers this year.
Speaking to Lawyers Weekly after a cocktail event at Establishment in Sydney on 5 June, winner Mitchell Thorp (pictured right) of Baker & McKenzie said: "I was very surprised – I wasn't expecting to win.
"So many good lawyers were nominated it's a privilege and honour, and I am very humbled."
There were 12 finalists in the banking and finance category, including four women.
Mr Thorp said he had wanted to be a lawyer since high school. He found working in the banking and finance practice rewarding because "you're always learning – it's always something new".
Lucienne Cassidy (pictured left), a Victorian lawyer from Ashurst, said she was "very excited, very proud" to receive the banking and finance award.
She said her practice area was interesting because it required lawyers to offer "very practical legal advice" that is sensitive to the client's commercial needs.
Ms Cassidy has worked in the restructuring and special situations group with Ashurst's finance team for more than three years. Her clients include major banks, specialist insolvency firms, accounting firms and corporates.
Two career highlights are advising on one of Australia's largest debenture fund collapses, the $650 million failure of Banksia Securities Limited, and advising Fitness First on a successful $910 million global restructure.
Ms Cassidy was also the only lawyer from her office selected for a competitive role providing pro bono assistance to the Public Interest Advocacy Centre in taking witness statements for a war crimes evidence project.
Partner Joe Hayes said in her letter of recommendation that Ms Cassidy excels in "communication style, open-mindedness, customer focus, personal development and project ownership" and "demonstrates now the qualities of a future leader".
The third winner in the banking and finance category was Anna Bennett (pictured centre) from King & Wood Mallesons.
Ms Bennett was described by partner Kate Jackson-Maynes as having "this unique ability to look beyond the law".
"[Ms Bennett] is genuinely business-minded and has an instinctive nature to turn market trends into real business opportunities," Ms Jackson-Maynes said.
Ms Bennett is passionate about working in the financial technology (FinTech) space. "I was the first KWM lawyer below partner level to be actively chasing opportunities in FinTech," she wrote in her submission. "I am dedicated to kick-starting and showcasing FinTech capability, particularly in peer-to-peer lending and automated investment advice."
Ms Bennett also sits on the Sydney Pro Bono & Charities Committee and is involved in many community outreach programs, such as acting as the team leader for the Lawyers in Schools program at Casula High School.