Young principal hits golden double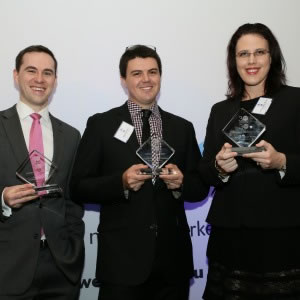 Suzanne Brown from McKays Solicitors made history, becoming the only person to win two Lawyers Weekly 30 Under 30 awards in the same year.
"I'm so excited!" she said, following an event in Sydney on 5 June. "I can't believe I won two categories. I'm just over the moon."
Ms Brown (pictured right), who stood out in both the Energy and Resources and the Government categories, said "hard work, long hours and dedication" are the secrets to her success.
She skyrocketed to the role of principal after setting up McKays Solicitors' mining team three years ago at the age of 26.
"I did a market analysis as to how our practice could 'stand out from the crowd' and identified, surprisingly, that there was no competitor who had a dedicated mining team," she explained.
"At the time, this project was a huge risk for me – if it failed, it would have dramatically impacted on my reputation.
"I was determined to ensure it was a success and therefore oversaw all business development and marketing and tirelessly attended industry events, upskilled on specific laws and industry knowledge."
Ms Brown is the only Queensland Law Society business law-accredited specialist at her firm and has been appointed a director of the North Queensland Bulk Ports Corporation.
Liam Davis (pictured left), of McCullough Robertson Lawyers, also won the Energy and Resources 30 Under 30 award.
Mr Davis has advised Adani on the development of its huge coal mining project in Queensland, involving investments of $7 billion.
He has also been responsible for managing indigenous relations at multiple sites in NSW and Queensland.
"For me, the highlights of my career [are] introducing new clients to the firm and seeing 'dirt turned' after negotiating approvals for my clients' projects," he said.
Chairman of partners Dominic McGann said Mr Davis has "a profound sense of putting back into the community" and is a "tremendous embodiment" of the firm's ideals.
Twenty-four-year-old Eugene McAuley (pictured centre) was one of the youngest 30 Under 30 winners this year.
Mr McAuley is a Queensland associate at three-office firm McCarthy Durie Lawyers and specialises in landholder rights.
"Eugene shows both determination and the ability to succeed," said director Bruce Durie.