Ethical advice a boon to client business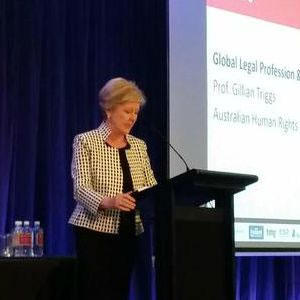 Lawyers who advise their corporate clients to meet moral and ethical challenges not only improve business outcomes for their client, but can help them gain access to niche markets, according to Professor Gillian Triggs.
President of the Australian Human Rights Commission (AHRC) Professor Triggs (pictured) spoke at the Australasian Legal Practice Management (ALPMA) Summit on Thursday.

"When companies are advised by lawyers along these human rights, social justice principles [the lawyers] are inclined to find themselves with new and expanding markets and with an ethical reputation that they are proud to stand up for," she said.

Professor Triggs used a recent case handled the AHRC to demonstrate her point.

In this example, a young man who was gay and HIV positive made a complaint to the AHRC on the grounds of discrimination after a number of insurance companies denied him travel and employment cover.

"[The AHRC] approached a particular insurance company […] and we spent quite a lot of time talking to them about what the evidence was for denying insurance for people who were HIV positive," said Professor Triggs.

The AHRC found that the evidence drawn on to reject the young man's application was European and more than a decade out of date, she continued.
"We worked with them without knowing anything at all about the actuarial principles that underlie insurance. By the end of those discussions, the company decided they would offer a special insurance package to those who were gay, with or without HIV positive […] conditions," she explained.

Through consultation with lawyers at the AHRC, the insurance company realised that acting ethically actually opened up a whole new customer base.

"And that company has now gone from strength to strength," said Professor Triggs. "It has now found an entirely new market [within the gay community]."
Marginalised groups want to give their insurance premiums to a company that they know is going to be sympathetic, understand their circumstances and be willing to recalibrate their actuarial figures, she continued.

"That was one example, but there are literally hundreds of those emerging."

Professor Triggs said lawyers will have a key advisory role to play as businesses begin to adopt voluntary codes of conduct, such as the UN Guiding Principles on Business and Human Rights.

These guiding principles, endorsed by the UN Human Rights Council in 2011, have three pillars: to protect, respect and remedy.

"[These principles] now include an obligation to conduct a human rights due diligence as a core part of daily business practice," said Professor Triggs.
Lawyers are now being called on by the corporate sector to help establish human rights policies, audit the human rights impact of the businesses, report on human rights performance to shareholders and create grievance mechanism to handle negative impacts appropriately, she concluded.
Like this story? Subscribe to our free newsletter and receive Lawyers Weekly every day straight to your inbox.