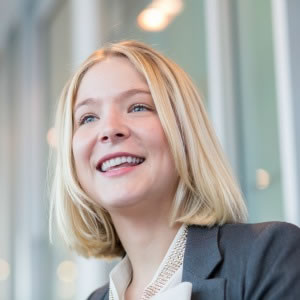 The Lucy Program, now in its 11th year, gives ambitious female undergraduates a leg up in their legal career, but is also a valuable experience for mentors.
"I found it rewarding to work with students who are passionate about pursuing leadership roles," said Julie Kneebone (pictured), a mentor and lawyer at Sparke Helmore Lawyers.
"I still clearly remember the dramatic and positive impact my first mentor – now Judge Julie McIntyre – had on my ultimate career path," she said.
Ms Kneebone said she "jumped at the chance" to be a Lucy mentor to help the next generation of female lawyers.

Ms Kneebone mentored Amanda Fazio from Western Sydney University this year and said she "enjoyed seeing [her mentee's] confidence grow as she tackled new experiences with enthusiasm".
Fazio said the program was "really inspiring" and gave her a glimpse into what it's really like being a female lawyer.
"Julie showed me some aspects of life in working at a law firm, from shadowing her meetings with the workplace team and with clients, helping her with file work, attending court appearances, as well as being taught the benefits of networking through social events," she said.
The program, which wrapped up on 6 October, offers a structured mentoring opportunity for business and law students at seven universities in NSW.

At the graduation ceremony, Alexis George, managing director of insurance at ANZ Global Wealth, spoke about the importance of having a supportive mentor in her career.
Alexis said: "I really encourage you to find someone like this. [My mentor] completely and utterly believed in me, supported me always, let me fail and make mistakes and do silly things but I know that he was always there for me. I believe that those 10 years made me the person I am today."
Note: The spelling of a name in this article has been updated.
Like this story? Subscribe to our free newsletter and receive Lawyers Weekly every day straight to your inbox!