Barriers to Singapore's legal market fall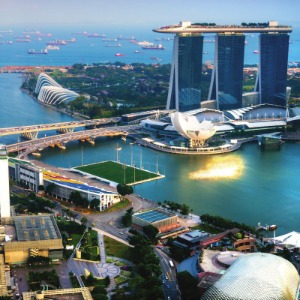 The Australia-Singapore Comprehensive Strategic Partnership (CSP) will free up legal barriers between the two jurisdictions through improved degree recognition, labour mobility and joint law venture scheme provisions.
Last week the Australian and Singaporean governments completed the third review of the 2003 Singapore-Australia Free Trade Agreement (SAFTA) under the Australia-Singapore CSP framework.
Under the CSP, the two governments have agreed to a significant package of bilateral cooperation initiatives, including on education recognition and labour mobility, which will give Australian lawyers long-term market access certainty.
The Law Council of Australia president Stuart Clark AM said the SAFTA can deliver enhanced market access outcomes for the Australian legal profession and their clients.
"Transnational trade and investment cannot take place in a legal vacuum," Mr Clark said.
"The role played by legal practitioners in providing business and commercial legal services is essential in facilitating all transnational trade and investment."
The agreement also made provisions for Singapore to ratchet formal law alliances and joint law venture schemes equivalent to what is available via the US-Singapore FTA.
Lawyers in both countries will benefit from the ratchet mechanism that will lock in the ongoing liberalisation of Singapore's legal services market, according to Mr Clark.
Mr Clark previously told Lawyers Weekly that local professions benefit from having an open legal market.
At the time, he expressed hope that Singapore would continue to reduce restrictions on Australian and Singaporean lawyers working together to provide legal services in Singapore.
Firm benefits
Sue Gilchrist, Herbert Smith Freehills' regional managing partner Asia and Australia, agreed that the enhanced agreement will be beneficial for Australian lawyers, firms and clients who do business in the Asia-Pacific region.
"Collectively it will be easier and simpler for firms to operate seamlessly across both markets on cross-border transactions and matters, and it will lead to enhanced business and investment opportunities for clients across a number of sectors, with Australian businesses to be granted greater facilitated access to Singapore," Ms Gilchrist said.
Justin D'Agostino, Herbert Smith Freehills' joint regional managing partner Asia and Australia, added: "The arrangements better facilitate spouses and children to live and work in Singapore, which will make it much easier for us to enable greater opportunities for our Australian lawyers to be seconded to Singapore."
Ashurst partner George Cooper, who was based in Singapore for eight years before returning to Melbourne earlier this year, said the changes are a welcome shift from earlier tightening by Singapore authorities of professional talent mobility.
"Currently, Australian business visitors to Singapore may be granted short-term temporary entry for up to three months," Mr Cooper said.
"Singapore has committed to increasing market access and facilitating entry for a broad category of Australian service suppliers known as contractual service suppliers [CSSs] who may, for the first time, be granted entry for up to two years."
Degree recognition
For the first time, Singapore has agreed to recognise Juris Doctor degrees from 10 Australian universities in addition to current recognition of LLB degrees.
The 10 Australian universities that will have JD and LLB degrees recognised are Australian National University, Flinders University, Monash University, Murdoch University, the University of Melbourne, the University of NSW, the University of Queensland, the University of Sydney, the University of Tasmania and the University of Western Australia.
"We are very pleased with the outcome of this agreement, and appreciate the recognition of our degrees by Singapore," Professor Tyrone Carlin, deputy vice-chancellor of the University of Sydney, said.
"It offers real job security for students from Singapore studying Law at the University of Sydney, knowing they can go home and their educational achievements will be valued."
Professor Carolyn Evans, dean of the Law School at the University of Melbourne, also welcomed the announcement.
"Singaporean students have long been an important part of the higher education landscape in Australia," Prof Evans said.
"We have a great deal of respect for the quality of students from Singapore and it is wonderful to see this official recognition by Singapore of the quality of Australian legal education."